Five Questions Before You Decide On Your New Garage Floor
If "new garage floor" or "garage makeover" has moved to the top of your to-do list, PremierGarage® can bring some valuable information to the table as you make those all-important decisions. We've been assisting homeowners for over two decades with optimizing their home and garage spaces to fit their lifestyles and are the experts at defining needs and discovering solutions. With PremierGarage, you're assured of getting the right floor for your specific needs, budget, and style preferences.
Your garage floor your way – who says a garage floor can't be exciting?
There are many factors involved in making the investment of a new garage floor, and you certainly only want to do it once! Here are five questions you should consider as you decide on what will be, for you, the perfect garage floor.
Question One: How do you use your garage?
This may seem like an obvious question, but modern garages generally do far more than just park the cars. Household storage, space to enjoy hobbies, workshops for woodworking or working on cars or motorcycles, a home gym, game room, Man Cave, or laundry area can all claim space in the garage. Thinking of the ways you use your garage may impact the type of flooring you need. For example:
If your hobbies are especially messy, do you need an easy-to-clean surface?
Would a slip-resistant finish be important for safety?
For a gym or weight room would a rubber floor with "give" be desirable?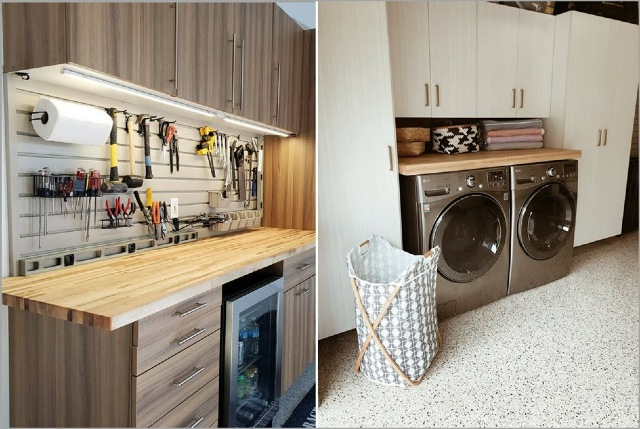 Custom garage flooring will enhance everything you do in your garage and make the time spent more enjoyable
Question Two: What type of garage floor do you like?
There are a surprising number of flooring options out there, including roll-out vinyl, painting, concrete stain, press-and-stick vinyl or carpet tiles, interlocking hard plastic or rubberized tiles, rubber flooring, and epoxy coatings in many styles. Do you love the look of concrete, are you looking for superior shine, a checkboard design in tile, or a luxurious look of an epoxy floor with decorative flakes or marbleized and metallic finishes?
Do you want options of unique colors or designs?
Is durability most important?
Do you want the garage to be an extension of your living space with a stylish floor to match or complement your interior floors?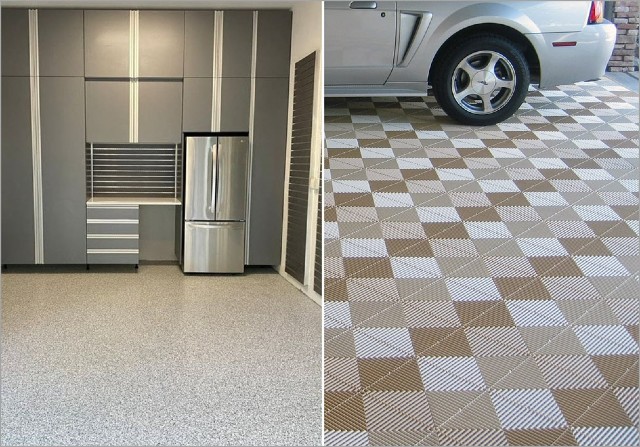 A custom garage floor is not a luxury, but it can certainly look luxurious, giving bragging rights and a sense of pride in your garage
Question Three: What is your budget?
A garage floor is a big undertaking and budget concerns are always part of any major renovation and must be considered as you decide on a new garage floor. The flooring options mentioned above can range from about $1.50/square foot to $15.00+/square foot depending on the style you choose. Do some research, especially on the type of flooring you prefer, and see how your budget stacks up to what you want. You may be surprised at what you can afford! Cost per square foot is just one part of the overall cost and for such a big investment you need to look at long-range costs as well.
How durable is the flooring and how long will it last; will it need to be replaced in a few years?
Will maintenance costs or repairs be expensive?
Get two or three quotes and make sure you understand what you're getting, comparing product quality, workmanship, and guarantee.
Note: Your local PremierGarage designer can help you design the style of flooring that best suits your lifestyle and your budget.
Question Four: Are you considering DIY (Do It Yourself)?
If your budget isn't all you want it to be and you're considering installing it yourself, some options will be easier than others, but they may not result in the floor you desire. The three major reasons that DIY garage floors fail are moisture, improper preparation of the existing concrete, and product quality. Garage floor concrete can be uneven, cracked, stained with oil and contaminants, and holding moisture you can't detect. All of those can contribute to a garage floor failure so there's a lot to consider before you decide to go the DIY route.
Do you have the equipment to grind or sand the floor so a new coating will stick?
Is moisture an issue with your concrete?
Do you know how to repair cracks and uneven areas in the garage floor?
Do you have the skills required to install the flooring you like?
DIY products don't offer the durable, industrial-strength of professional-grade products.
How much time will this require and how long can you be without the use of your garage?
Question Five: What does Tailored Living have to offer?
All the PremierGarage custom garage flooring solutions are industry-tough and adaptable to any situation from a one-car garage to a car museum. Our two basic types of flooring systems are epoxy floor coatings and flexible, interlocking floor tiles. Within those two types are many styles and colors to choose from so you will definitely get the garage floor you want!
Commercial-grade PremierOne® epoxy floor coatings
PremierOne epoxy floor coatings protect and beautify with a permanent, seamless finish that is twice as hard and thick as most other epoxy finishes. Installation usually takes two to three days, depending on the style and garage size. Then, with 24 to 36 hours of curing time, your garage is back in service. As the most technically advanced floor coatings in the industry, you'll enjoy many benefits:
Nothing sticks to the continuous, non-porous surface so clean up is a breeze.
Resists chemicals commonly found in garages, like gasoline, auto fluids, and paint thinner.
Extremely durable, resists chipping, color fading or stains.
Withstands heat, cold, and wet or dry weather conditions.
Five distinctive styles from seamless solid colors to decorative chips to artisan-look metallic finishes ensure there's something for everyone. Each style offers standard color choices with the option of custom-mixing colors for a unique blend.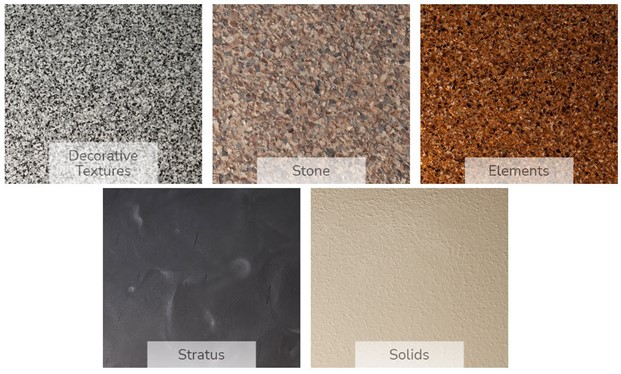 Don't let the elegance fool you, epoxy floor coatings can be very budget-friendly
Flexible garage floor tiles
PremierTrax garage floor tiles create an equally durable floor but a totally different look with open-weave tiles that securely interlock so there's no shifting or lifting. Their unique open-weave design creates a slip-resistant surface and the eight-percent rubber in a polypropylene construction makes the tiles ergonomically friendly for knees and backs. Spills pass right through and can be hosed away for quick and easy maintenance.
Less dirt gets tracked inside the house.
Tiles resist stains, cracking, fading, and peeling.

Withstands weather extremes, hot or cold, wet or dry.

Industry-tough to easily handle cars, bikes, trucks, skateboards, and motorcycles.
Tiles come in seven hardwood grains and 18 trendy colors from neutral shades to bright primary colors so you can get creative and match a favorite car, bust out your alma mater's colors, or create a unique pattern for a one-of-a-kind garage floor.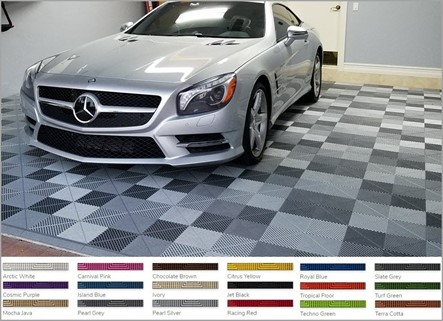 PremierTrax custom garage floor tiles generally have one-day installation since there are no adhesives or curing time required for your floor to be back in service
With winter on the way, it's the perfect time to get your garage protected with a new, custom garage floor. You'll love the look and functionality it brings into your space. Call 866-712-3404 today or go online to www.premiergarage.com to find a designer near you and schedule a free, in-home, or virtual* consultation. Ask how PremierGarage can help get your whole garage clutter-free with storage and organization solutions, including garage storage cabinets, wall storage systems, and SmartGarage automated lifts.
*Virtual consultations may not be available at all locations.
Like us on Facebook and follow us on Instagram.
*Updated 10/24/2022