Expand Usable Space Vertically
Is lack of storage space driving you up a wall? PremierGarage is proud to offer Slatwall organizer systems which are excellent at maximizing space, especially in smaller areas. Each system offers a wide range of accessory hangers, specialty hooks, and shelving so you can store what you need, in reach and in style.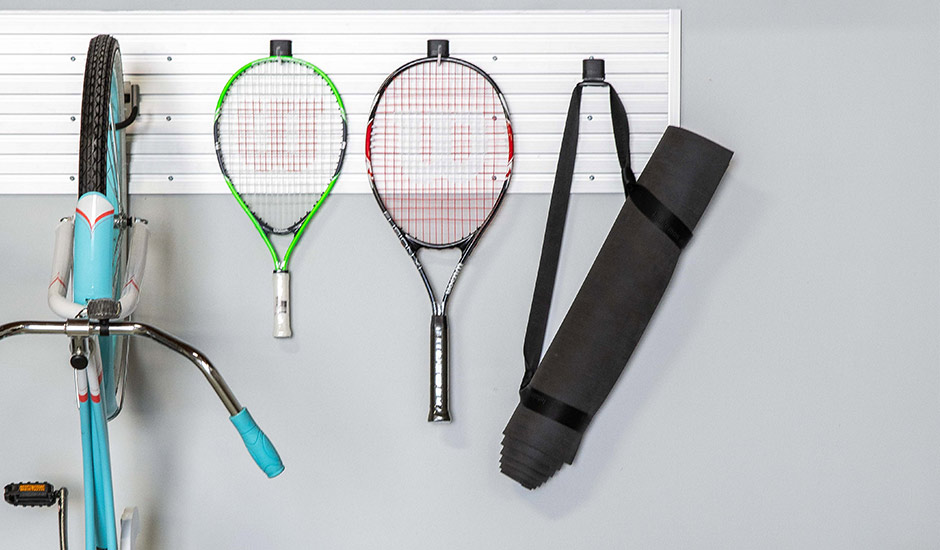 Consolidate all the family's sports equipment in one area so it's easier to keep track of and quick to find. Vertical wall storage provides an amazing amount of space to organize big and small sports equipment.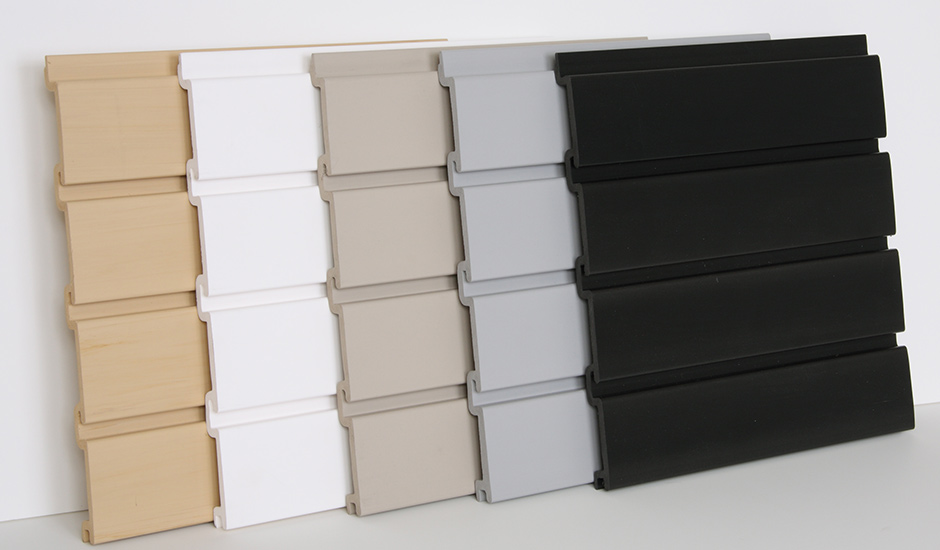 Slatwall panels come in several different colors so you have color choices for your garage. Match the wall color, favorite car color, garage cabinet color, or create a contrasting burst of color over a work countertop.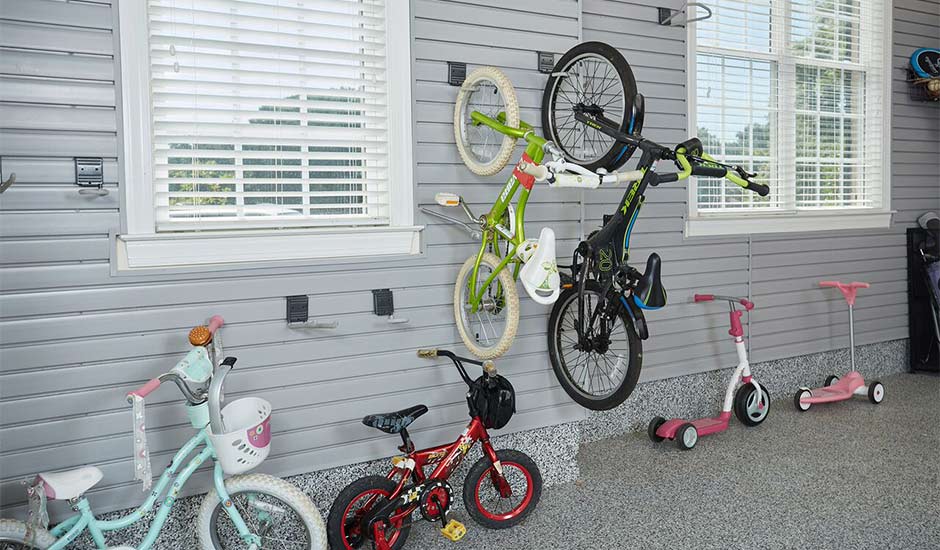 Bikes falling over can be a safety hazard in your garage. Slatwall specialty hooks can safely and securely store multiple bikes to eliminate hazards and protect against damage.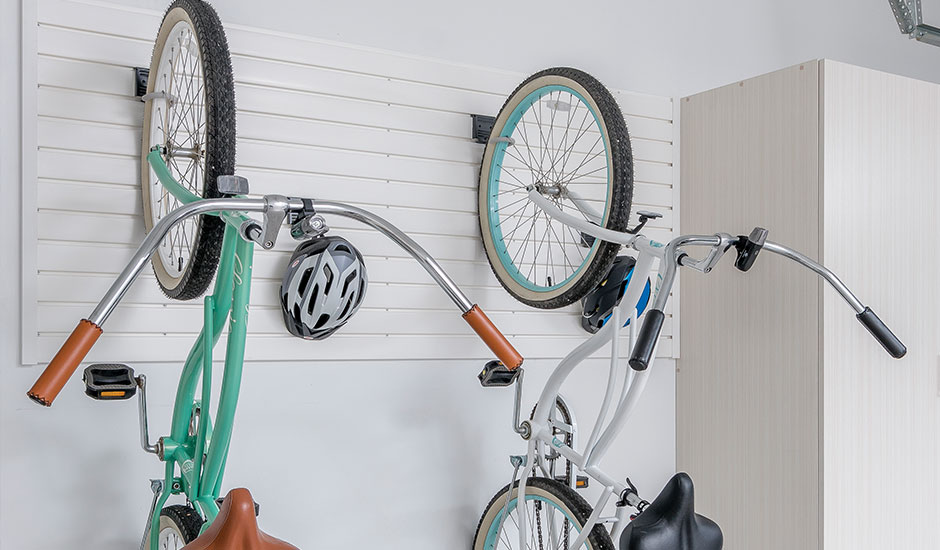 Specialty hooks that swivel let you store bikes flat against the wall to conserve space yet swivel out for easy removal and mounting.
Floor to ceiling Slatwall is perfect for storing large tools like rakes and shovels, brooms and mops, and snow shovels. Removable hooks let you stylize the storage to what best suits you.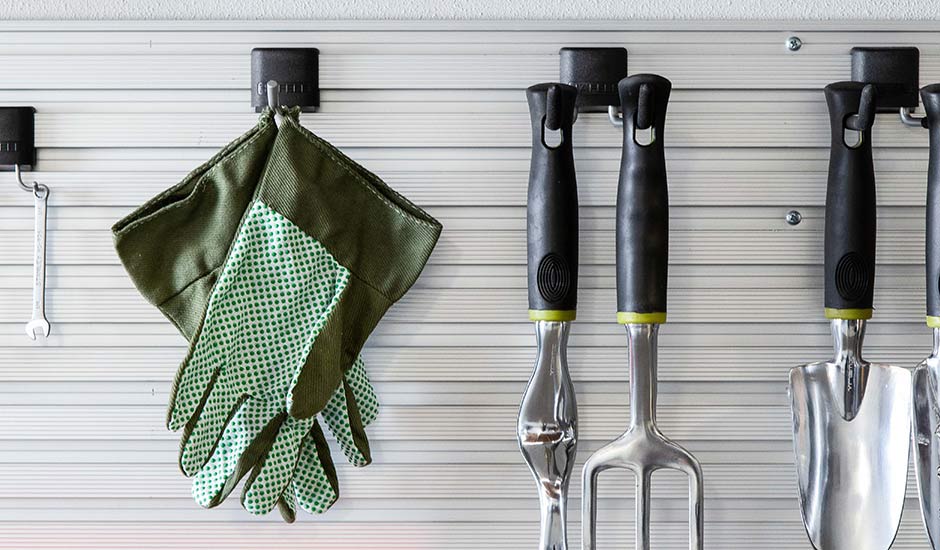 A gardening enthusiast will require a workspace and storage for mulch, potting soil, flower pots, fertilizers and tools.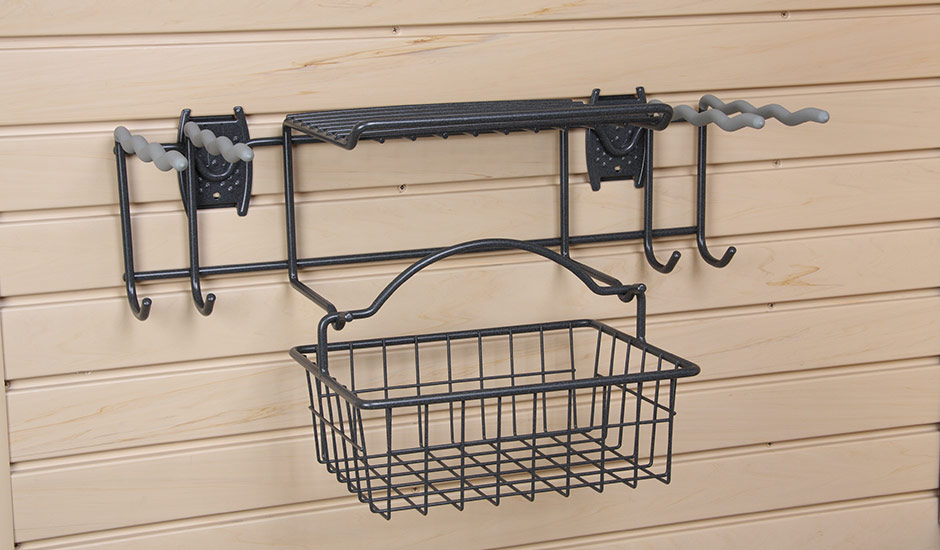 Attachable accessories include baskets, shelves, and hooks so you can configure your wall storage to exactly what you need to store. Specialty hooks can even hold golf bags, skis, and fishing rods.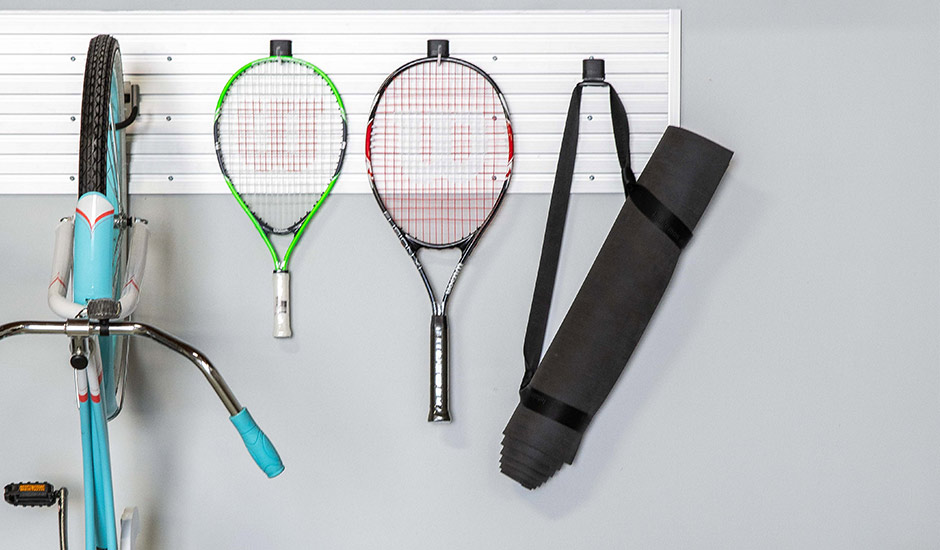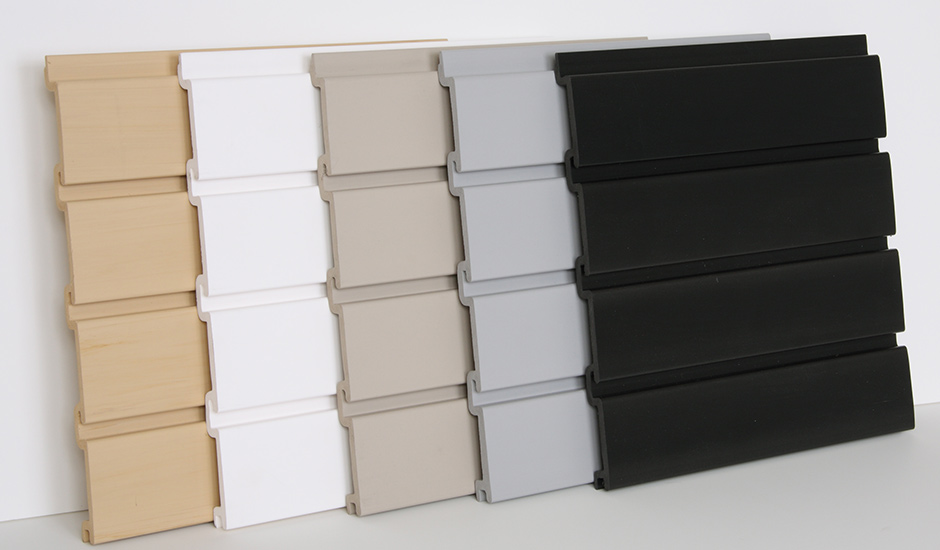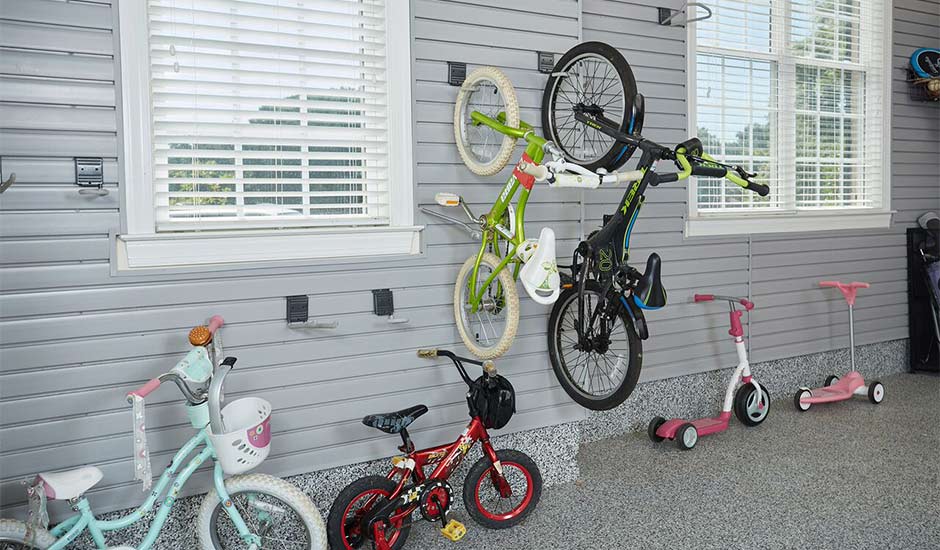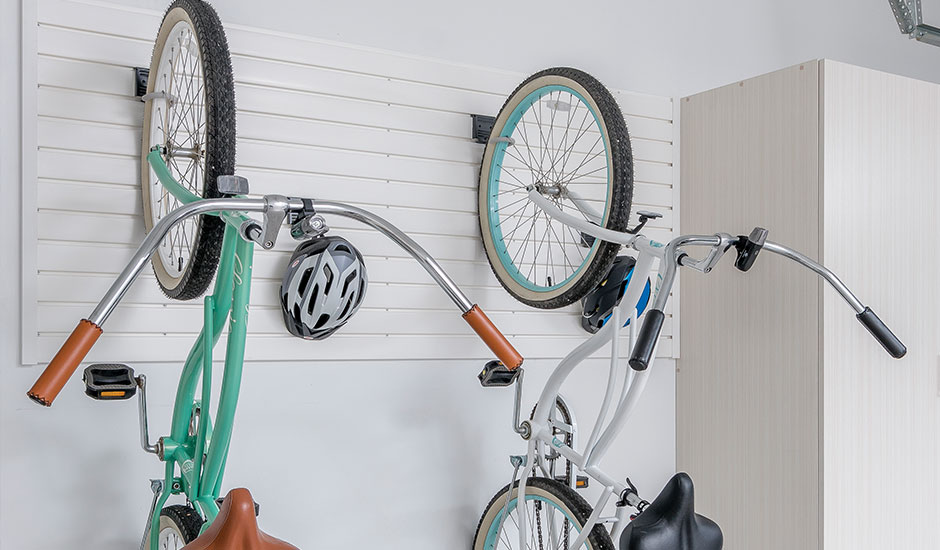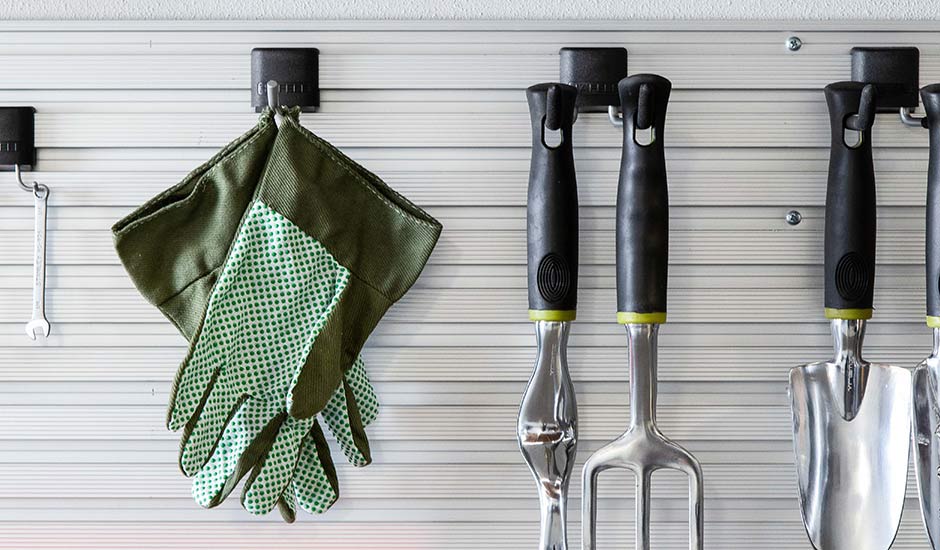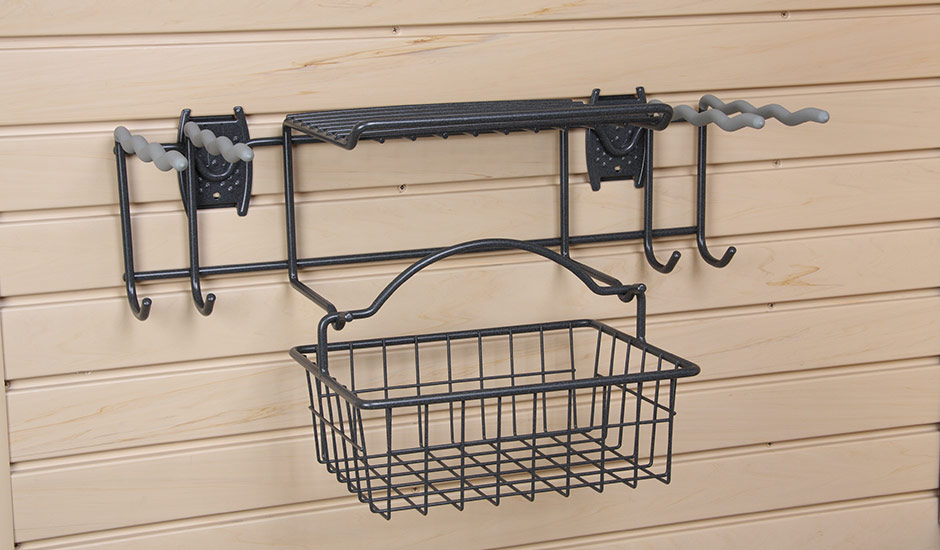 Everything in Place Will Put a Smile on Your Face!
It's lifechanging to have an organized garage. Slatwall racks are a great option for keeping your life's tools and equipment organized and accessible. Garden trowels, scoops, pruning shears and watering cans will store easily on racks above a countertop work surface, keeping them close at hand. Larger yard tools like rakes, shovels, hoes, edgers and hoses can be safely stored on specialty hooks designed for heavy items. Sports equipment can go on hooks and in baskets instead of becoming a common trip-hazard. Accessory baskets and shelves hold smaller items such as balls, helmets and shoes. Even little ones can organize themselves with low-level shelves, baskets and hooks. It's never too early or too late to get organized!
Consolidate tools and equipment into use or seasonal categories, for example, store all gardening tools and implements in one area.
Keep the kids' sporting equipment separate and reachable by having low-level hooks and baskets so they can easily get what they need at game time (and then put it away when they get home).
Place a customizable rack over the workbench so all your tools are within reach. No more searching for needle-nose pliers or your favorite hammer; they're right where you left them.
Where cabinets are too bulky, Slatwall can create narrow-space storage solutions.
Specialty hooks can safely store larger items like golf bags, skis, skateboards, and bikes.
Attachable baskets, hooks, and shelves can be rearranged as needed to accommodate storage requirement changes.
Slatwall's versatility provides storage for large and small items, controlling clutter and clearing floor space.
Garage Organization, Tailored Your Way