OutSMART Your Garage
PremierGarage automated garage solutions and accessories bring functionality, simplicity, and satisfaction to your garage space. Home automation and organization solutions help to reduce clutter and provide you with easy access to tools, recreation equipment, and sports gear while maximizing floor space.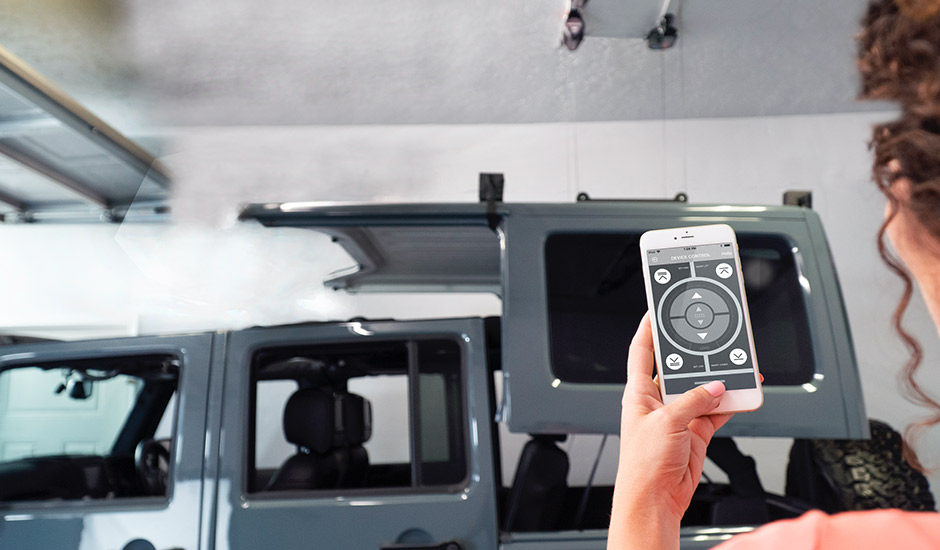 Sync your smart device to easily control your lift(s) via Bluetooth® to the lifter app. Raise, lower and store your camping gear at the touch of a button!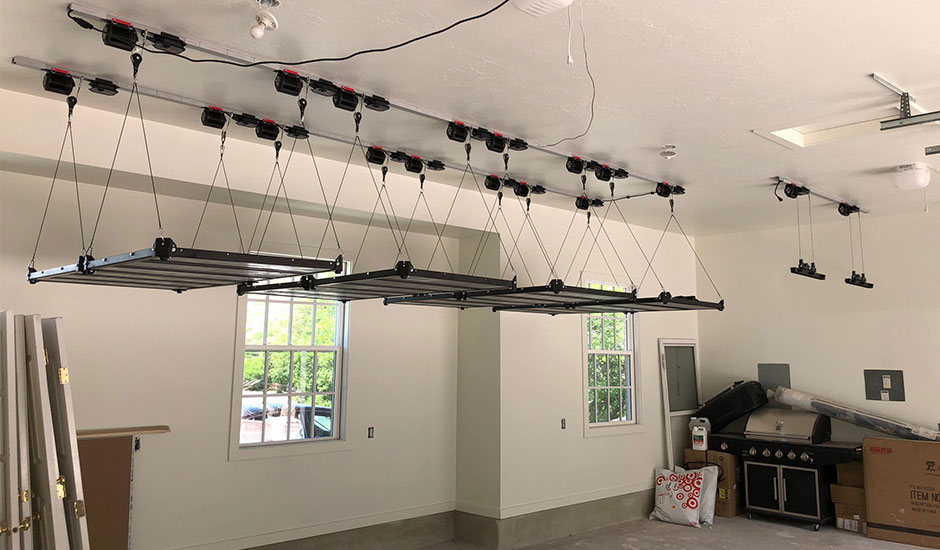 Automated lifts take the strain out of overhead storage. Connect up to four lifts for storage weight of up to 400 lbs. Operate each lift independently or as if they were one lift, to effortlessly raise and lower.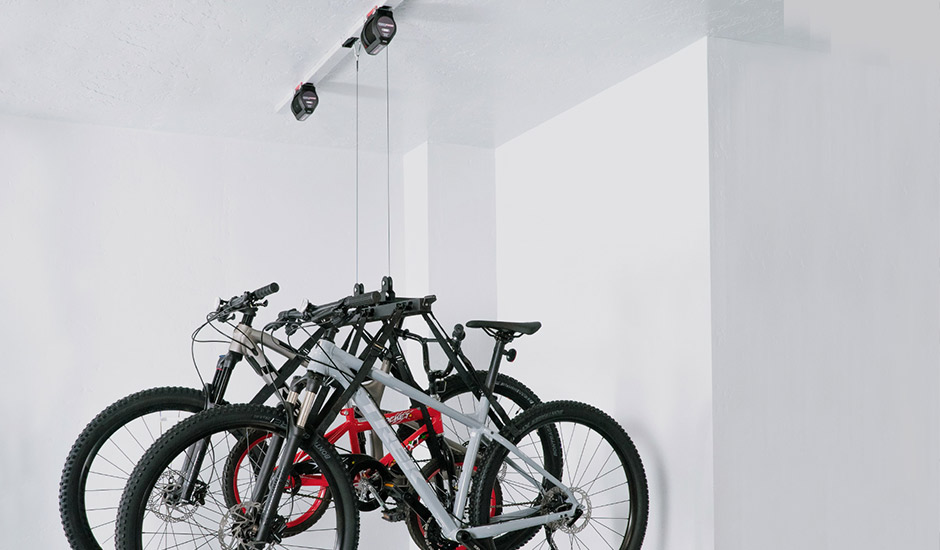 Store all the family's bikes at ceiling level, freeing up floor space and reducing damage to overturned bikes. Specialty lifts accommodate one or multiple bicycles in complete safety.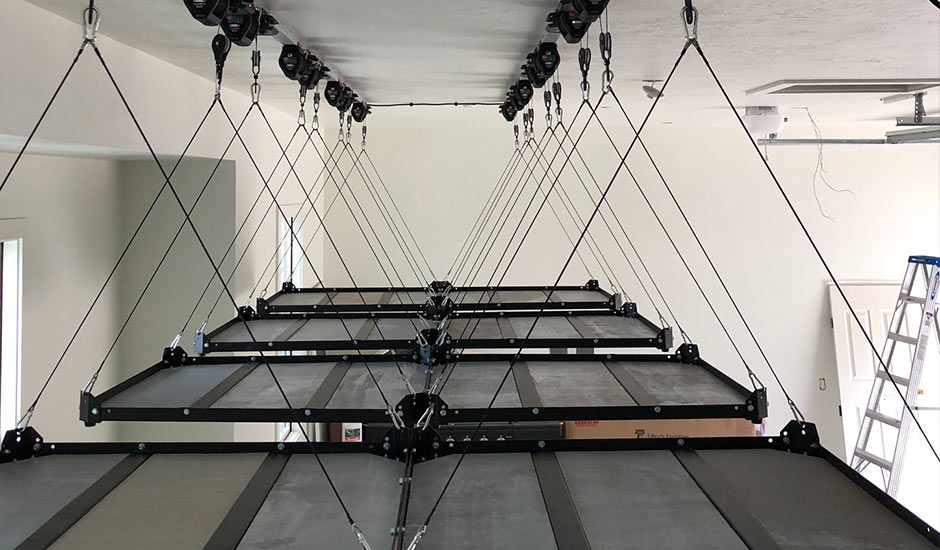 Overhead storage racks capture unused space near the ceiling and keep bulky items from taking up valuable floor space. Holiday decorations and long-term storage can be up and out of the way but readily available.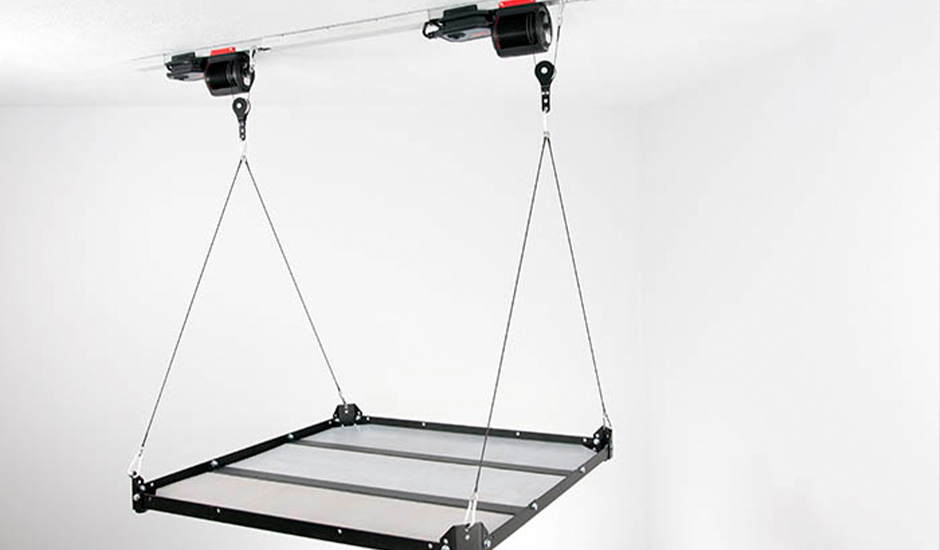 Your safety is built into our design. Each lift has an internal gear brake so there is no risk of dropping items or slippage during operation, even if the power goes out. Your stored items are secure.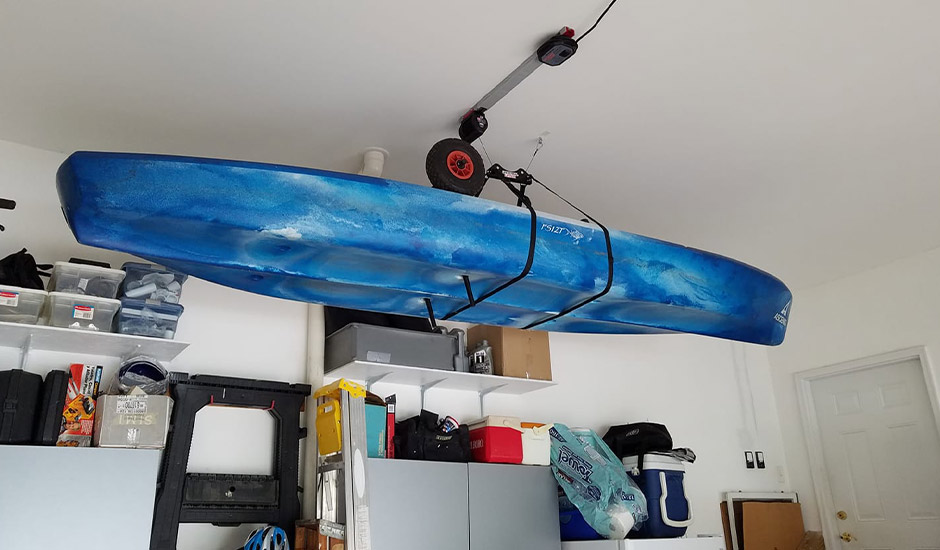 Lifts with flexible straps can adapt to any size or unusual shape for secure storage. No more wrangling with surf boards, kayaks, or skis; just use your smart device to raise and lower them.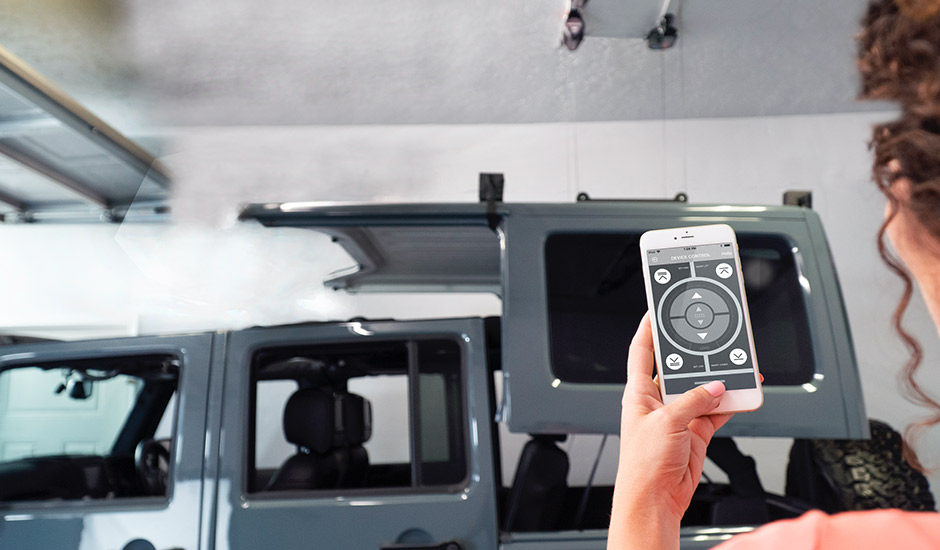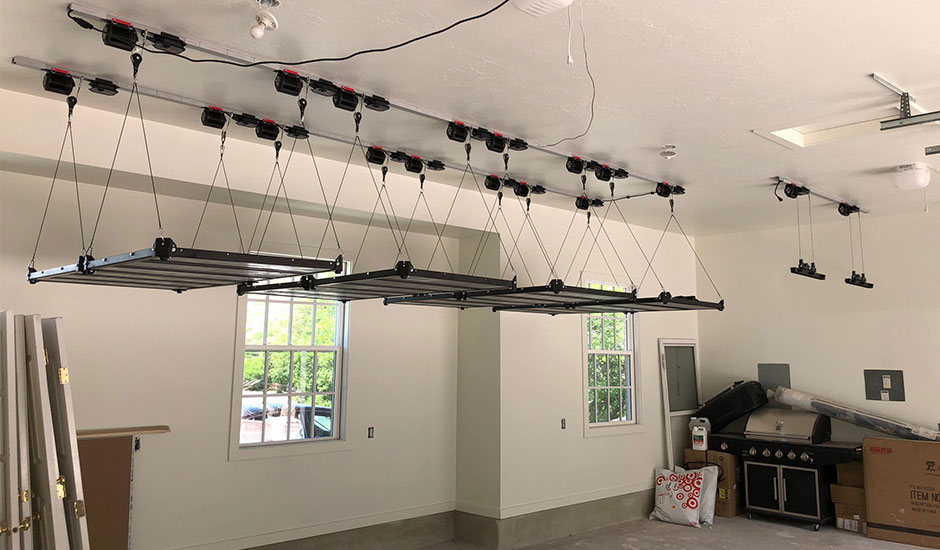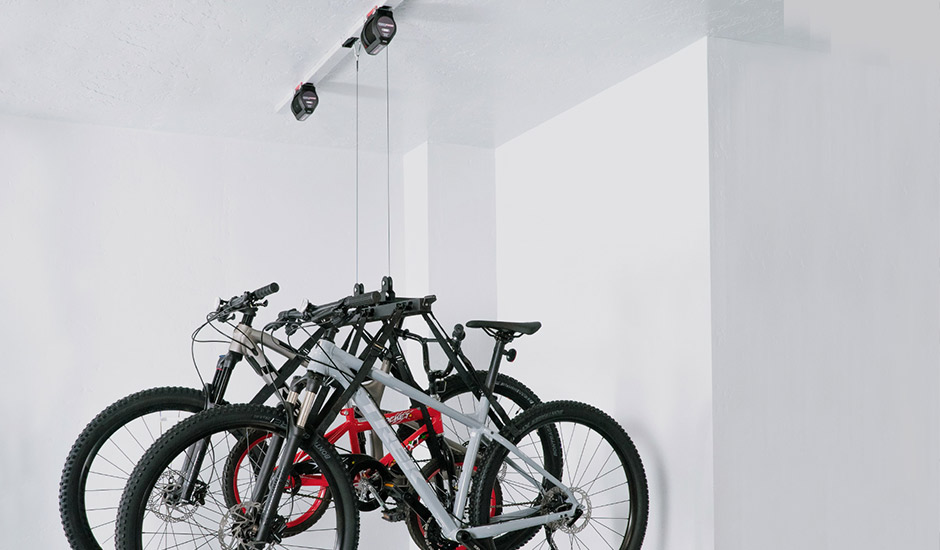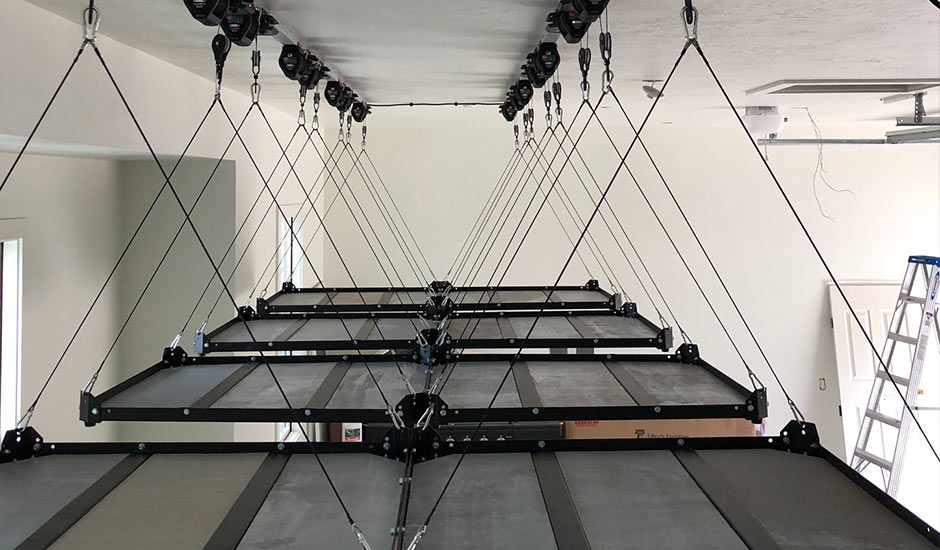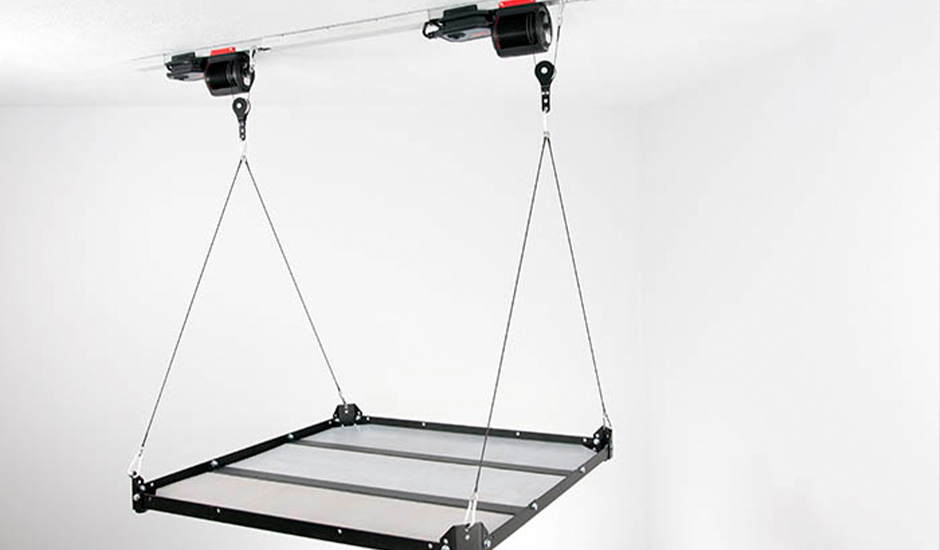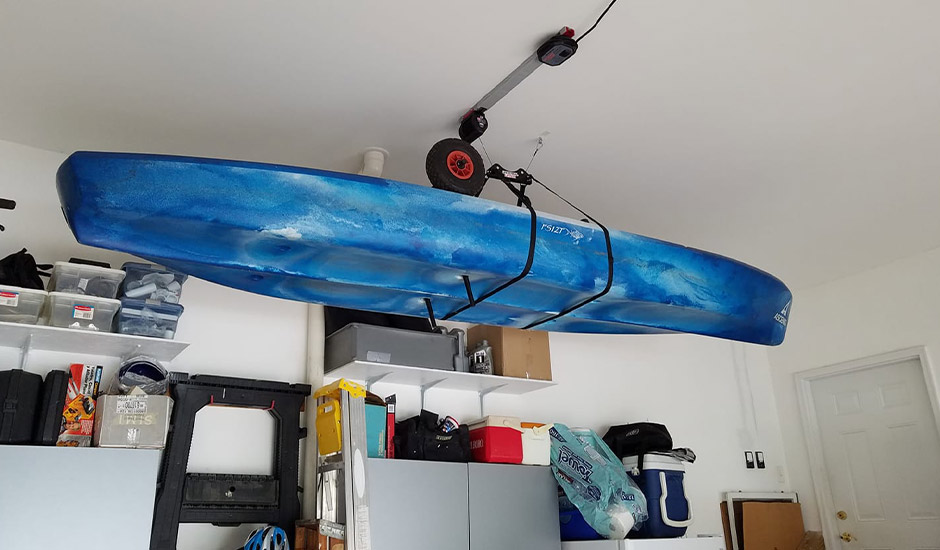 Take the Lifting Out of Overhead Storage
PremierGarage of has solutions to keep your items organized, elevated, and safe. Use our automated overhead storage systems to store your equipment, holiday decorations, boxes, outdoor gear, and more. To lift more weight and/or store larger items, link up to four lifts together to lift and store up to 400 lbs.
Safe and secure.
Smart device controlled.
Each lifter has an internal gear brake. There is no risk of dropping items or slippage over time, even if the power goes out.
Lift bikes, kayaks, cargo carriers, Jeep®hardtops, and more!
Lifters are designed to work together. Group up to four to lift up to 400 pounds!
Light and compact; each lifter only weighs four pounds!
The perfect solution to seasonal storage needs like snow tires in the warm months and outdoor furniture and cushions during the winter.
In a small garage, automated overhead storage can double storage space without sacrificing convenience.
Bikes, which can eat up garage floor space, can be safely stored overhead with lifts and retrieved at the touch of a button.
Flexible straps can adapt to any size or unusual shape for secure storage such as surfboards, a toboggan, or skis.
Camping gear from tents to canteens can be stored together so it's easy to answer the call of the wild for a weekend getaway.
Ladders, a Shop-Vac®, and other large tools can be readily available but out of the way until needed.
Say Goodbye to Garage Clutter