Love Your Garage More With A Durable, Custom Garage Floor
What would it take for you to really love your garage with the kind of love that drives you to post pictures on Instagram and brag to your friends?
Clutter-free space

Organized tools

Sports equipment on display

Matching garage storage cabinets

Clean and shiny garage floor
Whatever it takes, a great starting place for a garage to love is a new, custom garage floor from PremierGarage®, either one of our PremierOne® epoxy floor coatings or the PremierTrax® interlocking tiles. It's the perfect foundation for building out your dream garage and a beautiful floor will enhance any other improvements you make.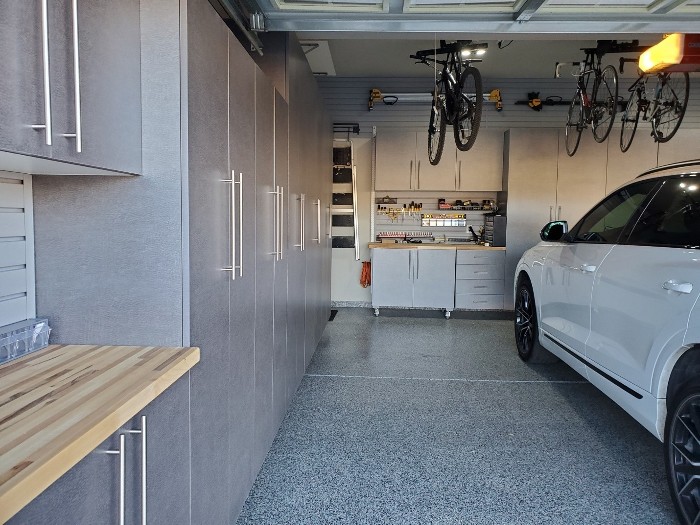 A garage floor is just the beginning of creating a garage you'll love from the floor up! (Pictured is a custom-blended Decorative Textures epoxy floor)
Durable epoxy floor coatings in five style finishes
PremierOne® epoxy floor coatings are unique in that they chemically bond with the concrete floor to protect and beautify with a permanent, seamless finish that is twice as hard as most traditional epoxy finishes. The non-porous coating makes your new garage floor resistant to gasoline, auto fluids, paint thinner, pesticides, and other household chemicals. Any spills wipe up with a cloth, leaving the floor clean and intact; your floor won't reflect memories of projects gone by. There's never any peeling, discoloration, or cloudy finish and the floor stays like new with sweeping and occasional wet mopping with mild soapy water, no specialty or strong toxic cleaners ever needed. Installation usually takes two to three days and within 24 to 36 hours of curing time, your garage is back in service.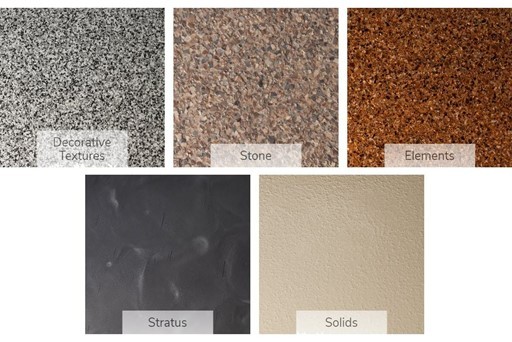 Choose from vibrant solid colors to custom color chip blends and specialty, artisan-look metallic finishes
Find your statement look with our five styles and extensive color choices, including Solids, Decorative Textures, Stone, Elements, and Stratus, each with unique characteristics. Plus, within each style, you can create borders or add logos to bring in multiple colors and effects.
PremierTrax combines strength and style
PremierTrax garage floor tiles create a totally different look from epoxy floor coverings but are equal in durability. Tiles securely interlock so there's no shifting or lifting and the surface is impervious to stains, cracking, fading, and peeling. Available in 18 trendy colors from neutral shades to bright primary colors, you can get creative with design, including the ever-popular checkerboard or unique designs incorporating your alma mater's colors or coordinating with garage cabinet finishes. Nothing stays on the surface to be tracked into the house, so your home and garage stay cleaner. Installation is generally hours instead of days since there are no adhesives or chemicals to cure or dry, so your garage is back in service the same day.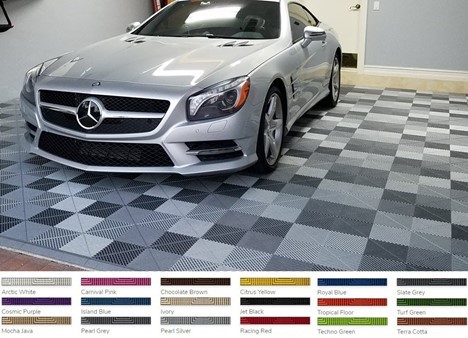 The unique open-weave design gives a slip-resistant surface that makes it easy to keep the garage floor clean since spills pass right through and can be hosed away
Tiles contain eight-percent rubber, making them comfortable and ergonomically friendly for knees and backs so you can spend more time in the garage at the workbench, doing laundry, or enjoying favorite hobbies.

Practically indestructible, these tiles can easily handle cars, bikes, trucks, skateboards, motorcycles, exercise equipment, and even an airplane if you happen to have one.

Define parking stalls or other-use spaces such as a laundry room, play area for the kids, or a home gym.
Don't stop with a new garage floor
Now that you have a floor you love in the garage, take the next step and outfit your entire garage with storage and organization solutions to maximize your garage's efficiency. You'll be amazed at how serviceable your garage can become with the right design to meet your needs for storage, workspaces, living space, and parking the cars! Start with custom garage storage cabinets that are the key to getting your garage organized by capitalizing on vertical storage to free up floor space and make garage clutter a thing of the past. Then, incorporate other storage options like Slatwall wall hanging systems, overhead storage racks, and integrated shelves that help you manage everything in your garage.
Enclosed cabinets with adjustable shelves let you configure your storage for exactly what you need to store.

Drawers and cabinets allow for safely storing large and small items, eliminating the tripping hazard of boxes and tools stacked in corners and along the walls.

Slatwall panels create wall-hanging storage that can be customized with specialty hooks, baskets, and shelves to organize items like gardening tools and sports equipment.
Overhead storage racks are the perfect solution for seldom used and large items, like camping gear and seasonal decorations. Automated lifts make overhead storage effortless with one-button control … and no ladders needed!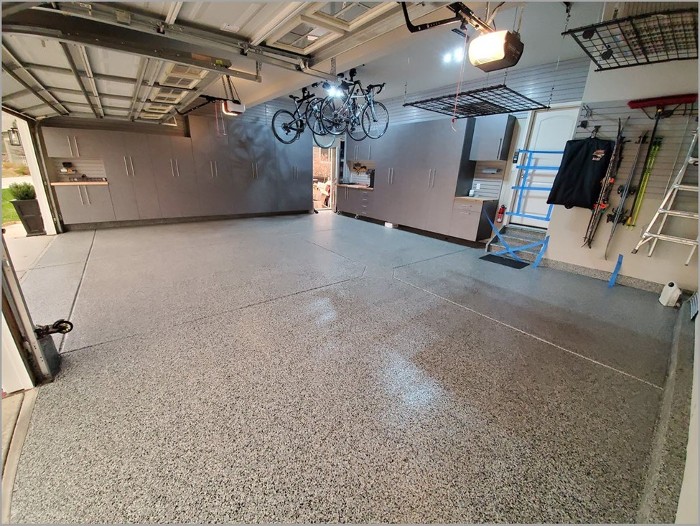 You can't help but love a garage that takes care of all your storage needs, and does it beautifully
Now is the perfect time to transform your garage into a space you'll love for years. Trade clutter, chaos, and tripping hazards for crisp, clean organization and functionality that enhances your life and protects your family 24/7. Call 866-712-3404 today or go online to www.premiergarage.com to find a designer near you and schedule a free, in-home, or virtual* consultation to see how easy it is to transform your garage.
*Virtual consultations may not be available at all locations.
Like us on Facebook and follow us on Instagram.
*Updated 10/24/2022