What Is The Most Durable Garage Floor Covering?
Whether you use your garage as a car parking area, laundry area, or home gym, you want a floor that sustains your uses. A durable garage floor is an asset because it saves costs on floor repairs. It also gives you the freedom to maximize garage usage. A floor that sustains high traffic, resists damage and offers easy cleaning is crucial. While most garage floor finishes are durable, not all may match your needs. With this list of garage floor coverings, you can find the perfect floor finish. The right floor covering transforms your boring garage into a modern, inviting space.
Epoxy Floor Coating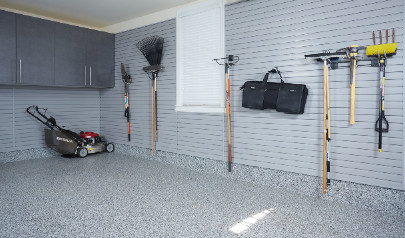 Epoxy floor coating in garage
Epoxy is one of the most durable garage coatings. You can lay it on your concrete subfloor to liven up your garage. It provides unique colorful hues, metallic and natural stone finishes. Once dry, the epoxy forms a hardened and thick coating. This layer protects your floors from scratches, dents, chemical spills and cracks. No matter what you drop on your garage floor, the epoxy will resist damage.
The installation process may take 3-5 days or longer, depending on the floor size. You need to find alternative parking, but it's worth the wait. A professionally installed epoxy floor serves you for 5-10 years. However, it may last longer, depending on usage. For instance, commercial garage flooring wears faster than a private garage at home.
An epoxy floor expert prepares your floor before applying at least three coats. The preparation and layers provide the best durability. The primer is the first layer, followed by the base coat and, finally, the topcoat. As you can imagine, the finished coat is thick and hard enough to resist impact and chemicals. The base coat lets you play around with colors and designs. Lastly, the final coat gives you a smooth glossy finish.
Epoxy is also great for commercial garage flooring because it resists wear. You can park cars and walk over the years. With a non-slip additive, the floors resist slipping to prevent injuries. The thick coating also seals cracks and imperfections. You can enjoy a durable and smooth floor finish.
Garage Floor Tiles
Interlocking garage floor tiles are popular among garage owners. They offer versatility, durability and comfort. Snap-together tiles offer a variety of designs and colors and are easy to install. Unlike epoxy, tiles can take a day to finish. The choice boils down to the material- plastic or PVC.
Hard Plastic Tiles
Hard plastic tiles are the most popular, offering a broad range of colors and flexibility. The tiles are also anti-slip and durable. They're made from a thermoplastic polymer called polypropylene. Manufacturers also add rubber to make the floors anti-slip and comfortable. No more painful knees when working on your bike, vehicle or gym exercise.
The tiles come with a peg and loop system that snaps into place, which is excellent for durability. You can replace one tile if it's damaged and keep the rest of the tiles without incurring high costs. The high-impact polypropylene resists staining because nothing sticks. You can clean up quickly without losing any of the material's strength. You can pour oil, grease, chemicals, and water on the tile, and it retains its firmness.
With high-quality tiles, you can park your cars, bikes and use equipment as you deem fit. The tiles also resist breakdown by mold, mildew and UV rays. Warranties for hard plastic tiles vary depending on the quality. Offers can be between 5-15 years.
PVC Tiles
Polyvinylchloride (PVC) tiles are an alternative to hard plastic tiles. They're softer and are often called rubber garage flooring tiles. In terms of commercial garage flooring, it's not uncommon to see them in warehouses and lifts.
Most tiles have an interlocking jigsaw pattern that provides a watertight barrier. The material makes the tiles heavier than hard plastic tiles. Parking and working on these tiles is, therefore, possible. The tiles also absorb sound. You can use them to reduce noise in your garage.
Unfortunately, their appearance may change depending on the usage. Car tires leave a black or yellow stain on lighter-colored tiles. Generally, anything with a rubber sole such as a shoe, chair, desk or toolbox may leave marks on your tiles. The stains are impossible to remove, which means that you're limited to dark colors.
Lastly, it's crucial to avoid dragging sharp items and heavy objects on tiles. Welding on the tile also compromises durability.
Floor Mats
Floor mats are some of the easiest covers to have on your garage floors. They are affordable, easy to install and provide adequate garage floor coverage. You can purchase a roll-out garage mat that only requires rolling out and sticking to your garage floor. Most mats come with double-sided tape for easy installation.
The floor mats protect your floors from oil spills, car marks, dents, and moisture. You can clean without worrying about damage to the floor covering. You can also cut through the mat with scissors, and the hardened edges remain strong and don't fray.
However, leaving the mats in extreme temperatures may cause buckling. Heat damage lowers the durability and function of the floor mats. Since it's plastic or rubber, dragging sharp objects and throwing heavy items is not ideal. Also, if you have large floors, you have to order several mats. Mostly, the replacement does not match the other pieces accurately.
Find The Right Garage Floor Covering Today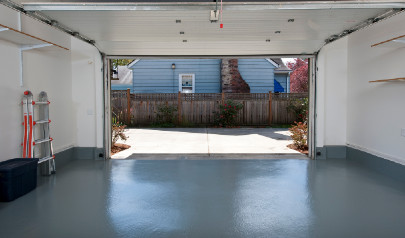 Clean organized garage
Your garage floors need a tough, durable material that resists damage from weight and high traffic. Epoxy, tiles, and mats are suitable garage floor finishes. They last several years without replacement or intense maintenance. However, when choosing any of these products, ensure you pick the highest quality. Also, hire professional installers for a perfect finish.
PremierGarage offers custom solutions for private and commercials garage flooring. We use quality products to deliver the perfect epoxy and tile garage floors. With us, you enjoy a custom, durable and easy to clean floor coverings with warranties. Reach out today for a consultation with our design experts.
*Updated 10/24/2022