Cleaning And Storage Tips To Get Your Garage Ready For Summer
When cleaning the garage has moved to the top of your To-Do list, there's always the temptation to find something else (anything else!) to do instead. It's a big task, especially when seasons collide—out with winter trappings and in with warm weather gear. But actually, this is the ideal time to take stock of how you use your garage and see if better storage solutions could help keep your garage clean and organized so you can avoid marathon cleaning efforts. Premier Garage® has practical tips for cleaning your garage as well as organization and storage ideas that will transform your space and make garage life so much easier!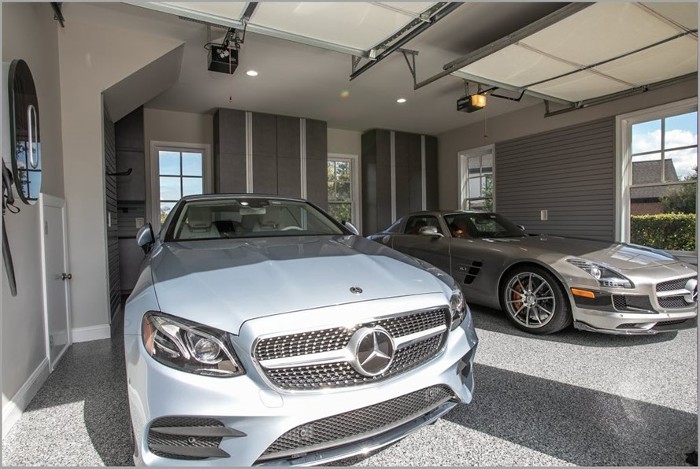 Ready to swap your garage for some, "Oh my gosh, what a great garage!"
Tip one: Safety first
Wear a protective mask so you don't breathe in all the dust and dirt you'll be stirring up. Add gloves to protect your hands and goggles for eye protection, it could get rough in there!
Tip two: You can't clean what you can't reach
When garage contents are piled, stacked, and scattered on the floor, it's hard to make any headway with cleaning. By removing the garage contents, you can then clean walls, ceilings, cabinets, shelves, and the floor. Take everything out to the driveway or yard so it's out of the way while you clean every nook and cranny.
Tip three: A shop vac makes quick work of cleaning the entire garage
Although Shop-Vac is an actual brand, it's also descriptive of any brand of wet-dry vacuums. Shop-Vac's safely vacuum up wet and dry debris, which is great since garage dirt can run the gamut from pesky dust to moisture-laden dirt and gunk on the floor. A Shop-Vac will make quick work of a dirty garage with attachments like crevice tools, dusting brush, bare floor brush, and extension wands for cleaning hard-to-reach places. You never have to touch spider webs or rodent droppings, and the ability to convert the shop vac to a blower lets you clean under elevated racks, shelves, and cabinets.
Tip four: Cleaning without a shop vac
All is not lost if you don't have a shop-vac. Brooms, Swiffers®, and a regular vacuum can do the trick with just a little extra time, elbow grease, and a helper or two. Swiffers have disposable cleaning cloths that grab and hold dust so you can wipe down dusty walls and ceilings and just dispose of the dirty cloths. Or wrap a microfiber towel around a broom and use that to wipe walls and high places. A regular vacuum or push broom can clean the floor and the vacuum has attachments for shelf and crevice cleaning.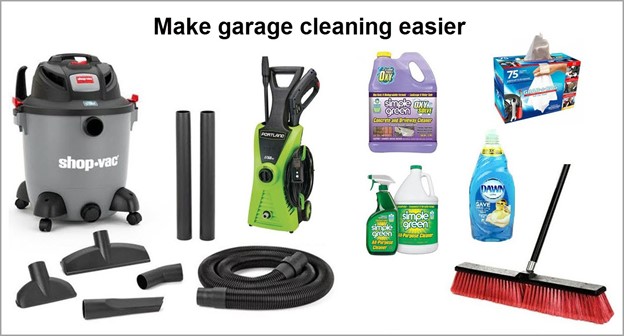 Assembling all the right tools will make cleaning the garage more efficient, saving time and energy
Tip five: Wash all dirty surfaces
We're talking good old soap and water here for shelves, countertops, and surfaces. Whether you DIY cleaning solutions or buy ready-made, wipe all surfaces clean. Mix the cleaning solution in a bucket for ease of use with a sponge or cloth, trying to clean an entire garage with a spray bottle will take forever! For a concrete garage floor, a power washer or shop vac can deep clean or a push broom and concrete cleaner like biodegradable Simple Green Oxy Solve Concrete and Driveway Cleaner will scrub the floor clean.
Tip six: Sort contents before returning to the garage
This step is important so that you don't load up your garage with stuff you no longer need or want. Set up four collection areas—keep, donate, trash, or recycle—and sort everything. Save investigating the contents of every box or bin for another day, just focus on real space-eaters like garage sale leftovers, broken or duplicate equipment or tools, outgrown bikes or games, home improvement excesses like old light fixtures, and old furniture. Dispose of what needs to go in the trash, to donation or recycle, and dust off what's left before it goes back into the garage.
Tip seven: Organize as you restock the garage
As you return all the "keep" items to the garage, think organization and create zones to store like items together. For instance, one zone could be for sports equipment, one for gardening supplies, one for car care, and another for stacked boxes. Slatwall wall storage in conjunction with garage storage cabinets increases storage options, especially in small spaces. Store seldom-used items up high and keep what you use most often within easy reach. Create low-level storage for the kids with shelves or cubbies so they can manage their own things like sports and hobby equipment.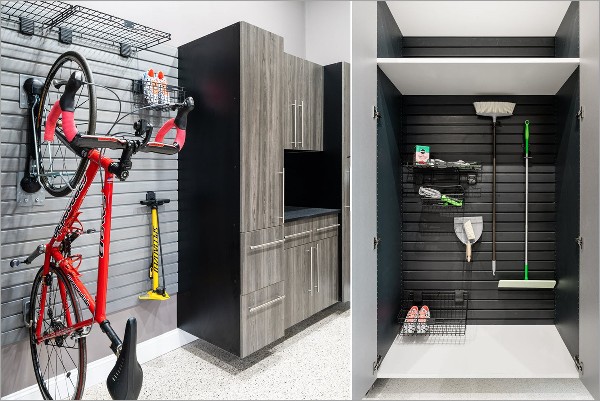 Garage cabinets and Slatwall are a great combination for all kinds of storage to keep your garage neat and organized
Tip eight: Install a durable custom garage floor
Unfinished concrete in the garage makes it almost impossible to keep your garage clean. Surface cracks and crevices attract and hold dust and dirt and its porosity retains moisture. Easy-care custom garage flooring from PremierGarage will help keep your garage cleaner with a floor that resists spills, moisture, dust, and dirt. PremierOne® epoxy floor coatings or PremierTrax® interlocking flexible tiles create industry-tough floors that beautify and protect your garage.
Tip nine: Implement storage and organization solutions if needed
Even with a sparkling clean garage, you may be faced with storage challenges to be able to keep it clean and tidy. Garage storage cabinets are ideal for organizing the entire garage. They capture vertical space with floor-to-ceiling cabinets and shelves to get everything up off the floor. Bulky items like camping gear, holiday decorations, bikes, and out-of-season sports equipment can store up and out of the way at ceiling level with overhead storage racks, automated platforms, and specialty lifts so your garage space is maximized for everyday living.
Your garage can become very user-friendly with custom storage solutions designed for the space you have and what you need to store
Clean and organized, the perfect garage for all seasons
Once you get your garage clean and organized, you'll appreciate the benefits for years to come. Implementing storage to control the clutter and installing a custom garage floor that's durable and easy to clean will ensure ease of functionality going forward. Your garage will be safer and more efficient for all its uses, including parking the cars, work and hobby areas, or an in-garage laundry room. Call 866-712-3404 today or go online to www.premiergarage.com to find a designer near you and schedule a free in-home, or virtual* consultation to talk about how to maximize your garage for more stress-free living.
*Virtual consultations may not be available at all locations.
Like us on Facebook and follow us on Instagram for more tips on garage storage and organization.
*Updated 10/24/2022