Creating the Ultimate Car Enthusiast's Garage
Designing a Dream Space for Auto Aficionados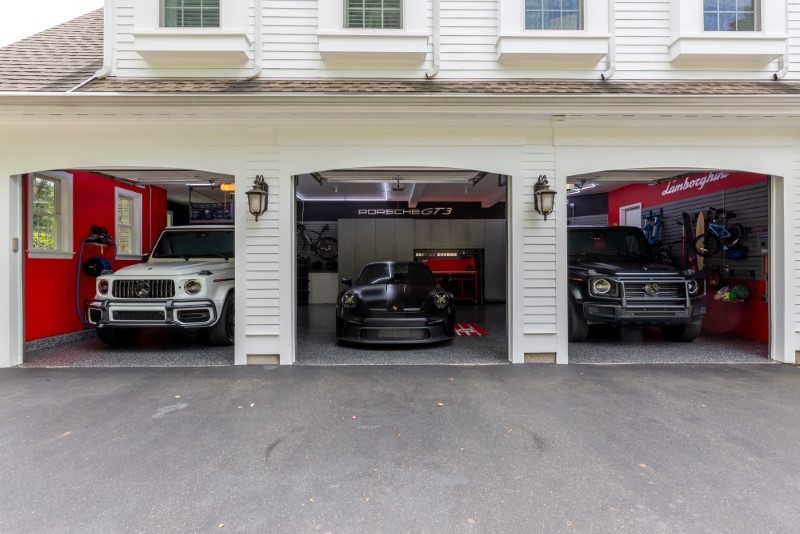 Designing the ultimate car enthusiast's garage is an exhilarating endeavor that allows auto fans to create a space tailored to their passion for automobiles. From showcasing prized vehicles to incorporating functional and stylish elements, this guide will provide insights and tips on designing the dream garage for car lovers. Whether you're a collector, an avid DIY mechanic, or simply want a space to indulge in your automotive passion, this guide will help you create the ultimate car enthusiast's haven.
Assessing the Space and Planning the Layout
Assessing the space and planning the layout of your car enthusiast's garage is a crucial first step in creating the ultimate automotive haven. Here are some key points to consider when assessing your space and designing the layout.
Begin by measuring the dimensions of your garage and assessing the overall square footage. Note any existing features such as windows, doors, pillars, or obstructions that may impact the layout.
Determine the sizes and dimensions of the vehicles you plan to store in the garage. This includes both length and width and any additional space required for opening doors and maneuvering around the vehicle.
Take stock of your storage needs, including tools, parts, accessories, and other automotive-related items. Consider the quantity and types of items you need to store and how accessible you want them within the garage.
Optimize Space for Functionality
Carefully plan the layout to ensure efficient use of space. Allocate areas for parking vehicles, create a dedicated workspace for maintenance and repairs, and organize storage solutions. Consider the flow of movement within the garage to maximize functionality.
Balance Functionality and Aesthetics
While functionality is essential, don't overlook the aesthetic appeal of your garage. Incorporate design elements that reflect your style and create an inviting atmosphere. Strive for a balance between functionality and aesthetics to make your garage an enjoyable space to spend time in.
After assessing the available space:
Consider the size of your vehicles.

Identify your storage needs.

Optimize the layout for both functionality and aesthetics.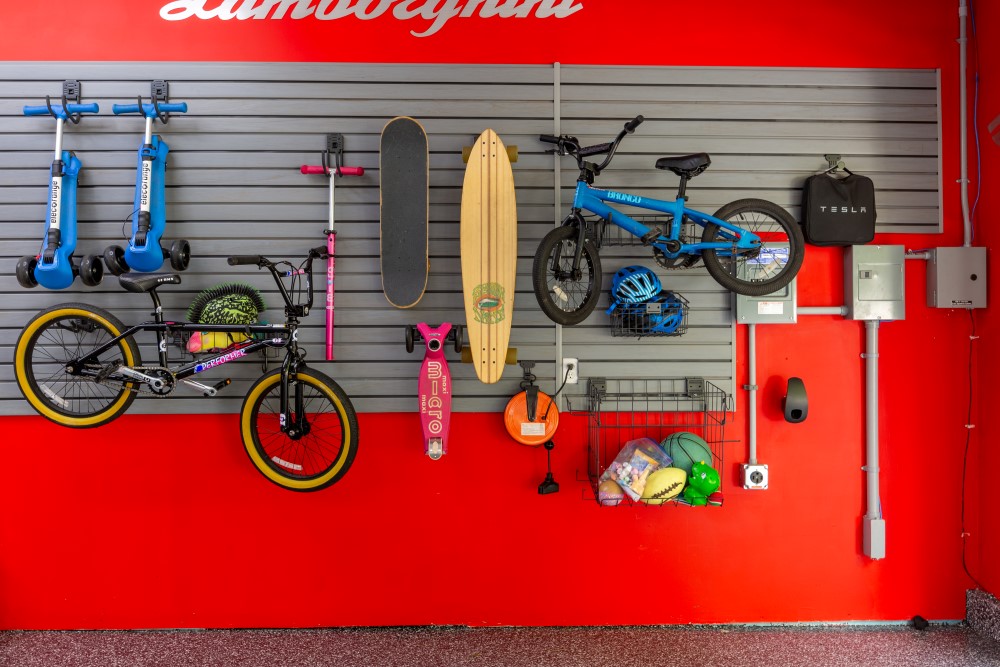 Then, you can create a well-designed garage that meets your specific requirements as a car enthusiast. Take the time to carefully plan the layout to ensure your garage becomes the ultimate space to showcase and work on your beloved automobiles.
Flooring and Finishes
When designing your garage, selecting flooring and finishes that fit your needs is important. There are several factors to consider. Opt for durable materials that can withstand the vehicles, tools, and equipment you'll be using. PremierGarage Epoxy & Polyaspartic floor coatings are a popular choice as it is strong, resistant to stains and chemicals, and easy to clean.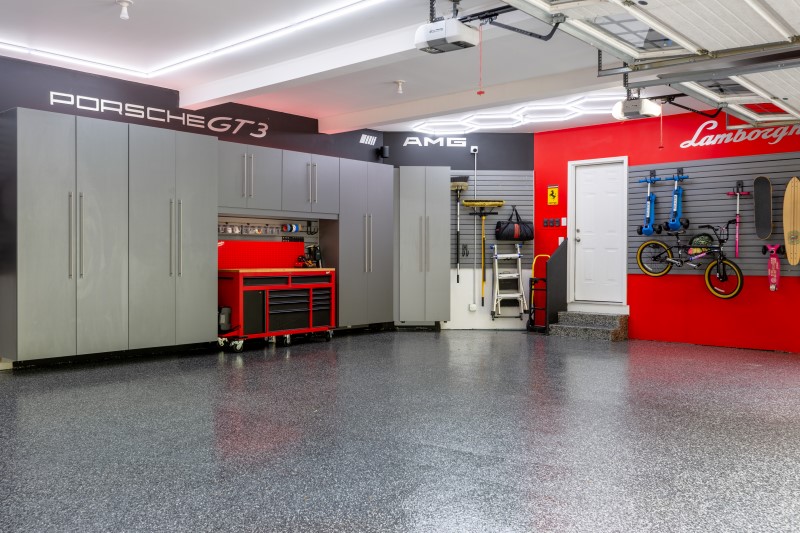 Safety is paramount in a garage, especially when it comes to flooring. Look for flooring solutions that offer slip resistance to reduce the risk of accidents, particularly in areas where spills or wet conditions may occur. Textured or non-slip coatings can provide additional traction to improve safety.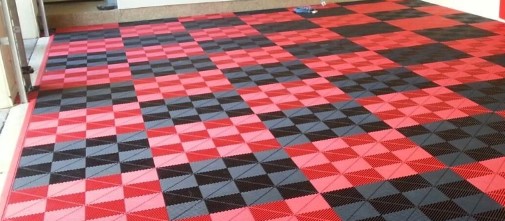 Consider the aesthetic aspect of your garage by selecting flooring and finishes that align with your personal style and preferences. PremierGarage coatings come in various colors and finishes, allowing you to customize the look of your garage. Additionally, floor tiles are available in various patterns and colors, allowing you to create a visually appealing space.
Security and Safety
It is crucial to prioritize security and safety to protect your valuable vehicles and ensure a worry-free experience. There are several key points to consider when it comes to security and safety in your garage, including:
Install a robust security system to safeguard your garage and vehicles. This may include an alarm system, surveillance cameras, and motion sensors. Ensure proper signage indicating the presence of security measures to act as a deterrent.
Invest in a sturdy and secure garage door that is difficult to breach. Consider reinforced materials, high-quality locks, and tamper-proof mechanisms. Regularly inspect and maintain the garage door to ensure it's functioning correctly.
However you decide to improve your garage and cater to your automotive interests, PremierGarage has you covered. We offer various flooring options, including Epoxy flooring, flexible tile floors, and commercial flooring. We also provide cabinet and workspace options, wall and overhead storage, and more. If you want to learn more or are interested in working with us for your garage, schedule a free consultation.