Declutter Your Garage with Overhead Storage Racks
If maneuvering around your garage is like an obstacle course, maybe it's time to do something different. Instead of stacking and piling things around the perimeter of the walls, you can get that storage up and out of the way with overhead ceiling storage. Heavy-duty storage racks and automated lifts and platforms can provide overhead storage that frees up floor space so you can park the car and safely navigate around your garage. If you're ready to lose the clutter and realize the full storage potential of your garage, Premier Garage® can help with overhead storage systems to perfectly fit your needs, space, and budget.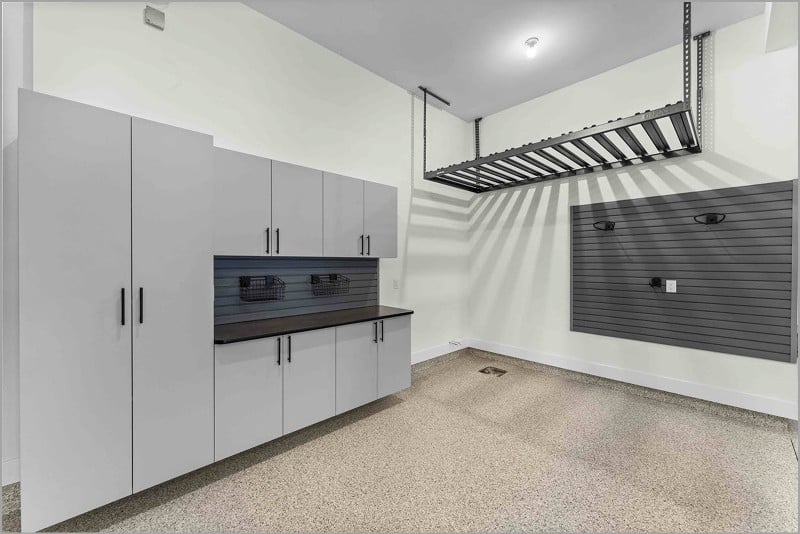 Your possessions don't have to compete for storage space and are securely stored with strong and visually pleasing organization solutions
One of the biggest benefits of overhead garage storage is that you are converting unused space into valuable storage space. It lets you increase storage capability without infringing on space you use every day. If you've never considered using overhead space in the garage for storage, think about this:
You can eliminate all the clumsy and awkward things in the garage that are perpetually in the way, like folded camp chairs, sports equipment, and the weed whacker.
With large or bulky items neatly stored overhead, your garage will achieve the clean, finished look you've always wanted and be a safer place, especially for kids and pets.
Choose between stationary overhead racks or motorized platforms and lifts or use a combination of both for your specific needs.
Stationary overhead storage racks for secure storage
Stationary overhead storage racks are a popular choice since they come in numerous sizes to accommodate any garage configuration. Standard sizes include three-foot or four-foot shelf widths with lengths of four, six, and eight feet. You can configure square racks to fit in corners and group racks together to create all the storage you need. Racks are also adjustable in height, generally from 18" to 33" so you can customize to your ceiling height even if you have a low ceiling. The heavy-duty, 14-gauge steel frames ensure that the racks won't swing or sway when storing or removing items while on a ladder. (Any ladder you use should have slip-resistant feet for added safety.)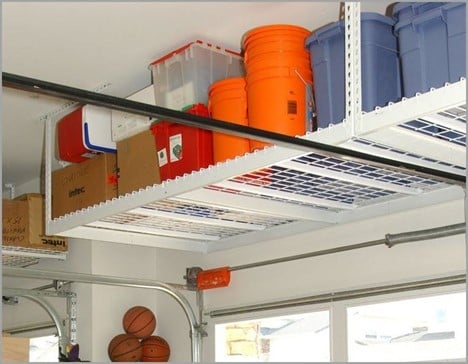 Give up that expensive rented storage space with overhead storage racks that multiple your garage's capabilities for efficient storage
Overhead storage can almost double storage space in a small garage.
Utilize the space above the garage door for long-term storage you only access occasionally.
Ideal for long or tall items that can safely store flat like skis and poles, patio umbrellas, tents, or two-by-fours.
Stationary overhead racks of 14-gauge steel can hold up to 800 pounds, approximately 50 pounds per square foot.
The openness of the racks keeps stored items well-ventilated, with proper airflow to combat moisture problems.
Clearly label your stored boxes or bins identifying the contents so you can quickly find what you need.
Have a smart garage with automated platforms and lifts
Smart homes have streamlined everyday living in many ways, making life easier and more stress-free. A smart garage can do the same by eliminating the need for ladders and the possibility of injury while trying to manage garage storage, especially overhead storage. With PremierGarage's smart garage solutions, there's no climbing, stretching, or precarious balancing on ladders or stepstools since the stored items come down to you at the touch of a button. Options include platforms and universal lifts as well as specialty lifts for specific items like bicycles or a Hard Top Lifter for a Jeep® top. The ultimate in convenience, automated garage storage gives safe access to valuable ceiling-level storage space to maximize all the space in your garage.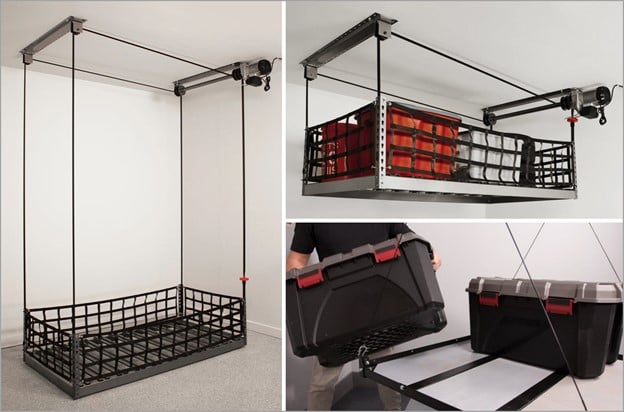 No back strain or danger of slipping off a ladder with motorized systems that come down to ground level to raise and lower your stored items
Save breakage from dropped boxes and painful strain to back, shoulders, and neck from lifting heavy objects over your head.
Automated garage storage lifts let you effortlessly manage large and oversized storage, keeping it safe and secure from damage that can happen from getting moved all around the garage.
Each lift can handle up to 100 pounds, multiple automated platforms can be linked together for expanded storage, up to 400 pounds, with safety netting for extra security.
Operate from a smart phone or remote and prevent unauthorized use with a wall-mount push button station with keyed access.
Automated lifts can be stopped at any level and, since each lifter has an internal gear brake, there is no risk of dropping items or slippage even if the power goes out.
Professional installation ensures greatest safety and functionality of any overhead racks.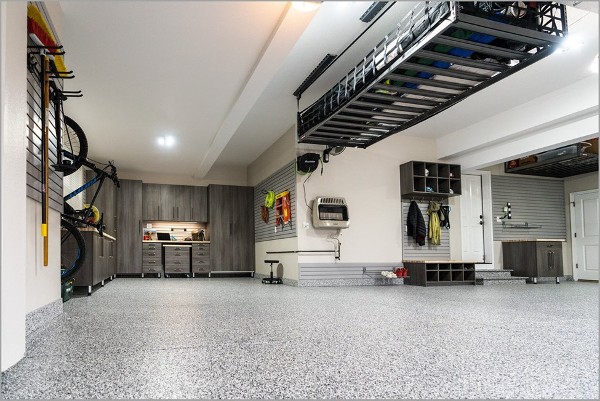 Treat yourself to the ultimate garage with custom garage cabinets, overhead storage, wall-hanging systems, and a custom garage floor
Don't let the garage space above your head go to waste! Overhead storage, including stationary racks and automated solutions, can help you find storage space in your garage you'd never imagined. Bulky and odd-shaped things like wheelbarrows and kayaks, stacked bins and boxes, and even the family's bikes can lift up and out of the way making your garage more user-friendly with expanded space. Call 866-712-3404 today to find a designer near you and schedule a free in-home, or virtual* consultation to talk about decluttering your garage for the last time.
*Virtual consultations may not be available at all locations.
Like us on Facebook and follow us on Instagram.
*Updated 10/24/2022