Enhance Indoor/Outdoor Living Space For A Fabulous Fourth And Canada Day
July is the month we celebrate independence in the U.S. and Canada. July 1 is Canada Day, celebrating the three colonies becoming Canada, and the Fourth of July marks the beginning of independence for the new United States. Freedom and independence are cherished and celebrated the whole month with flags flying, get-togethers of all kinds, parades, speeches, and those glorious fireworks!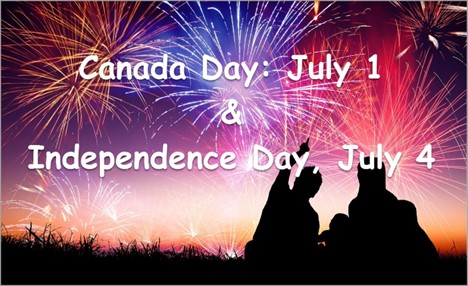 Whether you celebrate with just family members or a few guests, making the most of all your living space will add to the fun by seamlessly blending the indoors with the outdoors. PremierGarage has four tips to help you create a natural bridge between the interior of your home and the outside world where dining, relaxing or entertaining never have to end.
One: Direct the traffic flow by removing barriers
With a patio or deck right off a kitchen, dining room or family room, you're well on the way to enhanced activity and entertainment areas. Create a natural flow to the outside areas so people effortlessly travel back and forth between indoors and outdoors with no interruption of comfort or style. Continuity can be affected with visibility, color, and textures.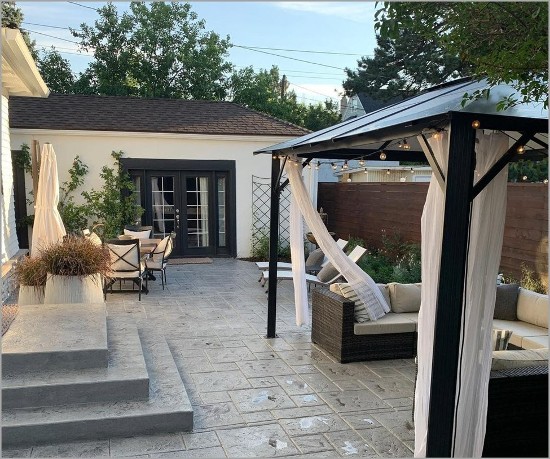 An inviting space will naturally draw people outside where fun, sun, and comfort await (slate patio floor design by sister-brand, Concrete Craft)
Uncover large, sliding glass doors so that the spaces are connected visually, and activity areas are on display. Use window coverings that can be pulled to the side or up, completely out of the way.
If you're planning to replace windows or doors, French doors can be a beautiful invitation to go outside.
Match indoor flooring style or color to the outdoors by staining the patio a like color or resurfacing a concrete patio with decorative concrete faux wood, stone, or tile designs.
Carry your indoor color scheme outdoors with coordinating accent pieces, including weather-resistant fabrics on patio chairs and lounges, awnings, sun umbrellas, and potted plants and flowers.
Develop an efficient outdoor kitchen with coordinating custom cabinetry and countertops built around an existing barbeque.
Add patio furniture that complements your indoor style.
Two: Design with comfort in mind
Making your outdoor spaces as comfortable as indoors involves the same consideration that you put into furnishing your home. Lighting, temperature, seating, aesthetics, and sensory sensations contribute to creating spaces where people want to spend time. Addressing each of these for outdoor spaces can involve some creative thinking since you don't control the weather and environment, but you can take measures to ensure comfort on every level:
Balance sun and shade for a comfortable day with patio covers, awnings, solar shades, and adjustable patio umbrellas to keep your spaces cool and people and pets protected from the sun and too much heat.
Outdoor misting systems that cool and hydrate can be added to umbrellas and patio covers for overall coverage, portable systems that can moved as necessary, or have an assortment of personal mistering fans for your family and guests.
Declutter the deck or patio so it's more inviting and paint or re-stain any dingy surfaces to restore original beauty and glam up patio furniture with fresh, new cushions.
For a worn floor, PremierTrax® garage floor tiles (available in 18 colors) are a quick upgrade that stay cool, are easy to clean, and safe for children to play on.
Extend the comforts of the patio to the pool area by providing lounges, chairs, tables, and umbrellas, along with extra sunblock and beach towels.
Scented plants like jasmine, honeysuckle, and wisteria will create gorgeous surroundings and perfume the air.
Have sufficient lighting for nighttime activities with wall sconces, tiki torches, solar lights, path lights, lanterns, and string fairy lights.

Keep unwanted pests away day and night with these 7 Ways to Make Your Yard & Home a Bug-Free Zone

.
Three: Give your pool favorite resort treatment
If your summer fun revolves around a swimming pool, adding a poolside cabana will make it even more appealing. Convert an outdoor shed to a charming cabana with custom storage solutions like shelves, hooks and cubbies to make it efficient and comfortable. Swimmers can take a break but stay close to the water, enjoying a cool drink and a comfortable spot. A poolside cabana will keep extra towels handy and provide privacy to change out of wet bathing suits without tracking water into the house.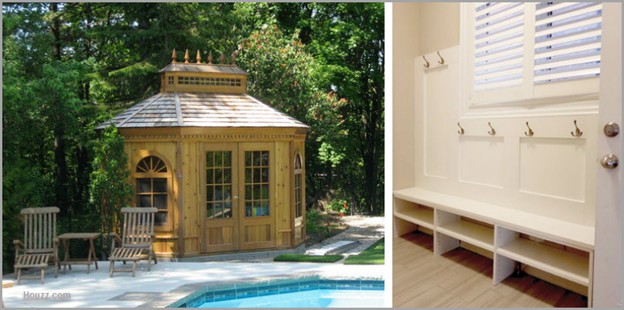 An outdoor shed can become the perfect poolside cabana with custom organization solutions from PremierGarage
Cabinets, cubbies and hooks turn a simple shed into a functional cabana for guests to change into their suits and stow their gear.
A storage bench provides seating as well as storage for pool toys, extra towels, and sun hats.
During the off season, store the patio furniture and cushions inside to prevent weather damage.
Four: Transform your garage into outdoor entertainment space
The garage is another option for creating expanded outdoor living space. Generally considered just for storage, a maximized garage can become functional space for activities of all kinds. Customized garage storage solutions like garage storage cabinets, shelves, and Slatwall panels can organize everything in your garage, getting it all up off the floor and freeing up space for other uses that are much more fun. Our industrial-strength PremierOne® epoxy garage floor coatings or PremierTrax flexible tiles will make your garage nice enough for any activity, including snacking and dining right in the garage. Prop open the connecting door, and you've doubled your entertaining space!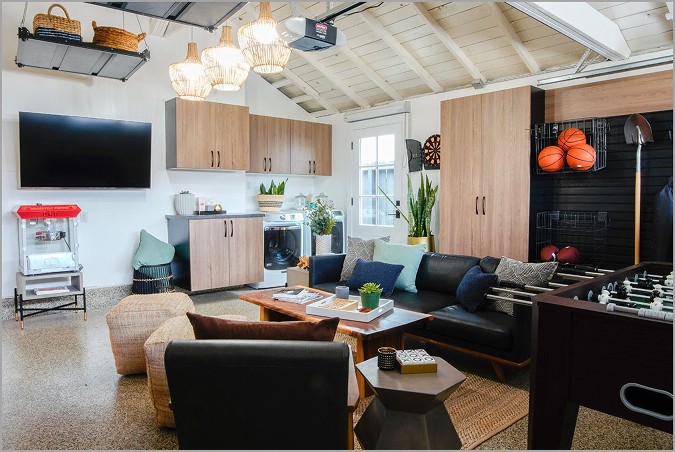 Never a dull moment in this transformed garage with areas for relaxing, TV viewing, and games all summer long
A barbeque crowd can happily spill over into a garage fully stocked with drinks and snacks and comfortable space to hang out.
Setting up game tables takes the party "outside" with plenty of room to move around, especially if you open the garage door onto the driveway with portable air hockey, foosball, or ping pong.
Chairs and tables can create a picnic or party atmosphere to provide a change of pace from eating inside.
A Man Cave in the garage can provide all sports all the time without impacting in-home peace and quiet.
In bad weather, the kids can get out of the house for games or movies in the garage for a welcome change of pace.
Have a great Canada Day and Fourth of July!
Start now to plan for a glorious Independence Day with food, fun, and fireworks. Blending your indoor and outdoor spaces will make your whole house feel bigger and extending indoor comfort to the outdoors will encourage everyone to mix and mingle all weekend long. Call 866-712-3404 today to find a designer near you and schedule a free in-home, or virtual* consultation. We are committed to empowering people to live serenely in their homes through custom storage and organization solutions that provide a beautifully organized life, at the right price.
*Virtual consultations may not be available at all locations.
Like us on Facebook and follow us on Instagram.
*Updated 10/24/2022