Five Garage Mudroom Storage Tips For Fall
In many homes, entry through the garage is the most used entrance into the house. By creating a mudroom in the garage, you eliminate all sorts of things being brought into the house. Imagine how much cleaner the house would stay if wet outerwear, muddy shoes and boots, grimy sports equipment, and drippy backpacks didn't cross the threshold. Creating a mudroom in the garage will take the brunt of fall and winter weather challenges and make it easier for your indoor entryway to stay neat and tidy. For an efficient mudroom, here are five tried-and-true mudroom storage tips from PremierGarage that will facilitate your family's comings and goings.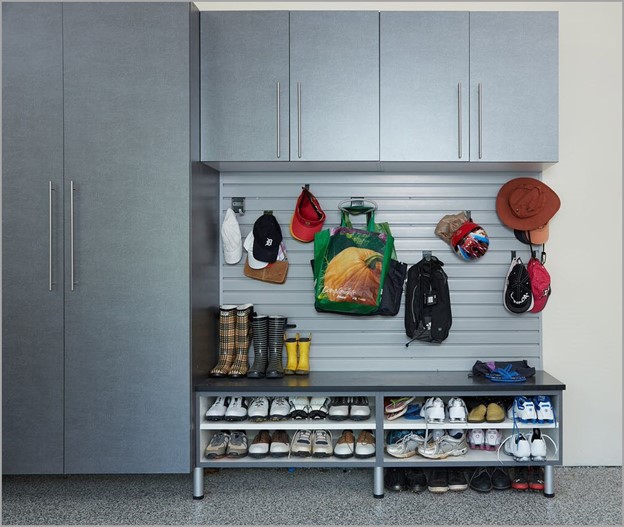 A mudroom in the garage at the connecting door to the house means wet coats, jackets, boots, and hats don't make it inside
Tip One: A most convenient bench
Having a bench lets you download whatever you're carrying so you can remove a coat, jacket, or hat in comfort, with hands free to hang your things. Then, you can sit to remove dirty shoes or boots and replace them with clean shoes or slippers from the shelves or cubbies before going indoors. Making the swap in the garage keeps all the mess in the garage, and you can carry your bundles in without tracking in water, mud, and snow.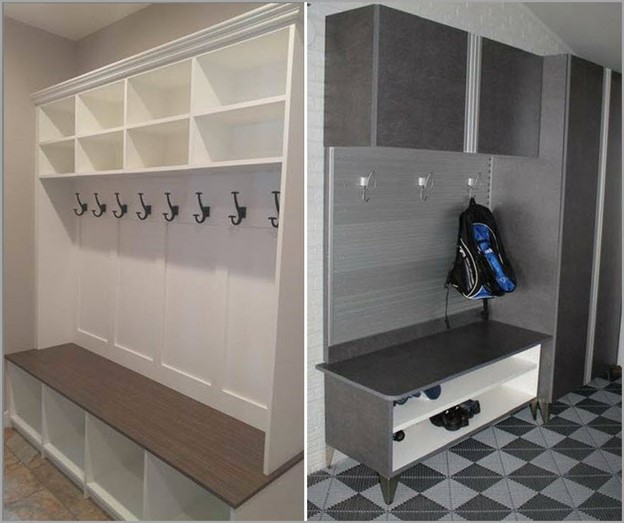 Benches can provide seating and convenient storage all in the same space
Tip Two: Helpful hooks can organize anything
Fall's cooler temperatures increase the number of coats, hats, scarves, and gloves that will be trafficking in and out of the house. An assortment of high-level and low-level hooks will make it easy for the tall and the small to hang up their things rather than dropping them on the floor inside. Designated hooks for each family member will eliminate jockeying for space and everyone will be able to quickly find their own for the next trip out. Be sure to have enough hooks so that coats and other wet garments don't get layered on top of each other or they won't dry completely between wearings. Include special hooks for doggie leashes and a sweater to make walking the dog a cleaner prospect too!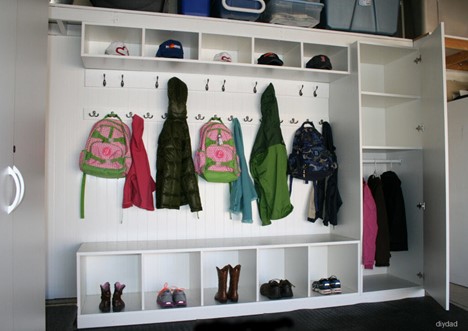 Go with sturdy hooks to handle the weight of wet coats and heavy backpacks
Tip Three: Make room for footwear
In a class by itself for messing up the house is muddy footwear. Fall showers can mean that shoes and boots are perpetually wet and muddy, and treads packed with mud are a very real threat to a clean house! Having plenty of space with shelves and cubbies keeps shoes and boots separated so they have a chance to dry out and the mates don't get lost. Extra racks or boot trays can provide additional drip-and-dry space, with rugs or mats underneath to absorb water. Slatwall panels have attachable shoe shelf accessories so you can have all the drying racks you need.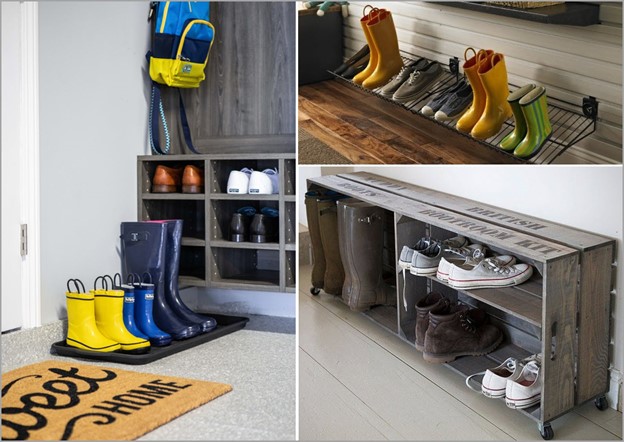 Organized space to maintain the family's footwear will go a long way to keeping the garage and your home cleaner
Tip Four: Incorporate a mudroom closet along with garage cabinets
Mudroom facilities can be combined with garage storage cabinets that maximize overall garage organization and storage capabilities. Mudroom cabinets, open shelves, benches, drawers, and decorative hooks can all contribute to functional storage that will meet the unique needs of your family. From a small entryway to a full garage mudroom or mudroom/laundry room, custom mudroom design will control clutter, contain the mess, and make life more stress free.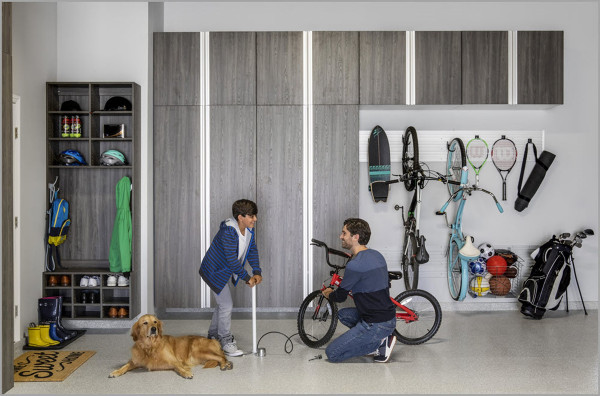 Intentional mudroom storage eliminates things piled in the garage or scattered around the house
Tip Five: Rugs and mats to remove grime
Using rugs at doorways is always a good idea to help contain tracked in dirt. Rugs and mats come in many styles to absorb water, clean the bottom of shoes and feet, protect against slippery floors, and just generally keep dirt and mud from entering the house. Rugs are available in rubber, synthetic nylon, polyester and polypropylene, and natural fibers like jute and sisal. To be most effective, clean the rugs regularly so they don't have dirt buildup by sweeping, vacuuming, or shaking the dirt out. If caked-on mud is more than a regular rug can handle, boot scrubbers quickly get rid of mud and dirt and keep it outside where it belongs.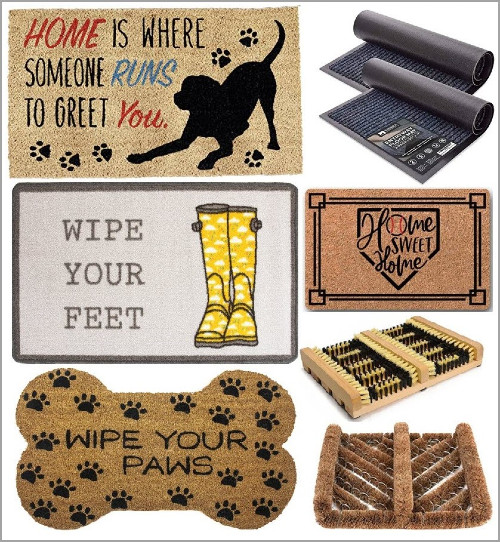 Combine fun and function with rugs that promote the cause with a gentle reminder along with heavy-duty protection
If a mudroom is a new concept for you or you just keep putting off dealing with the mess, PremierGarage can assist you with designing the perfect garage or in-house mudroom for your available space and your family's needs. Taking control now before you're knee-deep in bad weather will make the coming months much easier to manage. Go online to www.premiergarage.com to find a designer near you or call 866-712-3404 to schedule a free, in-home or virtual* consultation.
*Virtual consultations may not be available at all locations.
Like us on Facebook and follow us on Instagram for home storage inspiration.
*Updated 10/24/2022