Garage Organization Ideas For A Floor-To-Ceiling Garage Makeover
If you've ever found yourself standing in the middle of your garage wondering where to start to get it organized, PremierGarage can help. We assist thousands of homeowners every year with garage makeovers to maximize space, clear away clutter, and transform their garages into functional living spaces. Whether your garage is large or small, these garage organization ideas will help you calm the chaos and create a garage that makes life easier every single day.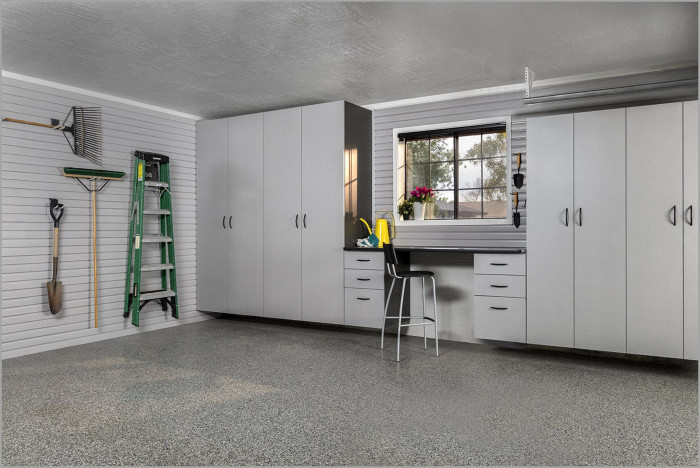 A truly organized garage lets you find exactly what you need when you need it
Every household may be different, but it's safe to say that most garages have an amazing amount of underused space. Specifically, vertical wall space and ceiling storage space are commonly overlooked. Custom garage storage solutions to maximize a garage can include garage storage cabinets, wall hanging Slatwall panels, and overhead storage racks. How these elements are incorporated and combined for custom garage storage is dependent upon a family's lifestyle and needs as well as the size of the garage. Each has features to solve specific problems:
Garage storage cabinets capture valuable wall space from floor to ceiling, getting everything up off the floor, organized, and out of sight behind closed doors. They also can incorporate workbenches, countertops, and drawers in the design.
Slatwall panels transform walls into useful storage where there is limited space, like in a small garage, over a workbench, in a corner, or when the preference is for open storage versus cabinets.
Stationary overhead storage racks and automated garage lifts and platforms utilize all that empty space at ceiling level, providing lots of square feet of storage for bulky and seldom-used items.
Today's organization ideas are going to focus on how to get the most out of these three storage options so your whole garage stays efficient, user-friendly, and wonderfully neat!
Maximize garage cabinet storage
Just because a cabinet is there, doesn't necessarily mean it's highly functional. Unless there is some logic to how contents are stored, you may only be hiding the mess, not organizing it for usefulness. Here are some tips for making the most of your garage cabinets.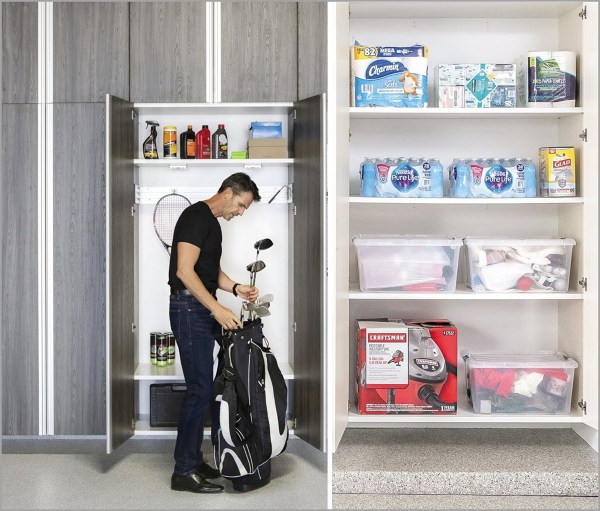 Organized garage cabinets save time and effort every time you go into the garage
Adjustable shelves let you manipulate the cabinet space for exactly what you need to store, allowing for big and tall or short and small.
Store heaviest items on the bottom shelves for ease of retrieval and safety of not lifting heavy objects above your head.
Use see-through plastic bins so you can see what is stored where, and label boxes and bins for quick identification. (Lidded, plastic bins offer more protection from moisture, dust, and pests than cardboard boxes that break down over time and don't seal tightly.)
Store items together inside the cabinets: a shelf for auto care products, a section for gardening implements, group decorations by holiday, etc.
Give each family member a shelf or section of a cabinet for their personal use, with the lowest shelves for the kids.
Use the highest shelves for seldom-used or seasonal items that you don't access very often.
Install locks on cabinet doors or drawers that store valuable keepsakes, expensive tools, or toxic products like paint thinner and radiator coolant safely out of reach.
Install lighting inside cabinets with LED track, Puck, or Ribbon lights so you can see contents.
Very versatile Slatwall
Slatwall panels can be integrated with garage cabinets or as alternative storage where cabinets don't fit. It can be sized to fit around cabinets and countertops, customizable for objects large and small. Wall hanging storage is a great way to organize and store things that are too cumbersome for inside cabinets, like sports equipment and gardening tools. Using attachable hooks, shelves, and baskets, Slatwall creates secure, easily accessible storage for anything you have to store.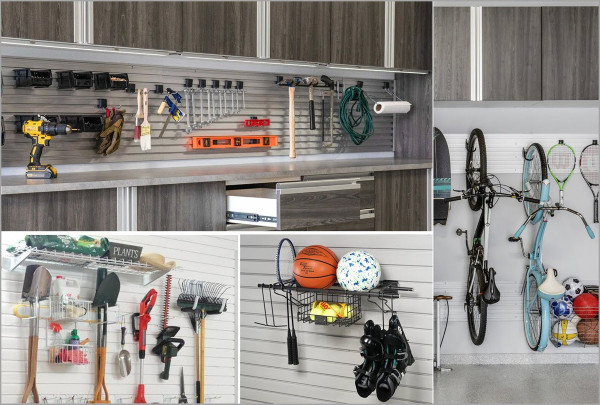 Slatwall keeps everything you store visible and easily accessible, but securely out of harm's way
Place Slatwall over a working countertop to keep tools and supplies organized and easy to find for the DIYer, handyman, or hobbyist.
Create zones for like items, such as store garden essentials grouped together, including large tools on hooks with smaller items in attachable baskets.
Organize sports equipment by season or game, so nothing gets misplaced between uses.
Bicycles can be unwieldy and space-grabbers but, with Slatwall, specialty hooks can store them flat to the wall or perpendicular.
Slatwall strips can add storage capability to small or tight spaces, such as behind doors and in corners (especially good places for long garden tools and mops and brooms).
Removable hooks and racks let you reconfigure your storage as often as you like.
How to best utilize ceiling storage space
If overhead garage storage isn't on your radar, maybe it should be. There's lots of space at the ceiling that could serve well for storing all those odd-shaped things that eat up floor space, long-term storage, seasonal items, and whatever else you don't have to access on a regular basis. If stationary overhead storage racks aren't practical since a ladder is involved, PremierGarage's SmartGarage automated solutions make overhead storage safe and practical for anyone, even ladder-challenged people.
Stationary overhead storage racks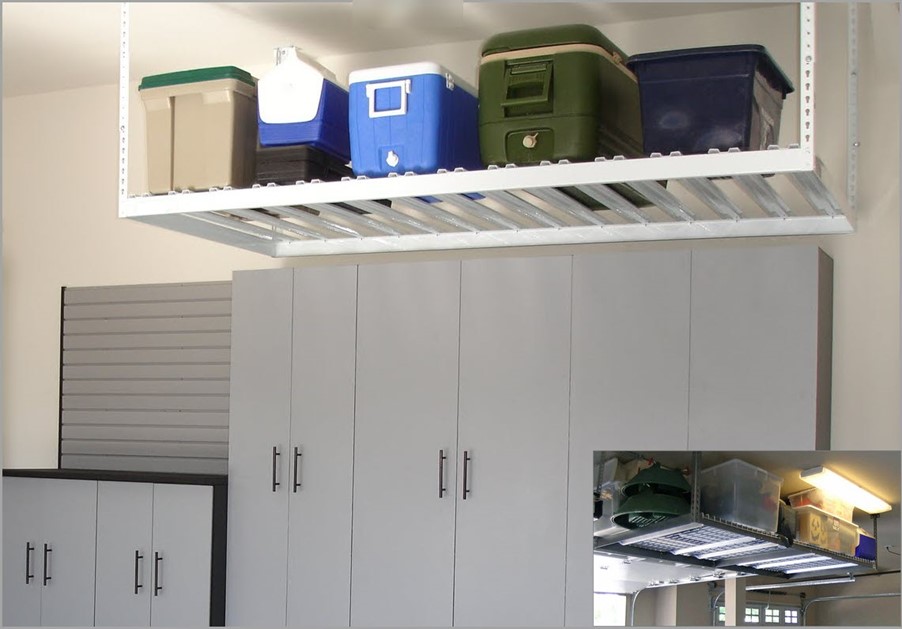 Store bulky items like camping gear, ice chests, and off-season clothes in air-tight storage bins
For safety, stationary racks should be installed by a professional unless you are a seasoned handyman.
Available in numerous sizes, square or rectangle shapes, and adjustable heights, determine what sizes will best utilize your garage ceiling space.
Pay attention to the weight maximums for overhead storage racks so you don't overload them, which could be hazardous.
Be sure to have a sturdy ladder and a helper on the ground whenever you store or remove items in overhead storage.
Ideal for storing large items like Christmas trees, yard decorations, and patio furniture.
Automated overhead storage lifts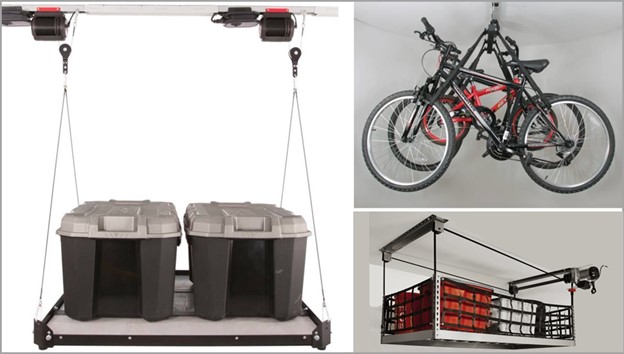 Automated lifts take the strain out of overhead storage; it comes down to you and can be stopped at any level you choose
Professional installation is recommended, especially since the weight limits are considerably higher than stationary racks and secure installation is vital.
For security and safety, a wall-mount push button station with keyed lockout prevents unauthorized use by curious little people.
Determine what needs to go to ceiling level before you buy as there are custom lifters for bikes and other big items, and platform lifts for general storage.
Multiple platforms can be linked together for expanded storage, with safety netting for extra security.
For long-term storage, use lidded, sealed protective bins; no cardboard boxes!
An organized garage deserves a beautiful garage floor
The finishing touch for any garage is an easy-care, durable floor and, if it's beautiful, all the better! PremierGarage offers custom garage flooring, including industry-tough epoxy coatings and flexible, interlocking tiles that can transform your garage into your second favorite hangout after your easy chair. PremierOne® epoxy floor coatings offer five different styles to choose from and PremierTrax® garage tiles come in 18 luscious colors so you can design the perfect floor for your space.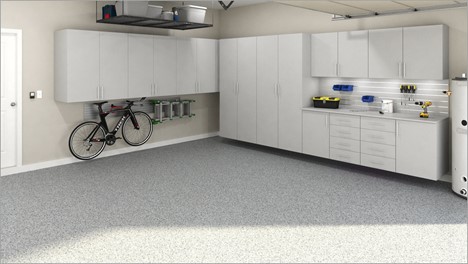 From floor to ceiling, you can have the garage of your dreams with custom storage solutions that really work
Go online to www.premiergarage.com to find a designer near you or call 866-712-3404 to schedule a free, in-home, or virtual* consultation to discuss garage storage challenges and how you can have the total garage experience!
*Virtual consultations may not be available at all locations.
Like us on Facebook and follow us on Instagram
*Updated 10/24/2022