How to Create a Functional Mudroom in Your Garage
Haphazardly stored shoes or coats in the entrance of your home portray disorganization of your home. Dumping items unceremoniously clutter your room; the appeal of your home is lost in the process. Creating a mudroom in your garage enables the proper organization of:
Hats

Coats

Shoes

Sporting gears

Cleaning tools

Bags
The garage mudroom acts as extra storage of your items while conserving the general appeal of your home. The neatness and better organization hacks ensure the sanity of your home. For the drop-zone area to be functional, consider incorporating the following:
Sitting area or bench
A sitting area or bench is essential in a garage mudroom. The bench serves as an area to sit while taking off your shoes or boots. Space can also be useful as extra storage space if it contains cabinets underneath. Depending on your garage space, the bench can either be built-in or movable. The built-in benches are ideal for smaller spaces; they can be customized depending on the availability of space.
Cabinets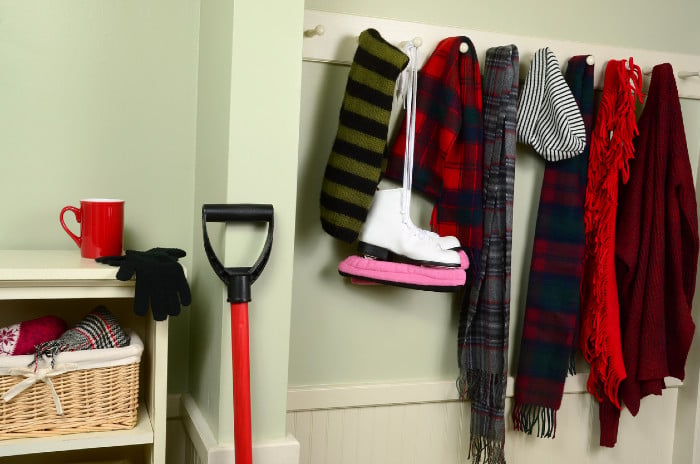 Built-in lockers and cabinets are perfect mudroom storage areas for your items. Adding doors conceals your items while creating a curated space. You can also opt for open cubbies where you store your items in an open space using baskets.
The allocation of different baskets for each individual in the house helps in better organization of the space. The configuration of the cabinets should be customized according to your needs. You can proportion spaces for storing heavy-duty items and smaller items. Lastly, multiple cabinets will help store supplies; pet food can be segregated in its cabinet.
Floor design
The floor of your garage mudroom should be easy to clean and not prone to staining. Vinyl, epoxy, ceramic and porcelain tiles are great options, since the cleaning process is hassle-free. On rainy days you can scrub the mud, and the natural appeal of the floor is retained. Wood floor designs are not suitable. They have a high tendency to attract grime and dirt; the cleaning process can be quite intimidating.
The floor design also needs to be moisture-resistant as the garage mudroom will get wet on occasion. Adding a rug in the space can help trap the moisture, which may adversely damage your flooring. Selecting non-porous flooring options is ideal for preventing damage due to accumulated moisture.
Lighting
Proper lighting in your drop-zone space makes the space more inspirational and functional. Pendant lighting with a mixture of colors creates a whimsical look in your space. Windows and doors create ideal ambient lighting for your room. Hanging pendants or floor lamps will brighten up the room while creating a reimagined space. The lighting fixtures will vary depending on the size of the room and the alignment of the ceiling.
Garage mudroom Hooks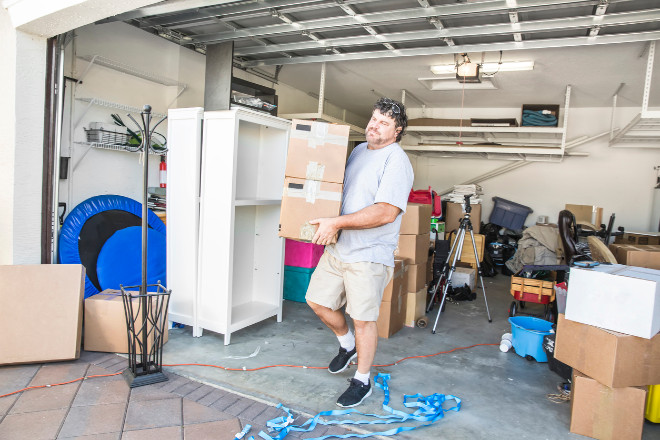 Hooks maximizes the mudroom's storage space while adding a more modest look. The hooks are useful for hanging backpacks, umbrellas, and jackets. You can fasten the hooks on the hall tree or add decorative elements to make the space aesthetically appealing.
Paint color
Mudrooms are viewed as casual foyers in a home. Most people often disregard the importance of decorating. Adding a fresh paint color makes the space more inviting, warm and consistent with the rest of your home. Decorating tactics help in re-imagining the space and keeping the room tidy.
The choice of color depends on your preference. Some colors arguably evoke certain emotions. Bright and warm colors make the space more cheery.
Mirror
A mirror creates an illusion of a larger space. The mirror's reflection intensifies the level of ambient light in a room, making the room brighter and warmer. Additionally, the garage mudroom is a transitional space between your home's interior and the exterior; the mirror is useful for checking yourself before leaving.
Why create a mudroom in your garage?
Add value to your garage.
A refurbished mudroom in your garage raises the value of your home. Most buyers value a home with ample storage space, magnificent flooring options and secluded drop-zone areas. A functional transitional area in your garage is certainly essential and should not be overlooked.
Ensures your home is clean and tidy
Additional customized cabinets for storing sporting equipment or cleaning tools help keep your home neat. The mudroom storage is useful in storing muddy shoes, ensuring dirt is not present in other rooms. The maintenance of a home possessing a mudroom is hassle-free; your carpeted areas are often free from dirt and grime.
Declutter your home
Additional custom cabinets, shoe racks, and Slatwall can help in the proper organization of items. The organization hack ensures the easy location of items; the orderly structure reduces untidiness in a home. The hooks on the wall are essential for hanging items such as:
Keys

Bags

Cleaning mops

Jackets

Belts

Cleaning tools
Easy customization
Customizing a garage mudroom to suit your needs is possible. The design, size and style should be personalized to suit your items' type and size. The ideal size of a mudroom is subjective and should be crafted depending on the family's size.
Creating a multi-functional room with a laundry room or additional space for grooming your pets creates efficiency in your home. The usable area in your garage is created to suit the needs of all your family members. You can also add something extra to the room by creating mudroom storage baskets for each family member.
PremierGarage creates a curated mudroom in your garage.
PremierGarage will assist you in designing a functional and customized mudroom in your garage. We will help in creating a more welcoming space that is personalized to suit your needs.
PremierGarage will advise the best flooring options, cabinets, benches, hooks and coloring options. Contact us today, and we will recommend the best designer who will transform your garage space into a functional drop-zone space. Our consultation services are free for new and repeat clients.
*Updated 10/24/2022