How To Safely Store All Your Winter Sports Equipment
When the snow flies and Jack Frost paints fantastical snowflakes on the windows, that's the signal to get out all the winter sports equipment that's been randomly stored throughout the house and garage. If you find yourself struggling to collect all those ice skates, skis, snowboards, snowshoes, sleds, hockey sticks, fatbikes, or ice fishing gear, PremierGarage has solutions for storing winter sports equipment so that when it's time to play, all the necessary equipment is ready to go.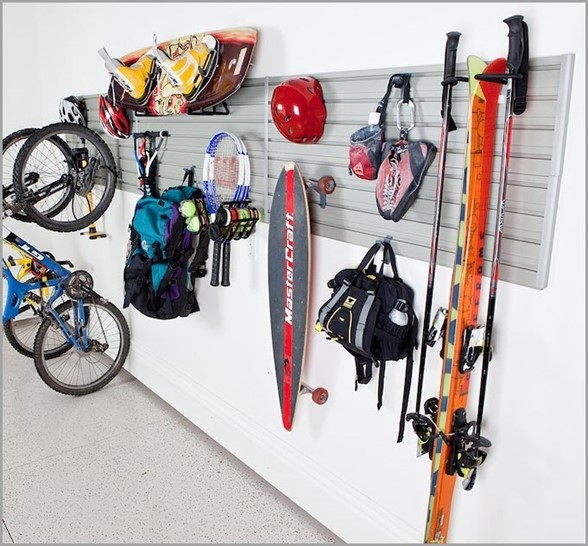 Wall hanging storage like Slatwall panels lets you customize the space to keep all your winter sports front and center
Regardless of how many different sports your family participates in, seasonal changes mean sports equipment shifts from off-season to current season. And unless you've addressed organization for everything from tiny golf tees to snowboards and bicycles, sports equipment can be a year-long headache and cluttering the garage. Here are three storage options that can help you gain control of all the sports paraphernalia while keeping current season gear handy.
Garage storage cabinets
Garage storage cabinets accomplish two major storage and organization challenges. They convert vertical space into organized storage and hide all the contents and clutter behind closed doors, keeping your garage eternally neat. Internal adjustable shelves let you customize the space to accommodate sports equipment of any size, from long skis to ice hockey pucks. You can easily group all the winter sports equipment into accessible cabinet space so that nothing gets lost.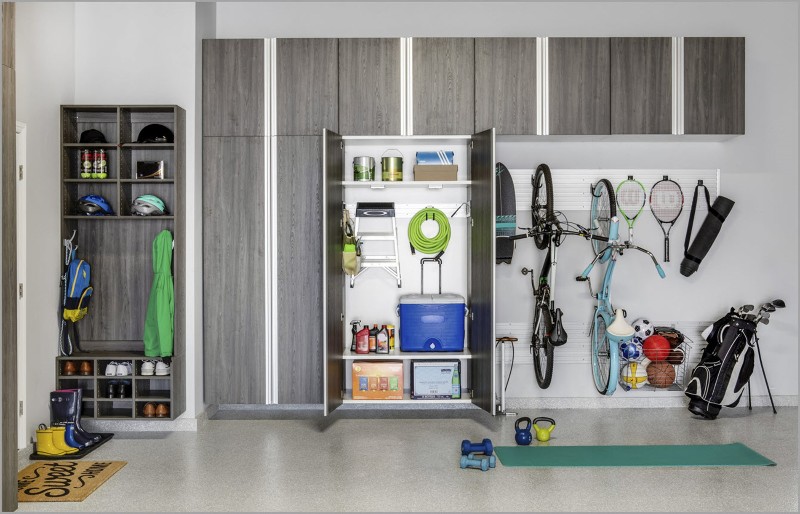 Incorporating a mudroom with all-weather rugs at the connecting door to the house lets everyone deposit wet and drippy gear, keeping all the mess in the garage
Floor-to-ceiling cabinets with adjustable shelves can accommodate any equipment including skis, hockey sticks, and snowboards.
Bins on the shelves can organize small items like gloves, mitts, balls, and hats.
Fishing rods and tackle can be safely stored out of harm's way to protect the reels and fishing line from tangles and curious fingers from sharp hooks.
Individual cabinets or lockers let each person manage their own equipment, and low-level shelves make it easy for kids to be independent.
Confining sports equipment to a specific section/s of the cabinets leaves space available for other storage needs.
Add space for extra skis with a freestanding StoreYourBoard Ski Storage Rack that holds up to five pairs of skis without taking up a lot of room.
Wall hanging storage systems
A second option for maximizing garage storage space is Slatwall panels. They can provide floor-to-ceiling storage where cabinets don't fit, and they can be used in conjunction with cabinets as in the image above for a balance of enclosed and open storage. You can customize Slatwall panels to fit anywhere, like in corners or behind doors, with accessories to hold anything. You'll be amazed at how much equipment can be vertically stored in a small space. Adjusting and moving things around as your storage needs change is no problem, so when one sport is done for the season, its gear can be moved to a less accessible area and replaced with the equipment for whatever sport is in season.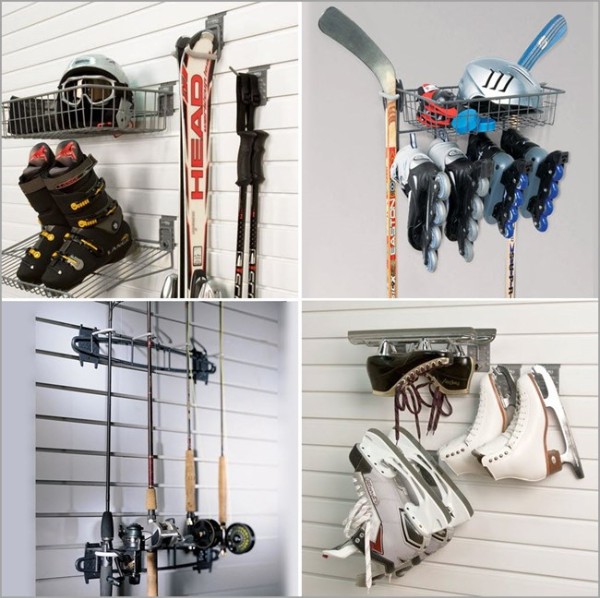 The open storage of Slatwall systems makes it easy for everyone to immediately find what they are looking for
Specialty hooks, baskets and shelves allow for large and small equipment pieces to be safely stored, keeping everything for a specific sport together in one place.
Slatwall has specialty hooks to secure bikes, fishing poles, skis, hockey sticks, and golf bags.
Skates and snowshoes should be hung, so whether you're looking to hang racing, hockey, or figure skates, Slatwall hooks will keep them safe and secure with custom hooks.
Attachable shelves are perfect for storing boots and shoes out in the open so they can dry out after each use.
Wheel mounts can store multiple bikes vertically and side by side or use hooks that store bikes flat to the wall so that they take up less space.
Overhead storage, stationary and automated
Overhead storage is probably the most over-looked option to expand your garage's storage capabilities. While it may be inconvenient for storage of everyday items, overhead racks are ideal for long-term storage like holiday decorations you only access occasionally. Additionally, it's a great way to store off-season sports equipment out of the way, while having the current season's equipment accessible on Slatwall or in garage cabinets. Then, as the seasons change, do a storage location swap!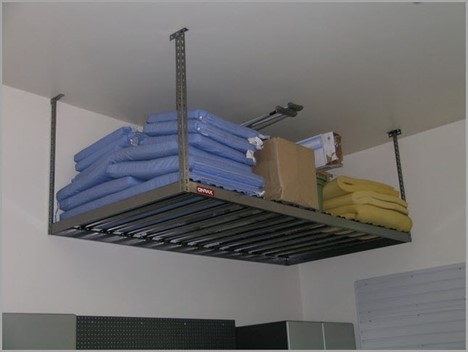 Stationary overhead storage racks free up floor-level space for easily accessible storage of items you need every day
If you coach a seasonal team, you can safely store the team's equipment in overhead storage and keep the garage clear for your own use.
If you prefer all your sports all the time, use overhead storage for things like heirloom keepsakes, furniture, and bulk-purchase home supplies and have sports equipment on display.
Utilize the hard-to-reach space above the garage door for long-term storage and bulky items like tents and Christmas trees.
If you're not comfortable with overhead storage that requires a ladder to access, our automated garage solutions will allow safe and convenient ceiling-level storage in the garage. Instead of going up to the storage space, you can bring it down at the touch of a button. Automated garage solutions include platform lifts, basic lifts, multiple-bike lifts, universal lifters, and specialty lifters that can safely store any sports equipment.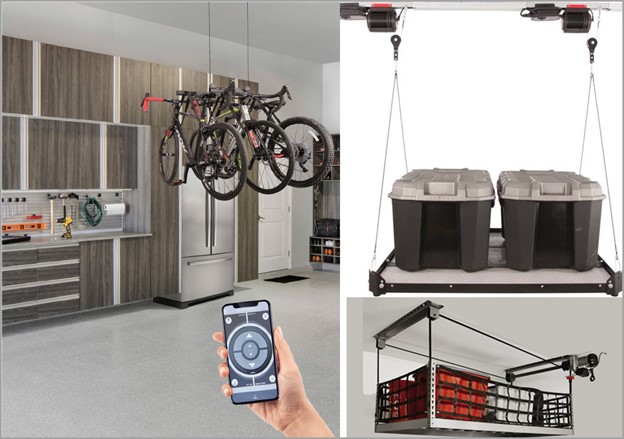 No more hefting heavy loads or risking a sore back with overhead storage that comes down to your level
The Platform Lifter lets you store up to 175 pounds of boxes, bins, and sports equipment of all kinds.
The Universal Lifter is designed to accommodate the shape of any large item up to 100 pounds with adjustable straps to secure and store bulky items like sleds and kayaks.
The Multi-Bike Lifter can hold three bikes up to 100 pounds.
Don't let winter slow down the fun
Winter weather can make navigating the garage a bigger challenge that any other time of the year, but you can still make sure that the winter games aren't interrupted. Custom storage solutions will keep all the family's sports gear safe and easily accessible so there's never a game called on account of missing equipment. From a durable custom garage floor to space-saving ceiling storage racks, your garage can be organized to accommodate everything you keep in the garage. Call 866-712-3404 today or go online to www.premiergarage.com to find a designer near you and schedule a free in-home or virtual* consultation and see just how amazing your garage can be!
*Virtual consultations are not available at all locations.
Like us on Facebook and follow us on Instagram.
*Updated 10/24/2022