Make Your Garage Laundry Room Efficient and Inviting
Raise your hand if you do the laundry in the garage.
Is it a pleasant experience or do you secretly (or not so secretly) wish for an in-home laundry room? Surprisingly, there are some people who prefer having the laundry room in the garage because of the noisy machines and humidity and heat that dryers can create inside a home. If you're lucky enough to have a garage laundry room but it leaves you cold, maybe all you need to do is convert that space into an efficient laundry room.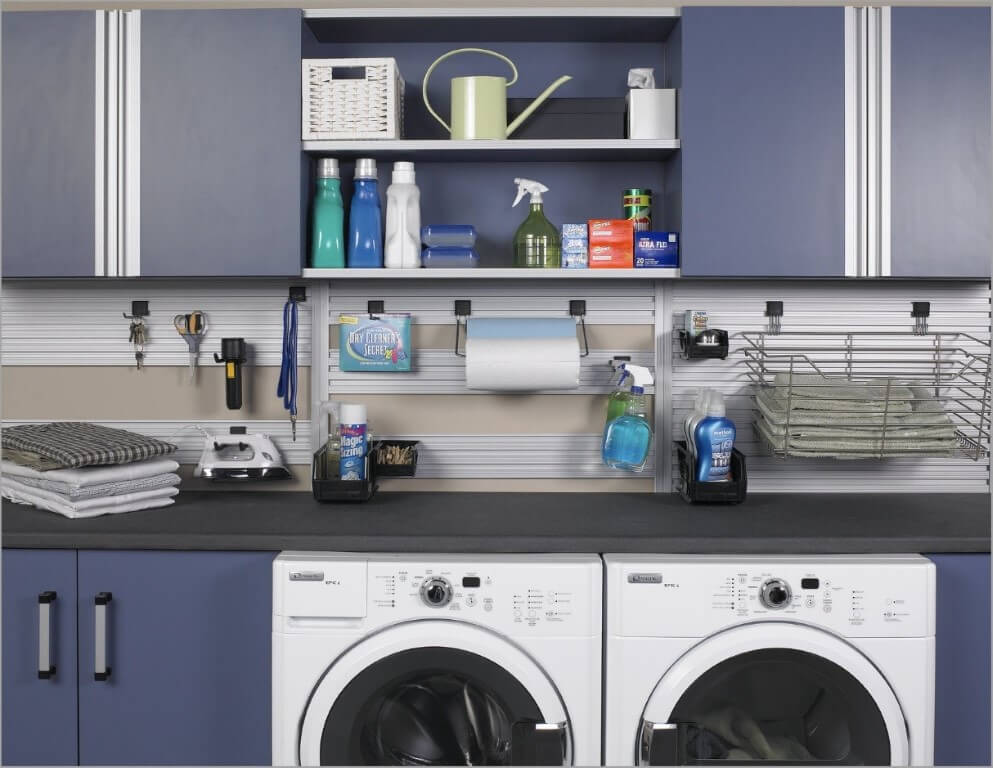 A custom laundry room in your garage
Claiming space in the garage with cabinets and countertops surrounding the washer and dryer will set the stage for ease and efficiency on laundry day and every day. Just imagine the time savings by having everything close at hand with space for sorting, folding, and plenty of hanging space! Your local PremierGarage designer can help you dream up the perfect laundry room in your garage by making the most of every inch of available space.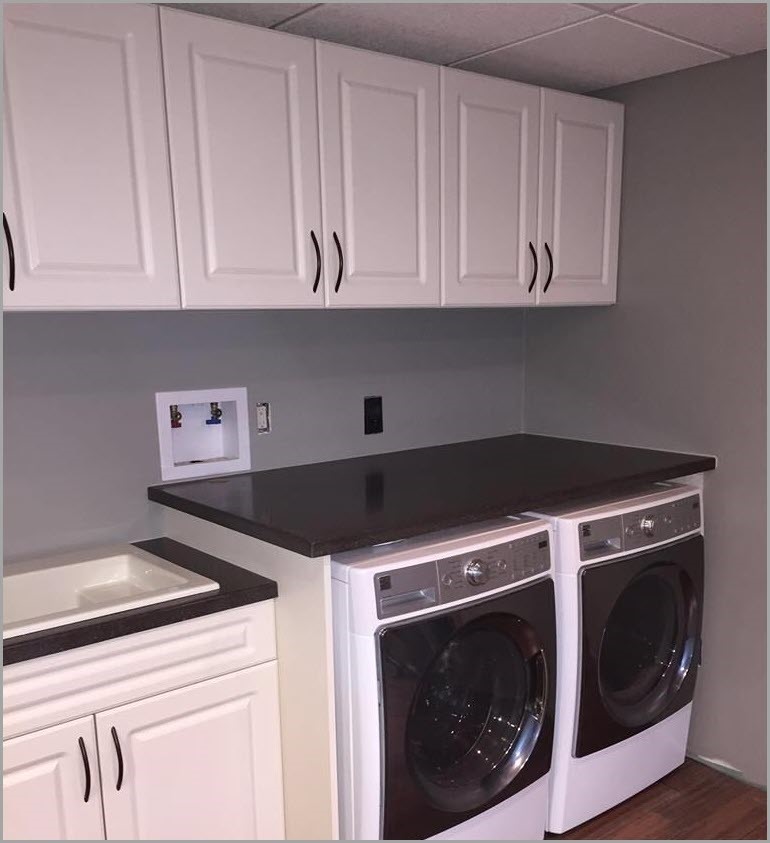 Enclosed cabinets above and around the machines provide storage to hide the clutter of detergents, fabric softeners, bleach, stain removers, dryer sheets, and more.
A sink in the laundry area will facilitate handwashing delicate fabrics, stain removal, pre-soaking, and cleaning mud off cleats and tennis shoes, keeping that mess out of the house.
Countertops will protect your machines and provide a convenient workspace for sorting, folding, and stacking laundry.
Contain dirty laundry with built-in or free-standing hampers so dirty clothes are not piled on the floor to become a tripping hazard (and get even dirtier).
Retractable and stationary rods, multiple-hook hangers, and clothes rods integrated with your cabinets and laundry shelves can add to the efficiency of the space.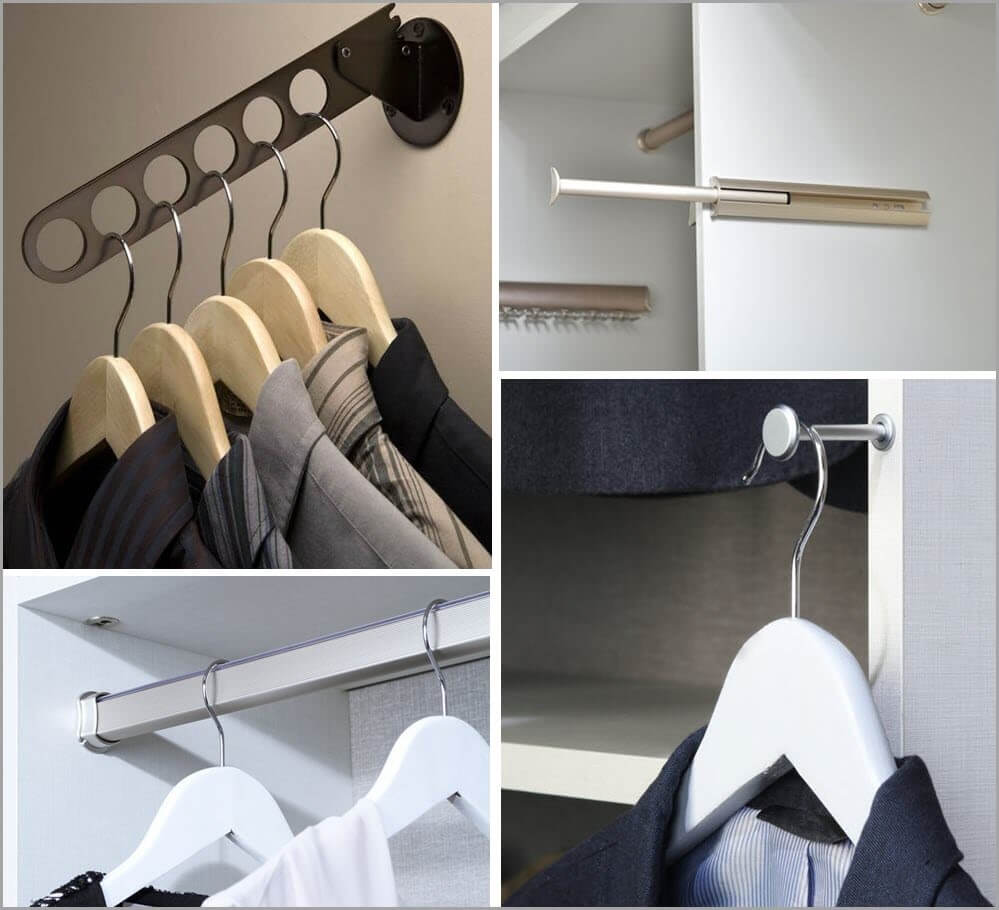 Efficiency is essential for large or small laundry rooms
Regardless of space constraints, there are ways to make the most of your garage laundry room. One interior designer summed up the challenge that is small space: "Limited space doesn't necessarily mean poor life quality. I prefer design solutions that can bring more opportunities to the clients for their everyday life." With PremierGarage, you're assured of expert advice for making your garage laundry room the very best it can be and one of your favorite places.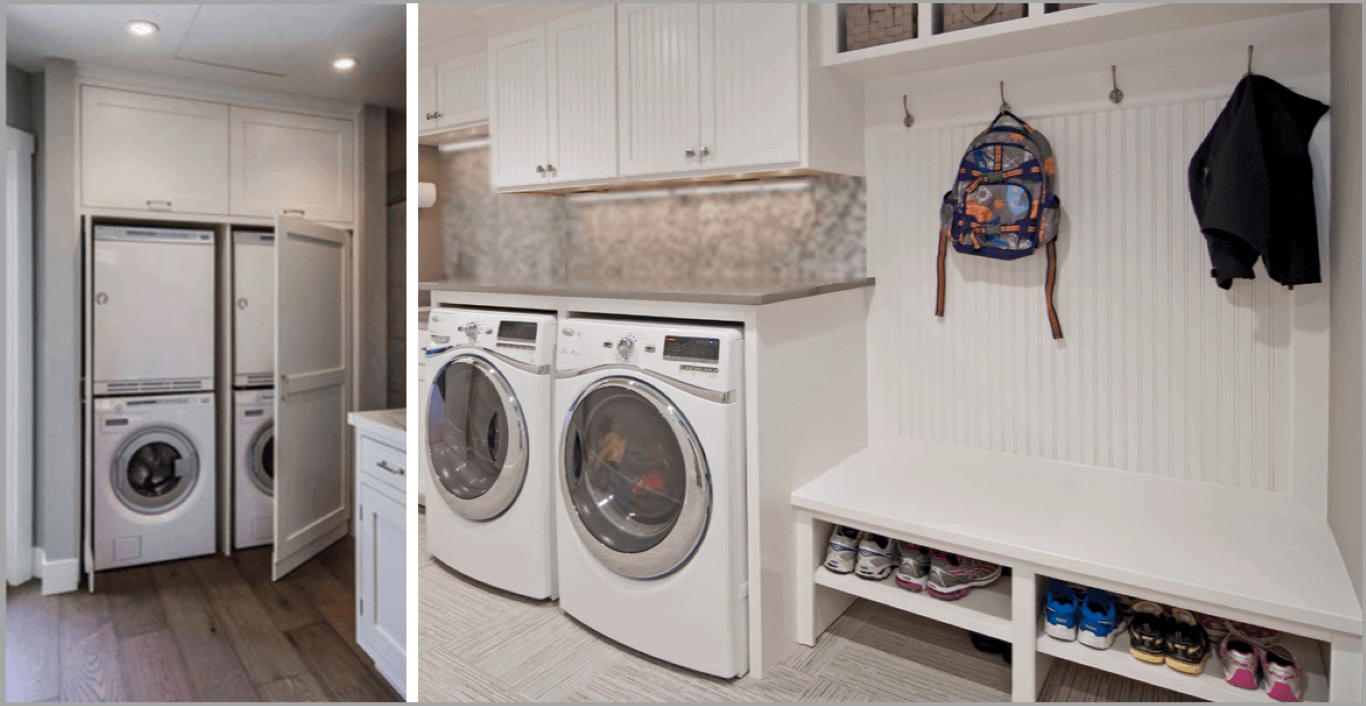 For a completely uncluttered look, custom cabinet doors can hide your washer and dryer from sight when not in use.
Combining laundry room and mudroom in the garage streamlines getting dirty things into the wash and wet jackets, scarves, and hats into the dryer.
Increase lighting to brighten up the laundry area in a dark or windowless garage and add under-cabinet LED lights over the countertops.
Built-in laundry hampers will keep dirty clothes out of sight and reduce a cluttered feel in the garage. If your space is small with minimal cabinets, use free-standing and fold-away hampers and hanging racks.

The laundry-friendly garage
If your garage isn't ready to welcome a custom laundry room, PremierGarage can assist with making your messy garage more laundry-friendly. With custom garage storage cabinets, Slatwall wall hanging storage options, overhead storage racks (including fixed and automated), and custom garage flooring you'll have a garage that is ready for anything! You may discover that once the garage is totally organized, there's room for not only a laundry room, but a Man Cave, hobby/craft area, or home gym too. You may be surprised at all your garage can do for you!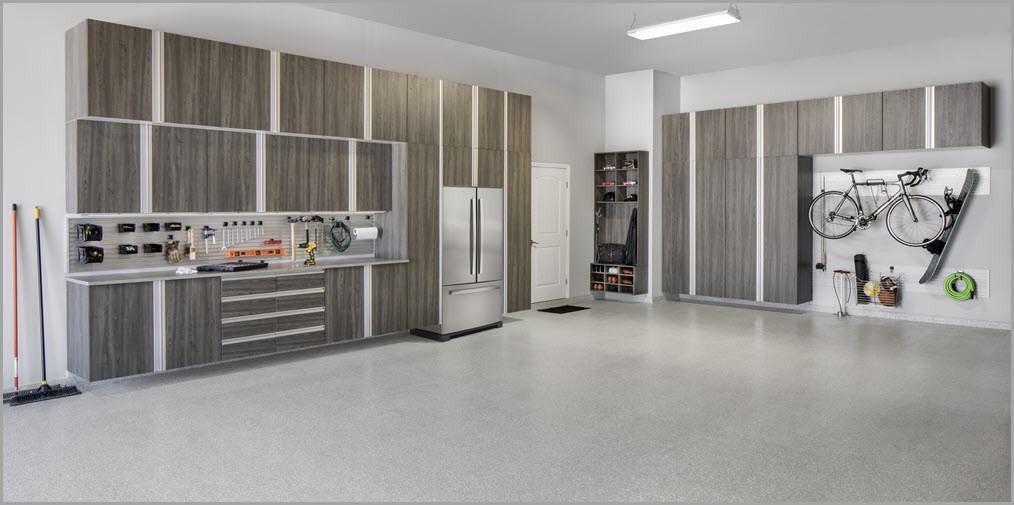 Don't let a messy garage or a small laundry room add to your daily stress. Innovative storage and organization solutions for the way you live will calm the chaos and make every day more enjoyable for you and your family. Right now is the perfect time to get your life and laundry under control before the holidays are in full swing and things get even crazier!
Call 866-712-3404 today to schedule a free, in-home consultation or go online to www.premiergarage.com to find a designer near you. They can help you define your needs and then design the perfect garage laundry room that will make doing the laundry much less of a chore. Trust us for a more organized life at the right price. We expertly measure, custom design, and professionally install. All you have to do is enjoy the result!
*Updated 10/24/2022