Organize Your Garage Like A Pro
Organize Your Garage Like A Pro
We've all experienced how quickly garages get messy. It's where we store all of our seasonal, sports, outdoor, and little-used items – and that's not accounting for cars, bikes, and skateboards! With so much to store and so little space, it may seem all but impossible to regain order and make your garage a place of peace instead of a locus of chaos.
PremierGarage specializes in garage organization and custom storage solutions. We offer a wide range of products and services that can help transform any garage into a beautiful and functional space. PremierGarage has everything you need to create your dream garage, from custom cabinets and shelving to durable garage flooring and wall systems.
Assess Your Current Garage Space
The first step in organizing your garage is to assess your available space. Start by clearing out everything from the garage and taking measurements of the available wall, floor, and overhead space.
This will help you determine the best storage solutions for your needs. Remember to consider any large items, such as a car or lawnmower, that will need to be stored in the garage once you're finished.
Work your way to smaller items that still take up a lot of space, like bicycles, kayaks, or sports equipment. Other garage items that need to be appropriately stored to maximize space include golf clubs, tennis rackets, and gardening tools such as shovels, rakes, and hoes.
Power tools like drills, saws, and sanders can take up a lot of space if not stored efficiently. Seasonal items like holiday decorations and camping gear should also be carefully organized to make the most of the available space.
What sort of projects you're most likely to work on in the garage will affect what workbenches, cabinets, or wall racks will best suit your needs, so be sure to mark that down for your consultation with PremierGarage!
Sort and Categorize Your Items
Once you've assessed your garage space, it's time to sort through all your items and categorize them. Decide on categories that make sense for your needs, such as tools, sports equipment, and gardening supplies.
Then, sort through each category and get rid of anything you no longer need or use. Discarding unused items will help clear out space in your garage and make finding what you're looking for easier.
A more organized garage does much more than make things easier to find. It can prevent tripping hazards and keep precariously stacked items from falling onto an unsuspecting visitor or child. Improperly secured overhead items might drop onto your car and damage it, while poorly stacked bikes can become an impossible tangle if they fall over.
Create Customized Storage Solutions
With your items sorted and categorized, it's time to create storage solutions that work for you.
Get the right shelves and garage cabinets to store heavy items, such as power tools, hardware, and paint cans. PremierGarage has the perfect selection of sturdy yet stylish garage cabinetry that can keep all your items safely stored and out of sight until you need them.
Use all of your available wall space to hang bikes, tennis rackets, golf clubs, bats, and other sports equipment. Our quality wall storage systems offer easy-to-use yet highly secure storage options. Plus, with everything on the wall in plain view, you'll never lose track of your items again.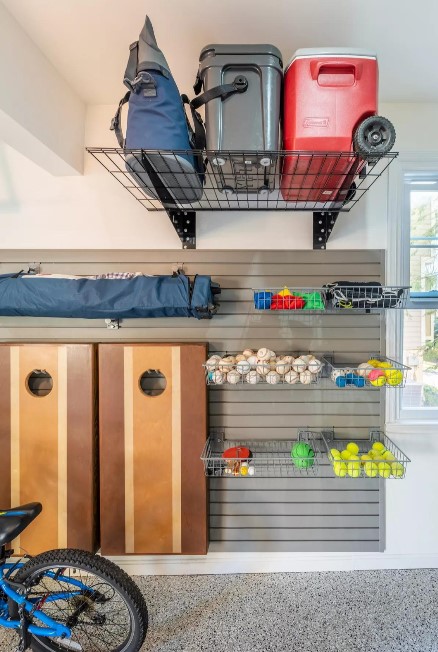 Overhead storage racks for less-used items makes use of often-wasted space near the ceiling. As a bonus, items stored high off the ground are immune from all but the most severe flood damage. Take back your unused space and regain the room you need closer to the floor!
Invest in airtight storage bins and containers to keep delicate or humidity-sensitive items safe. Many holiday decorations are susceptible to mold, insects, or rodents, so storing them correctly is vital to their longevity.
Maximize Your Garage Storage Space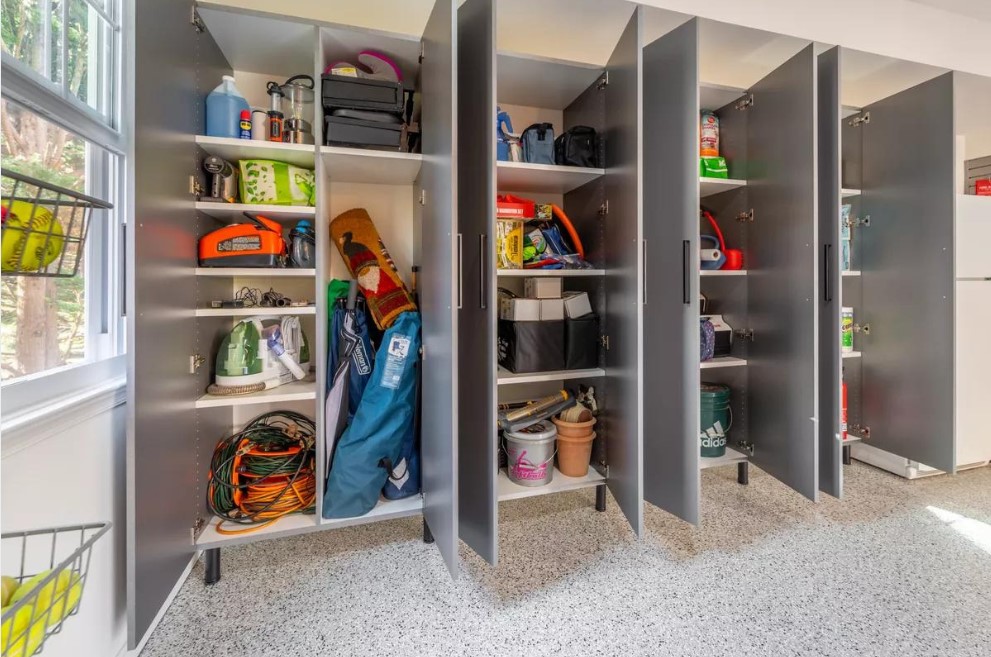 To make the most of your garage space, it's important to think vertically. Utilize vertical space by installing overhead storage racks to hold seasonal items, such as holiday decorations.
Add shelving above the garage door to store lightweight items like camping gear. Don't forget to use underutilized spaces, such as the area above the freezer or between the studs. Wall racks, hook systems, and mounted storage baskets are additional options to move things off the floor and maximize the space all the way to the ceiling.
Label and Maintain Your Garage
Once you have everything organized and, in its place, it's helpful to label your storage solutions. Labelling your boxes and bins will make it easy to find what you're looking for and keep everything organized. Remember to maintain your garage regularly by putting everything back in its designated spot and getting rid of anything you no longer need or use. Your garage, your guests, and your future self will thank you!
Assess your space, sort and categorize your items, create storage solutions that work for your needs, maximize storage space, label everything, and maintain your garage regularly. With a little effort, you can have a garage space you'll be proud to show off!
Contact PremierGarage and get started with a free consultation. Your ideal garage awaits!