Overhead Storage Racks Expand Garage Storage Space
If you could use more storage space in your garage, have you considered overhead storage? Ceiling storage is often overlooked due to concerns of safety, reliability, and convenience. If you have any of those concerns but would really like to expand your garage's storage capabilities, the professionals at PremierGarage can help you maximize your garage storage, including the use of safe, convenient overhead storage, with or without the need of a ladder.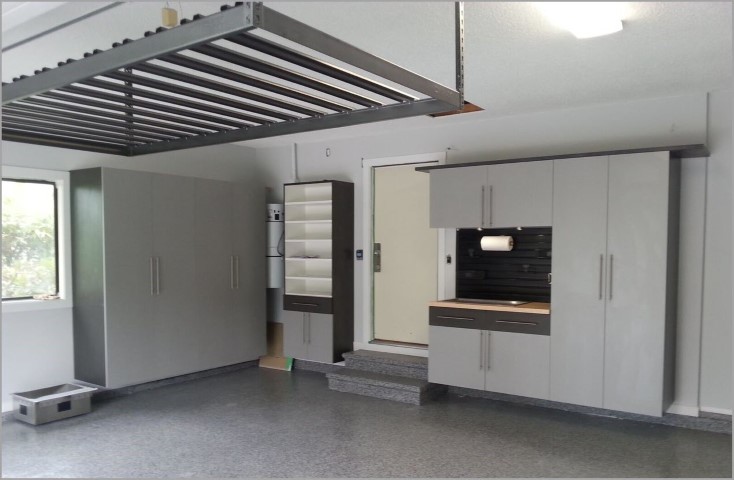 Overhead storage solutions from PremierGarage include stationary racks, manual hoists for bikes, motorized platforms, and specialty motorized lifts for multiple bikes, individual items like bulky surfboards and kayaks, and more. If you need to store it, we've got the perfect solution for you.
Stationary overhead garage storage racks
Overhead storage racks come in numerous sizes to accommodate any garage configuration. You can have long, narrow racks, square racks to fit in corners, and anything in between. You can group racks to create all the storage you need. In addition to length and width, racks are adjustable in height, generally from 18" to 33" to customize to your ceiling height. Your possessions are securely stored until you need them, keeping bulky items up and out of the way, freeing up floor space and reducing tripping hazards.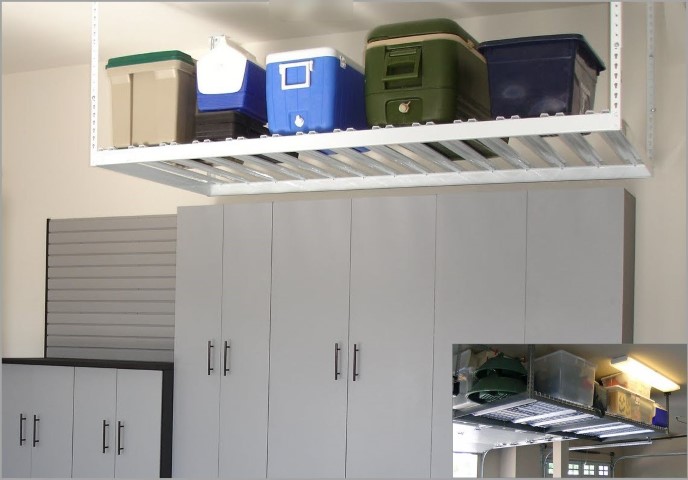 Heavy-duty, 14-gauge steel frames ensure that the racks won't swing or sway when storing or removing items, which is important when standing on a ladder.
Racks can hold up to 800 pounds of stored items, approximately 50 pounds per square foot.
Adjustable-height racks let you utilize ceiling space even if you have a low ceiling.
The openness of the racks keeps stored items well-ventilated, with proper airflow to combat moisture problems.
Utilize the space above the garage door for long-term storage.
Motorized garage storage platforms and lifts
If using a ladder to reach your storage is not your style, overhead storage is still an excellent option to capture vertical garage space for storage. PremierGarage's automated garage solutions bring the convenience and safety of motorized storage options to everyone's level. With motorized systems to raise and lower your items, there's no strain to your back or danger of slipping off a ladder. Platform lifts, basic lifts, multiple-bike lifts, universal lifters, and specialty lifters can safely store whatever you have.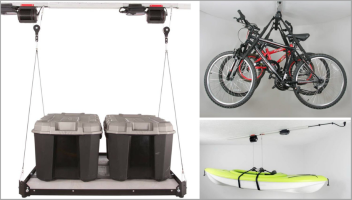 Platform lifters make storage effortless
Platform lifters come in different sizes and be used individually or with multiples together to create a large storage area. Platforms can be raised or lowered independently or as if they were one lift. Each lift can support 100 pounds so four together has the capability of 400 pounds of secure storage. You can easily and conveniently lower or raise the platforms by simply pressing a button. This makes loading and unloading remarkably easy and safe.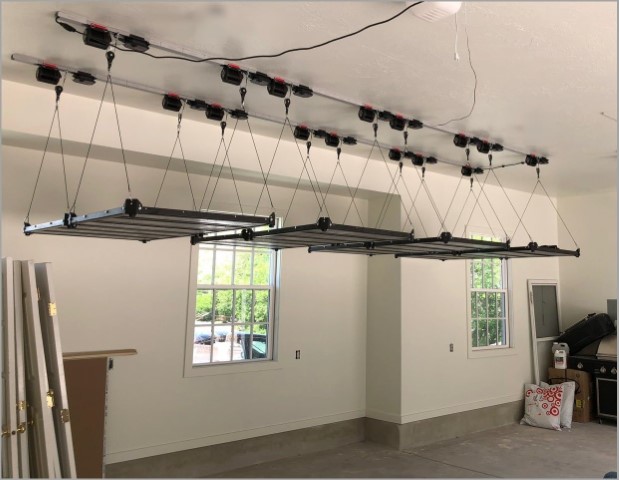 Automated lifts take the strain out of overhead storage—it comes down to you.
A four-point lift system ensures platform stability when in operation.
Ideal for large bins of holiday decorations, light-up reindeer, camping equipment, tires, pet carriers, ice chests, and off-season sports equipment.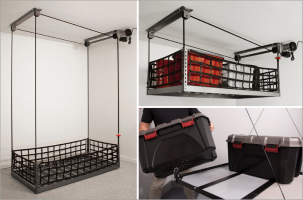 Platform lifters come in different styles, with optional safety netting to corral belongings.
Ensure safety with a wall mount push button station with keyed lockout to prevent unauthorized use (curious kids).
Can lower all the way to the floor and be stopped at any level you choose.
Motorized lifts for every need
Not everyone keeps the same things in a garage, so storage requirements can be wildly different. A family of sports enthusiasts may have bikes, surfboards, scooters, or even a canoe. An aquatic family that lives in their swimming pool may have large floating rafts, an avid gardener a wheelbarrow, and an off-roader an impressive collection of essential tools to take care of any problems. Any of those things can be bulky and awkward to store, but custom overhead storage solutions will keep the garage from being overwhelmed.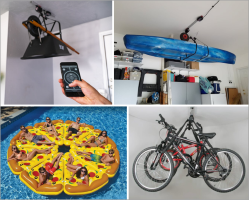 Specialty lifts for one or multiple bicycles keep them ready to ride.
The basic lifter can be controlled with a smartphone App, effortlessly managing ceiling level storage.
The universal lifter has storage straps to accommodate any size or shape item.
The custom Hard Top lifter lets one person quickly and safely remove a Jeep® top.
Pizza rafts that make summer sizzle can store overhead during the winter, deflated and neatly folded and stacked on a platform lift.
Your garage, your way
Overhead storage is just one option to maximizing your garage's functionality. Custom garage storage cabinets can turn any garage into useful space by clearing the clutter and organizing all the contents. Integrated work countertops, wall-hanging systems like Slatwall panels, drawers, integrated lighting, and custom garage flooring are just some of the ways to transform garage space into a comfortable living space.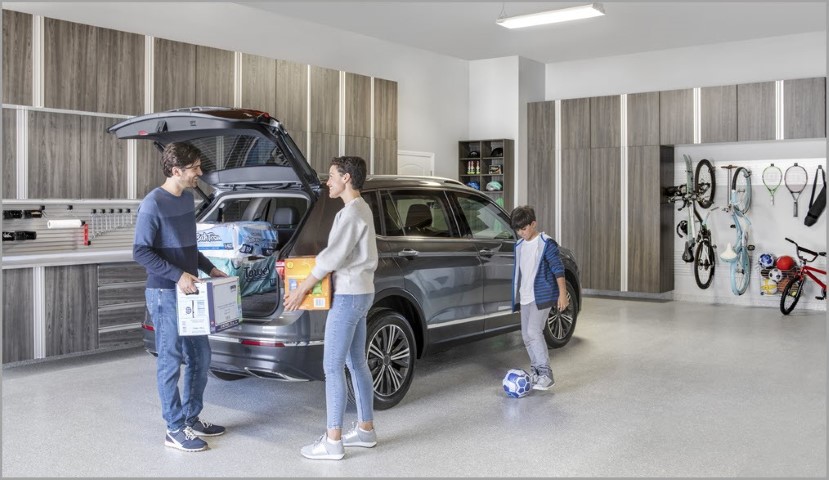 Call 866-712-3404 to schedule a free, in-home consultation or go online to www.premiergarage.com to find a designer near you. They'll work with you to design the perfect garage storage for the way you live, tailored to your specific needs. With effortless, automated overhead storage you may find yourself exclaiming, "Where have you been all my life?" Our whole-home organization specialists are dedicated to eliminating clutter and chaos from other areas of your home too, with storage solutions like custom closet organizers, entryway design, laundry room organization, home office design, and more.
*Updated 10/24/2022