Small Garage Storage And Organization Solutions
If you have a small garage, you may think that due to the lack of space for storage that you just have to settle for a messy, disorganized garage. While it is true that a small garage may not be able to house all the organization elements of expansive three- and four-car garages, you still can have a functional, organized garage, no matter its size. PremierGarage's® designers are experts at maximizing space and increasing utility for any garage, using custom, innovative solutions like garage storage cabinets and Slatwall panels to make your garage accomplish what is important to you:
Where laundry happens, you have to work around the machines.

If you need a work bench, this includes storage for tools.

Sports equipment needs to be accessible.

In a one- or two-car garage, adequate parking space is required.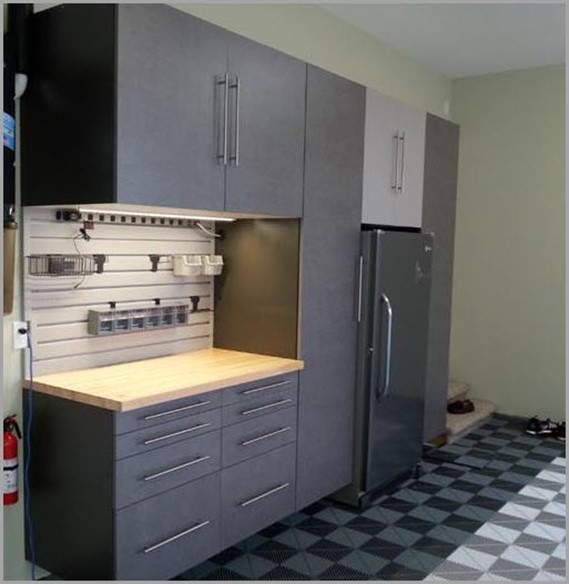 Consolidating storage on one wall frees up room in a small garage to park the car and still have comfortable walking-around space (flooring is PremierTrax® custom floor tiles)
Maximize storage capability with custom garage storage cabinets
Garage cabinets give a clean, uniform look to your garage by getting everything behind closed doors. Regardless of the space constraints, by customizing to your exact measurements, even corners and nooks can become valuable storage space. Custom cabinets can be designed to fit around laundry appliances, water heaters, electrical panels, doorways, and windows, as well as accommodating sloped ceilings or uneven floors. Small unit floor-to-ceiling cabinets provide lots of storage by capturing vertical space while using very little floor space. Whether you have room for just one cabinet or a wall of cabinets, your small garage can become highly functional.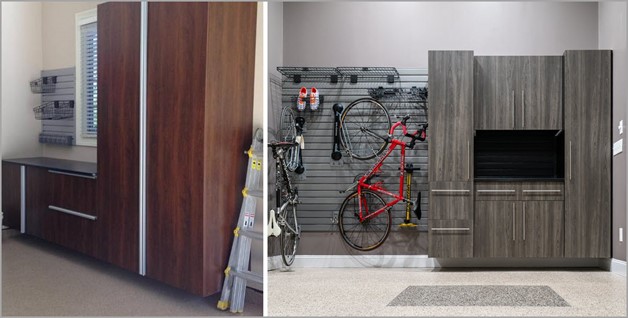 Garage cabinets are available in a range of colors, styles, and finishes, with optional locking doors or drawers when safety is an issue (PremierOne® epoxy floor coating on the right)
Upper and lower cabinets and drawers around countertops use every inch of storage space.

Awkward corners can be transformed into valuable storage with custom garage cabinets.

High-level cabinets are perfect for seldom-used items like camping gear or holiday decorations, leaving low-level space for items that get daily use.

Adjustable shelves within the cabinets let you maximize the space.

Organize cabinets by use: automotive, paint supplies, handyman tools, etc., making everything easy to find and put away.
Space-saving Slatwall panels for wall storage
Where cabinets won't fit or to supplement minimal cabinet storage, Slatwall panels can transform walls into viable storage while still keeping a small footprint. Panels are available in aluminum and colorful PVC to complement wall color or garage cabinet finishes and can be customized to fit any space from an entire wall to the backdrop of a work countertop for tools. Especially popular for sports equipment and gardening tools, Slatwall can safely handle large and small equipment that can be cumbersome to store inside cabinets.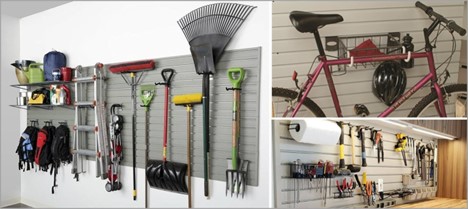 Slatwall keeps storage close to the wall, so there's still room to park the car
Installed over a work countertop, Slatwall keeps hand tools organized and easy to find.

Removable hooks and racks mean you can reconfigure storage as needs change.

Attachable hooks, shelves, and baskets create secure, easily accessible storage for up to 75 pounds per square foot for PVC, and up to 100 pounds per square foot for aluminum panels.

Large items like rakes, shovels, golf bags, and ladders that can create a safety hazard if stacked on the floor are secure and out of the way.

Low-level baskets and hooks let kids better manage their own sports equipment and backpacks.
Capture valuable storage space at the ceiling
Overhead storage can relieve your garage floor of bulky items like bins, boxes, coolers, tires, holiday decorations, camping gear, and more. All you have to do is look up to find the solution for more storage space, including that illusive space over the garage door. Especially for items that don't require regular accessibility, overhead storage is ideal, keeping stuff out of the way until needed. With the options of stationary overhead racks or motorized platforms and lifts you'll be able to configure the perfect storage for your garage space, with or without the use of a ladder.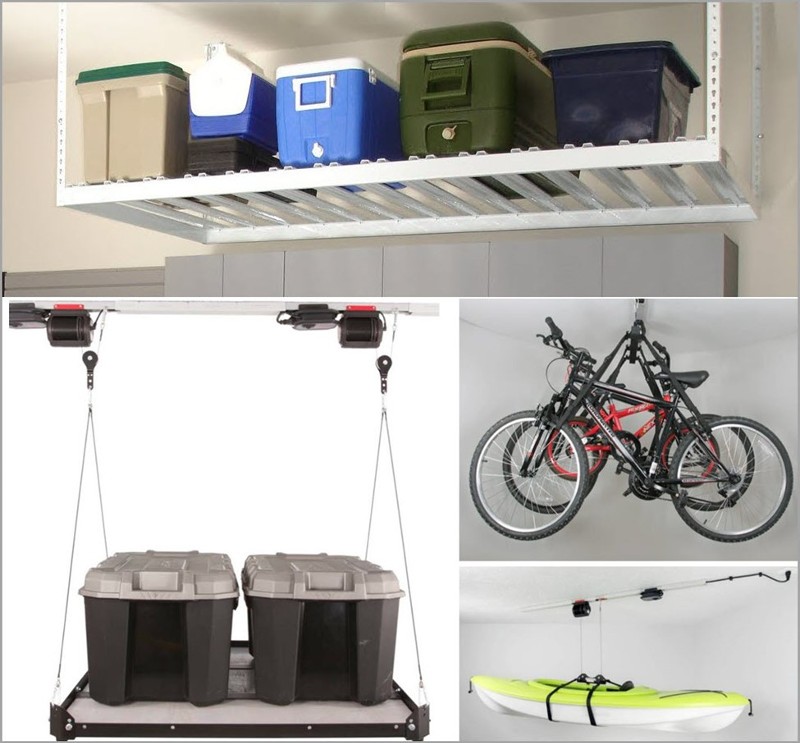 Got kayaks? Custom automated lifts can store your kayak at the ceiling and leave the floor for parking the car
Stationary racks are height adjustable and available in numerous sizes, including long, narrow racks, square racks to fit in corners, and anything in between.

Made of heavy-duty, 14-gauge steel, stationary racks won't swing or sway when storing or removing items and can hold approximately 50 pounds per square foot.

Automated garage storage includes motorized platforms, universal lifts, lifts for multiple bikes, and specialty lifts with flexible straps so you can store absolutely anything.

Each automated platform lift can handle up to 100 pounds, multiple platforms can be linked together for expanded storage, with safety netting for extra security.

Prevent unauthorized use and control access with a wall-mount push button station with keyed lockout.
The finishing touch, a fabulous floor
The final addition for your totally organized small garage is a custom garage floor that will enhance the space with beauty and functionality so your garage stays cleaner and inviting. Choose from five distinctive styles of epoxy floor coatings from our PremierOne commercial-grade flooring line or PremierTrax floor of interlocking, flexible floor tiles available in 18 colors so you can get creative. Call 866-712-3404 today or go online to www.premiergarage.com to find a designer near you and lose those "small garage" blues! Schedule a free in-home, or virtual* consultation to talk about the many ways to make your garage fully serviceable for all your needs.
*Virtual consultations may not be available at all locations.
Like us on Facebook and follow us on Instagram.
*Updated 10/24/2022