The Road To Automated Garage Storage Solutions
Today's world is automated. From coffee makers that let you wake up to the irresistible smell of coffee brewing to home security systems that let you control every aspect of your home from your phone, we can't imagine the world any other way. However, it's only been the last couple of decades that have seen the greatest advances that ushered in smart homes with viable and affordable technology for consumers, including automated garage storage solutions from PremierGarage®.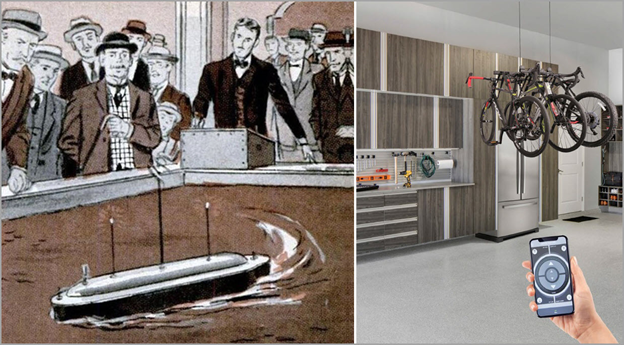 We've come a long way from Nikola Tesla's first remote boat to today's smart home technologies for garage storage
A quick timeline of technology development
So how did we get here, to this place where we want automation managing our lives like The Jetson's TV show of the 1960s, living a century into the future? Always the dream, the road to smart home automation had its beginning in 1898 when Nickola Tesla exhibited the first remotely controlled device—a toy boat. From there, historic moments mark the progress:
Home appliances were developed in the early 1900s.
A Home of the Future at the 1933 Chicago World's Fair's tried, but failed, to live up to its expectations.
The 1940s through the 1960s saw computer technology come into its own.
The first true home automation device controlling temperature and appliances, ECHO IV, was created by a Westinghouse engineer in 1966.
1969 was the beginning of the connected internet we know today, with ARPAnet.
The X10 Home Automation Project in 1975 introduced control of small appliances and lighting.
The 1980s brought affordable motion-sensing lights, automatic garage door openers, programmable thermostats, and security systems to consumers.
In 1984 the term "smart house" was coined by the American Association of Home Builders.
The Internet of Things (IoT) was born in 1990, but was not named as such until 1999.
Since the early 2000s, Smart homes and home automation continue to gain popularity, and advances across the board for home networking, scheduling appliances, mobile/email/text notifications, and remote video surveillance have become household words. According to a Consumer Technology Study, 83 million households and approximately 22 million homes own more than one smart home product.
It has been a long road!
PremierGarage automates garage storage
It's not surprising that PremierGarage has kept pace with technology by offering automated garage storage solutions for homeowners and business owners. Not only is automated garage storage the ultimate in convenience, it opens up valuable ceiling-level storage space to allow you to maximize all the space in a garage or warehouse. Custom lifters like a Hard Top Lifter for a Jeep® top or a multi-bike lifter (pictured above) join universal lifters for large or bulky objects and automated platforms that can be raised and lowered by the touch of a button.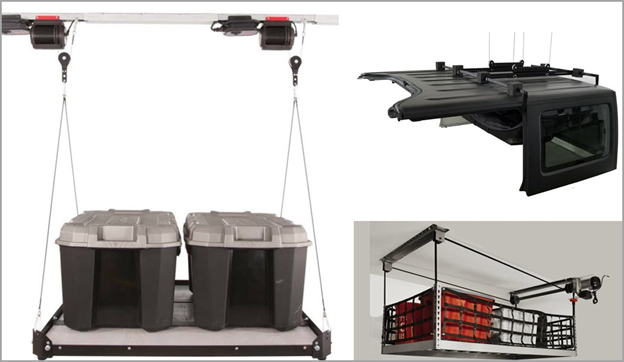 Automated platform storage lifts and specialty lifts bring the convenience and safety of automated storage options to everyone's level
Custom lifters include multi-bike lifters and universal lifters for large or bulky objects that accommodate any size or shape item, such as a kayak or surfboard.
Platform lifters can support 100 pounds and come in different styles, including safety netting for secure storage.
Lifters are designed to work together, group up to four to lift up to 400 pounds.
In a small garage, automated overhead storage can double storage space without sacrificing convenience.
Safe and secure storage protects you and your family
Overhead storage can be impractical if accessing it puts anyone at risk. Not everyone is physically able to safely navigate a ladder, especially when trying to retrieve a box from overhead storage racks. Believe it or not, there are ladder safety rules, and most are contrary to our cavalier use of ladders:
Never use the top step
Be sure the ladder has slip-resistant feet
Don't use a ladder if you're not fully alert and physically able
Never climb a ladder holding tools or pull or push items while ascending or descending
Keep your body centered between the ladder rails, don't lean too far to the side
Premier Garage's automated garage solutions can eliminate the need for ladders and the possibility of injury while trying to manage your home storage. No climbing, stretching, and precarious balancing is required when the stored items come down to you at the touch of a button. Save breakage from dropped boxes and painful strain to the back, shoulders, and neck with automated smart garage storage.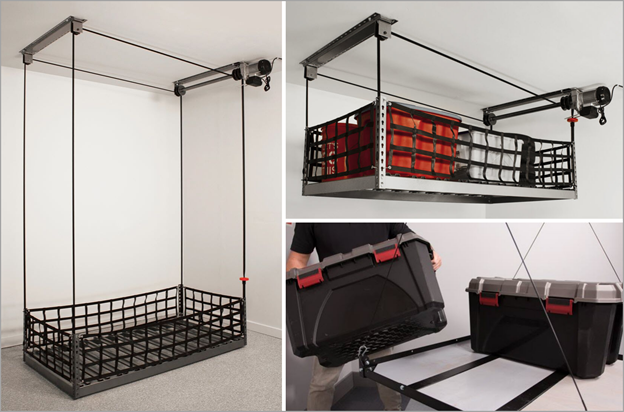 Safely and easily find and retrieve what you need with garage storage lifts that come down to the ground level
Automated lifts take the pain out of overhead storage—it comes down to you and can be stopped at any level you choose.
Each lifter has an internal gear brake so there is no risk of dropping items or slippage even if the power goes out.
Prevent unauthorized use and control access with a wall-mount push button station with keyed access.
What fits in overhead storage
If you've never considered using overhead space in the garage for storage, think about all the clumsy and awkward things in the garage that are perpetually in the way. Wouldn't it be nice not to trip over folded camp chairs, sports equipment, the weed whacker, and Santa and his reindeer? Automated garage storage lifts let you effortlessly arrange large items on platforms without the physical strain of lifting over your head. You can organize storage, keeping like items together, such as one lift for holiday decorations and another for sports equipment. And custom lifts can accommodate really challenging storage like sleds, wheelbarrows, canoes, bikes, and more.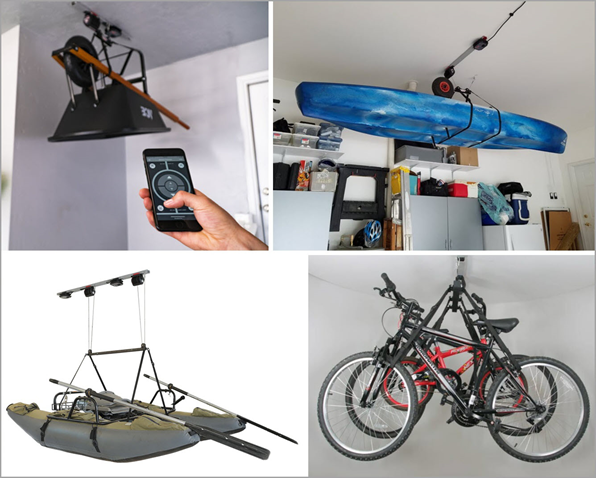 Whatever you need to store, there's an automated solution that will save you time and energy
Custom garage storage lifts keep large items safe and secure from damage that can happen from getting moved all around the garage.
Free up garage floor space for daily use instead of long-term storage of seasonal toys and equipment.
Get rid of that expensive storage unit and its monthly fees.
The future is now with Premier Garage's automated garage solutions that expand storage capabilities in your garage and help to reduce clutter and restore order. Call 866-712-3404 today or go online to www.premiergarage.com to find a designer near you and schedule a free, in-home, or virtual* consultation. Discover the many ways that PremierGarage can help get your garage shipshape with the various storage and organization options available, including garage storage cabinets, wall storage systems, shelving and overhead garage storage.
*Virtual consultations may not be available at all locations.
Keep current with home organization trends by liking us on Facebook and following us on Instagram.
For a dramatized history lesson on smart home beginnings, catch the 2017 movie The Current War, highlighting Thomas Edison, George Westinghouse, and Nikola Tesla.
*Updated 10/24/2022