Why a Pantry Shelving System in Your Garage Can be a Great Idea
Many homeowners mistakenly think their storage spaces are inadequate. Learn some smart pantry shelving ideas to organize various household items in your garage neatly.
Besides parking cars, homeowners use garages as a storage room for anything they don't want inside their houses. You often find gardening tools, empty flower pots, chainsaws, chemicals, sports equipment, and broken electronics tucked in the garage.
But have you ever thought about storing foodstuff and other kitchen items in that multipurpose room? A garage pantry is an ideal home storage solution that you can utilize when the kitchen starts getting congested.
Benefits of Garage Pantries
If you don't have a pantry shelving system in your garage, you are most likely not making the best use of the room. Here is why you should consider installing garage pantries.
Tidier and More Spacious Garage
The garage serves as a pass-through from your home to your car and vice versa. For some people, it's also perfect for keeping junk and outdoor equipment. Therefore, they don't find it necessary to keep it organized.
While the jumble hardly affects your lifestyle, it makes your home messy, regardless of how much you scrub it. Piled up clutter can harbor bugs, rodents, and even snakes. Organizing everything in a pantry makes the garage tidy and creates more space than when items lie on the floor.
Easier to Locate Things
As you wake up in the morning, you suddenly feel a craving for a large, moist and decadent chocolate cake. As you walk to your pantry, you ask yourself: "What is this crushed red pepper doing next to the baking soda? And where are the chocolate chips?".
Well, that's one of the main reasons to organize your pantry. To make it easier to locate things. And though the chocolate chips were eaten by your teenage son in the middle of the night, the spices didn't really have a reason to be next to the baking staples.
With an organized pantry, you spend less time looking for something and even stop wasting money on buying items you already have.
Pantries are generally dedicated spaces for food items, paper goods, bulk groceries, and appliances. but depending on your needs, there are ways to create custom solutions that will bring order into chaos - and give you back valuable minutes of your day.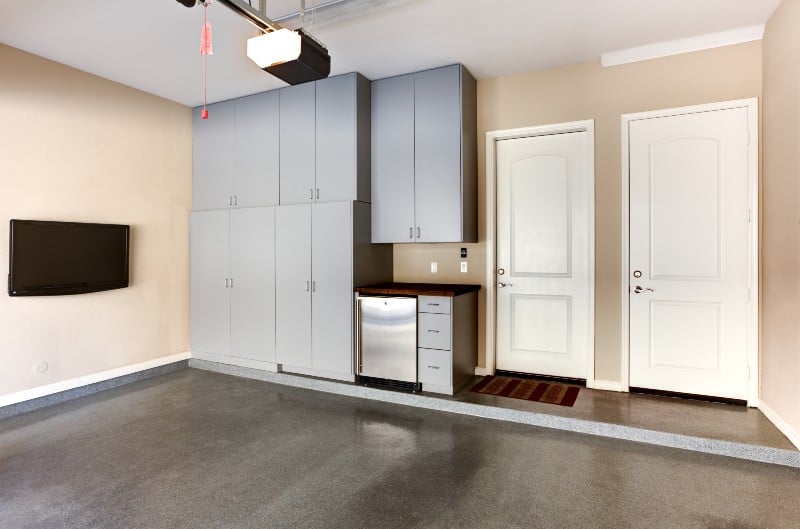 Garage Food Pantries
While the kitchen is the center for food preparation, the garage is becoming a popular spot for setting up food pantries. Why would anyone want to do that?
Unless you have an expansive kitchen, space will become an issue as you accumulate more items over time. If you are a bargain hunter who buys in bulk from warehouse clubs, your storage requirements will grow dramatically.
Keeping food items that you don't need immediately in a garage pantry can:
Help decongest the kitchen
Simplify your next shopping experience
Help you save money & time
Moreover, the garage is your unloading point before entering the house. It's a convenient place to drop what you want to store immediately when you arrive and make sure that you don't need to lift heavy objects (like those big grocery bags filled with cans) around the house.
It's cleaner, it's faster, it's tidier. It's a great solution.
Garage Food Pantry Shelving Ideas
How do you plan and install a food pantry in your garage? Below are some tips to get you started.
Take Inventory of Your Food
To plan for garage food storage, assess the amount of food you usually keep and decide the quantity that should move. Reorganize the kitchen cabinets by separating items into categories, like canned goods, carbonated drinks, snacks, etc.
Determine the right pantry size by comparing what you want to store with the available size in the garage. If you want a walk-in pantry, choose a corner with strong walls for solid cabinetry and shelving.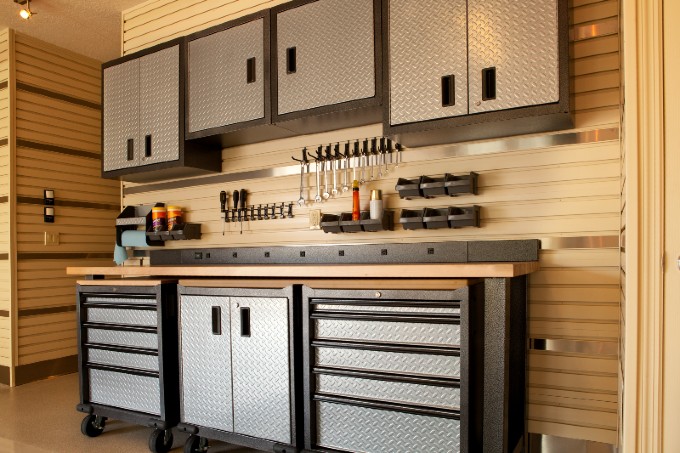 Install Custom Pantries
It's best to invite professional home designers to design a custom pantry for the following reasons:
You want a pantry that works for your items, not the other way round
Custom pantries will fit and maximize the space available in your garage
You can match the pantry design with the other garage fittings
Your building material choices for custom pantries are limitless
The designers will make the best use of wall spaces
If you buy ready-made pantries, be ready for anything, including disappointments. Apart from the pantry not fitting in the intended space, it could be made of substandard manufactured boards or wire.
Ventilate and Regulate Temperature
If you plan to keep foodstuff in your garage for weeks, be sure to maintain moderate temperatures. Low temperature is desirable, as it discourages the growth of microorganisms that damage food. Canned foods remain fit for human consumption so long as the seals are intact.
However, too much heat will ruin your food items faster. They will lose flavor, texture, and nutritional value. If your locality is prone to extreme temperatures, install one or all of the following:
Wall and roof insulation
Air conditioning system
Ceiling fan
A certified HVAC technician can advise on the best heating or cooling solutions. Importantly, use separate vents and ducts for the garage to keep automobile exhaust fumes from entering the house.
Keep Away Bugs and Rodents
Food attracts rodents and bugs. These animals are experts in sniffing foodstuff from far, so you should strive to keep them at bay. Here are some convenient ways to do so:
Put food in sturdy, sealable containers
Clean up food crumbs and spills
Purge expired and spoilt foods
Avoid items with torn packages
Use insect and rodent deterrents
Reorganize Your Pantry Periodically
Once you've started using your pantry, you'll be able to weigh its functionality. Can you see and reach all the items without struggling? Consider an annual pantry refresh involving thorough cleaning, purging unnecessary containers and reordering items for efficiency.
Would you like to take your home storage a notch higher? Schedule a free consultation with our design experts at PremierGarage.
*Updated 10/24/2022