Shared Spaces: Five Best Uses For Your Garage
Shared Spaces: Five Best Uses For Your Garage
The garage plays a vital supporting role in an efficiently functioning home. Its basic and original function is probably parking your cars to protect that major investment, along with providing safe and secure access to the house for loading and unloading kids, pets, and groceries. Many people have laundry facilities in the garage and also use the garage as storage. This is where things get interesting and learning how to maximize your garage as a dual-purpose space can multiply functional living space for the whole family.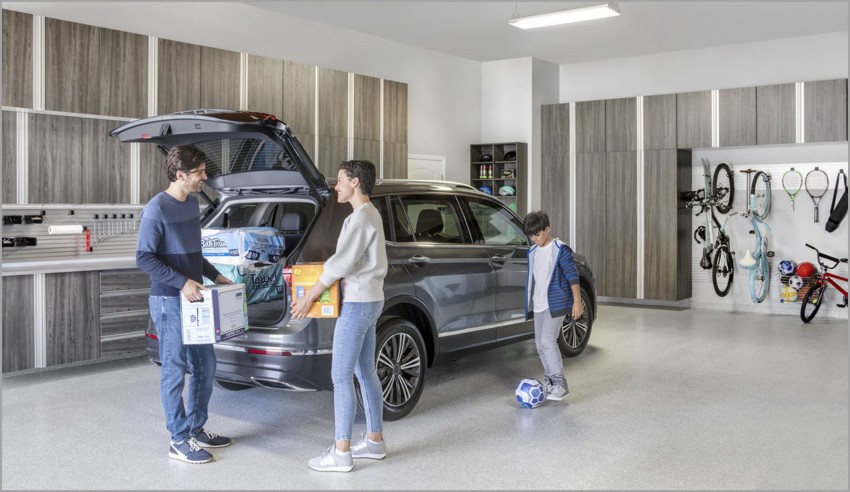 This inspiring garage setup has a place for everything, easy access to storage, and open floor space ready for action
Implementing storage and organization solutions for your garage is the first step to gaining control of the space so you can bring purpose to the garage beyond parking the cars and storing the holiday decorations. PremierGarage can help you eliminate clutter and clear floor space to enable you to reconfigure your garage for any one of these five popular shared-space garage uses that can change your life.
Create a hobby center
Hobbies can take up a small amount of space, like stamp collecting with its binders, or a lot of space like collecting and working on cars. A hobby center in the garage with countertops, shelves, and storage cabinets can provide workspace for crafters, stamp collectors, automotive junkies, gardening fanatics, and more. Carving out space for hobbies in the garage lets you organize all the supplies and necessities together with an integrated workspace, so family members can indulge in their chosen activity easily and without making a mess in the house.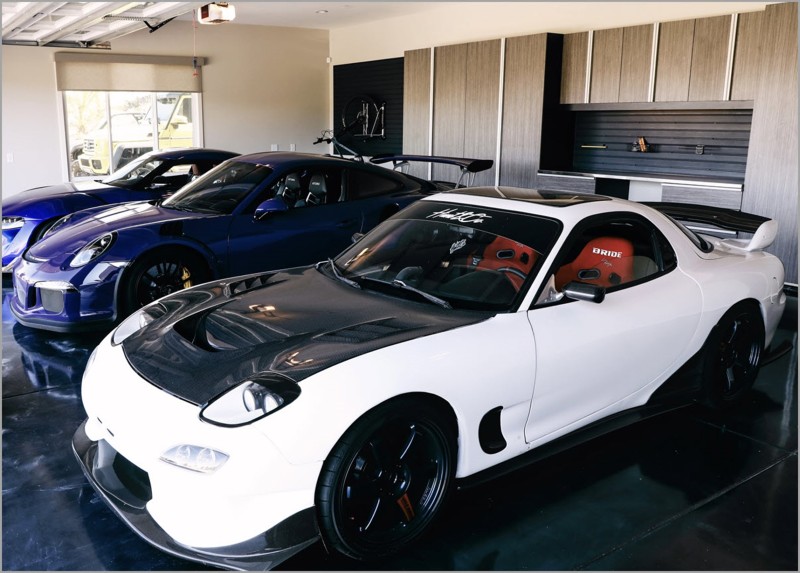 JT Hunt's prize automobiles rest on a custom epoxy floor coating that created the high-end showroom look he wanted
In this case, TJ Hunt of YouTube and Instagram (@tjhunt) automotive fame recently had PremierGarage of North County San Diego transform his garage into 100% hobby and workspace with a custom epoxy garage floor that looks like black and white marble, storage cabinets for tools and supplies, and work countertops. His garage now houses his cars in splendor, and he has a clean and organized place to do what he loves. Share JT's excitement about his new garage floor on YouTube.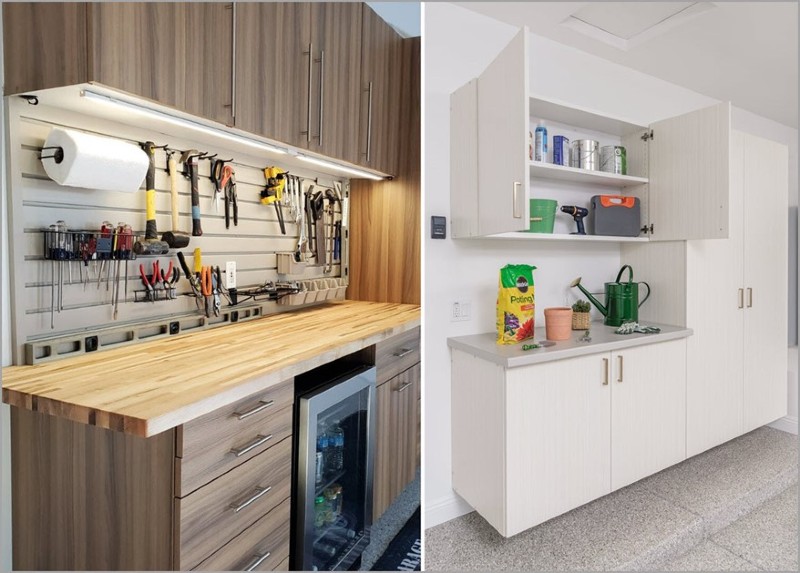 Dedicated space for hobbies keeps all necessities together and ready for whenever you have time to indulge
Space for hobbies in the garage allows all family members to be able to enjoy their favorite pastimes, such as woodworking, crafting, and gardening. Individual drawers or cabinets for supplies make it easy to pick up where you left off the last session and not have to spend time collecting what is needed. For more tabletop space, folding tables can supplement when two or more people are in the garage at the same time and one countertop is not enough.
Full-service laundry room
Building out the space around a garage washer and dryer so it becomes efficient and functional upgrades it to laundry room status. Cabinets provide handy storage for laundry detergent, fabric softener, stain treatments, and more, and then hides everything from view when not being used. Tall cabinets provide hanging space with custom rods inside and space for laundry baskets and hampers at the bottom of the cabinets. Adjustable shelves can hold folded laundry until it gets returned to bedroom closets, so the garage stays uncluttered even on laundry day.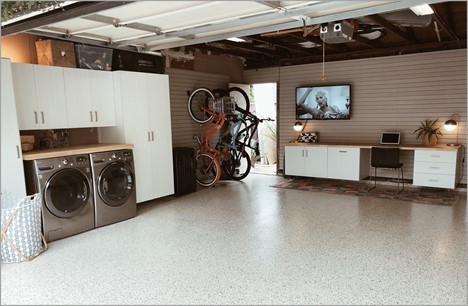 This garage went beyond dual-use to triple efficiency with custom cabinets for the laundry room as well as a small home office area
Extra space for entertainment or relaxation
In a large garage, there is often space beyond parking the car that can lend itself to other uses such as a Man Cave, She Shed, media center, or game room. Adding some entertainment or play space to your home gives more options for everyone to have some time to themselves. Zone off the parking areas and bring in-game tables, big screen TV, couches, and recliners into the open space for whatever it takes for fun and comfort. Make it a universal space or a special time-out hideaway for dad or mom that is by "invitation only" to everyone else. Or build a bonus room with games and media for the kids, and mom and dad will get the house back!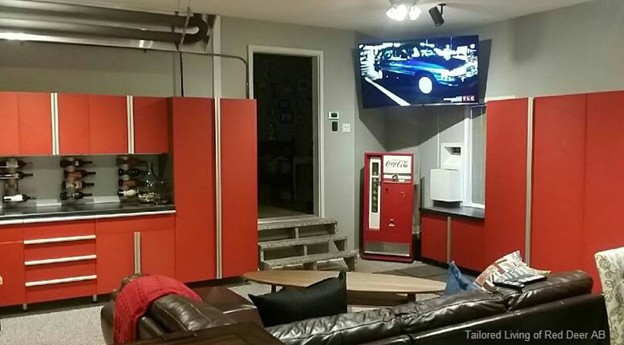 A Man Cave in the garage lets dad and friends enjoy game days with all the noise and trimmings without impacting the whole house
Fun, safety, and savings with a home gym
Homes have become more central for everything over the past year and a half, and home gyms are a good addition to any garage. Whether a weight room, Yoga studio, treadmill, or a cross-fit setup like the Rogue Echo air bike that gives a complete workout, you and your family can stay fit and healthy right at home. No more gym fees, travel time, or exposure to other people as we still live within a Covid-impacted world. Create a full-service gym with workout equipment, mats, TV for training apps or music, wall mirror, fans if no central A/C, and a refrigerator for cold water and juices. The whole family can enjoy private workout sessions or sweat the oldies together.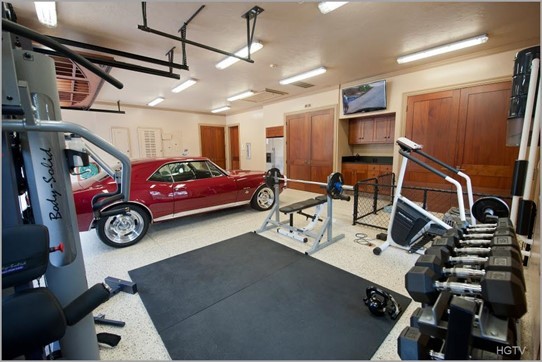 An exercise area for a good cardio session, weights, and relaxing with Yoga can all be part of your home gym experience
Expanded home storage
You may benefit most by creating additional closet or pantry storage in the garage. If your home is lacking sufficient closet space, you can install custom closet storage systems in the garage for expanded clothes storage. This could be for off-season clothes for the whole family or a specialty closet for someone who needs a much bigger closet than their bedroom closet affords, like Halley Elefante (@thesaltyblonde) in the image below. She commandeered garage space for expanded closet space. Pantry shelving can be implemented in garage storage cabinets with adjustable shelves to accommodate big items like bulk purchase paper products and large bags of pet food. Storing perishables in the garage is not a good idea unless your garage is climate-controlled. Excessive heat or moisture will make foodstuffs spoil quickly. Check out Learn How To Perfectly Stock Your Pantry for safe food storage ideas.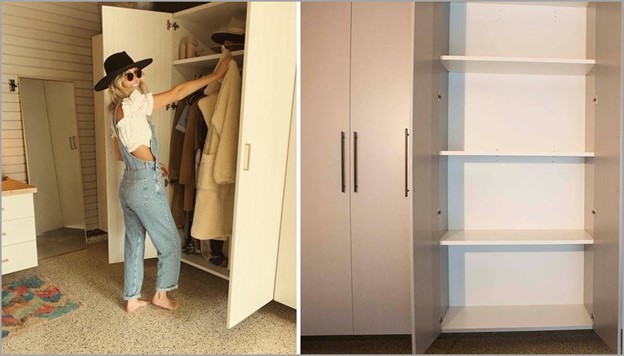 Expand overflow closet and pantry storage to the garage with custom storage cabinets
Ramp up your garage's usefulness
There are lots of ways to improve your garage's function by freeing up space with storage and organization solutions to clear floor space for other activities in the garage. Make all the vertical space work for you with floor-to-ceiling garage storage cabinets, Slatwall wall hanging systems, overhead storage racks, and automated lifts. Start with a custom garage floor and see how amazing your shared-space garage can be! Call 866-712-3404 today or go online to www.premiergarage.com to find a designer near you and find the best way to capture additional living space in your garage.
*Virtual consultations may not be available at all locations.
*Updated 10/24/2022
Like us on Facebook and follow us on Instagram for more home organization tips.