Storage Ideas for Your Garage: Maximizing Your Vertical Space
Storage Ideas for Your Garage: Maximizing Your Vertical Space
Between 50% and 80% of homeowners have a garage, yet about one-quarter of garage owners don't use it for parking their vehicles. The reason? Most of them don't have enough floor space! Garages are an essential part of many houses, and for many people, they serve as a multi-functional space that they can use for storage, work, and recreation. However, garages can quickly become cluttered and disorganized, especially if you don't organize them effectively.
Using Space More Efficiently
One way to deal with this problem is to maximize the available floor space by optimizing your storage situation. Unfortunately, many of the storage options you may find for your garage will take up additional floor space, which can add to the problem. However, there are also plenty of vertical storage solutions out there that can provide your garage with plenty of storage options without wasting precious floor space.
What is Vertical Storage?
The term "vertical storage" refers to how you can use the height of your garage to store items while freeing up valuable floor space. These solutions typically involve mounting storage units on walls or hanging them from the ceilings to provide a space-efficient way to store items that might otherwise take up a lot of room on the ground.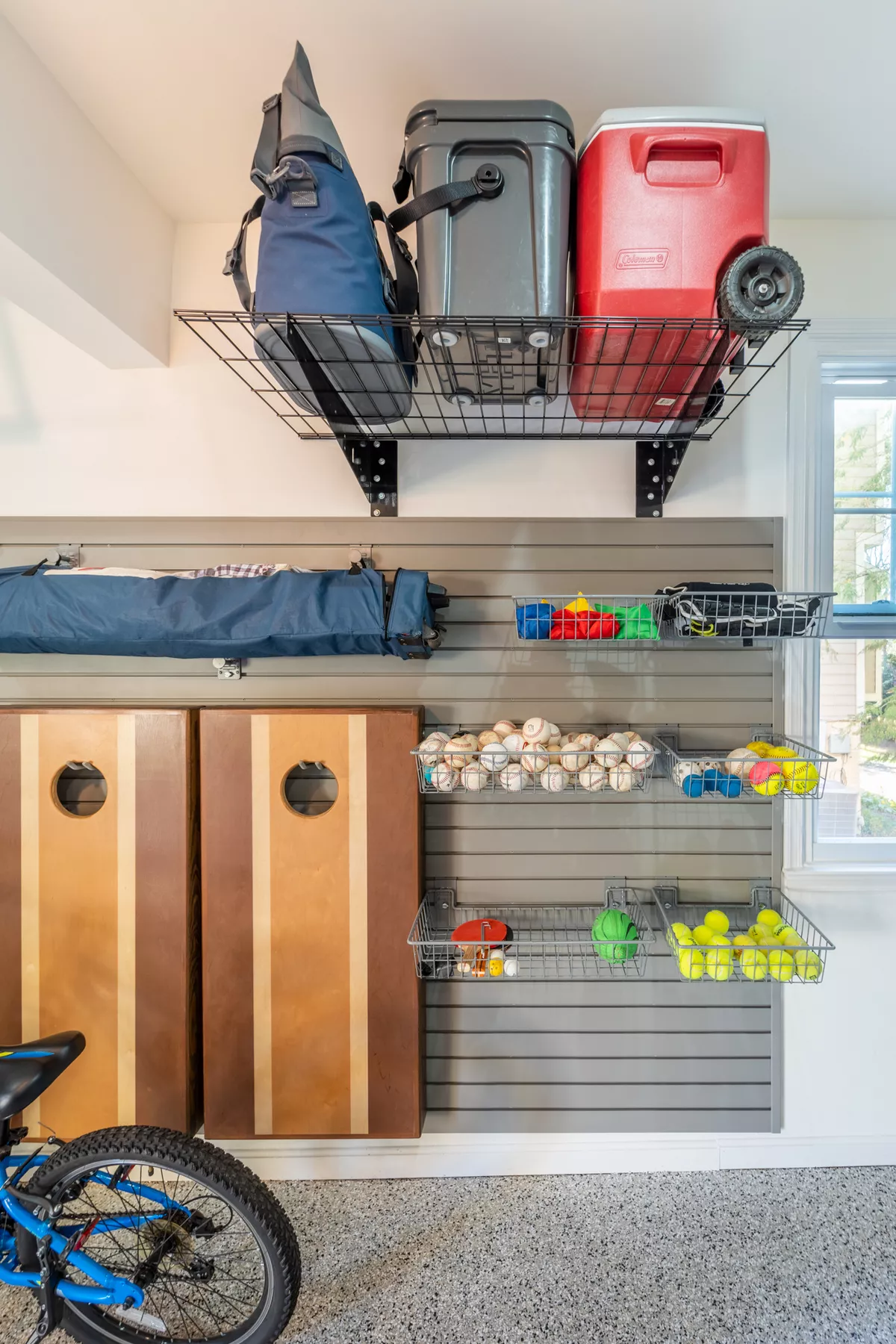 Some examples include wall racks, cabinets, shelves, hangers, and baskets. Using these storage options, you can make the most of your garage space and create a more organized and efficient storage system. Additionally, maximizing vertical space can help you keep your garage clutter-free, improving safety and making it easier to find the items you need when you need them.
Clearing Up Floor Space
Maximizing floor space in a garage is crucial for creating a functional and organized space. A cluttered garage floor looks unsightly and can be a safety hazard, making it challenging to move around without tripping or stumbling over items. Additionally, leaving things on the floor can make it more difficult to use the garage for its intended purpose, such as parking a car or using the space as a workshop.
You can create a more streamlined and functional area by maximizing the floor space in a garage. You can incorporate wall racks, cabinets, shelves, and other storage solutions to keep items off the floor and create more room to move around. Additionally, by utilizing vertical storage solutions, you can make the most of your garage's height and create even more space for storage. Overall, maximizing floor space can make your garage look more organized and a safer and more practical space to use.
Wall Racks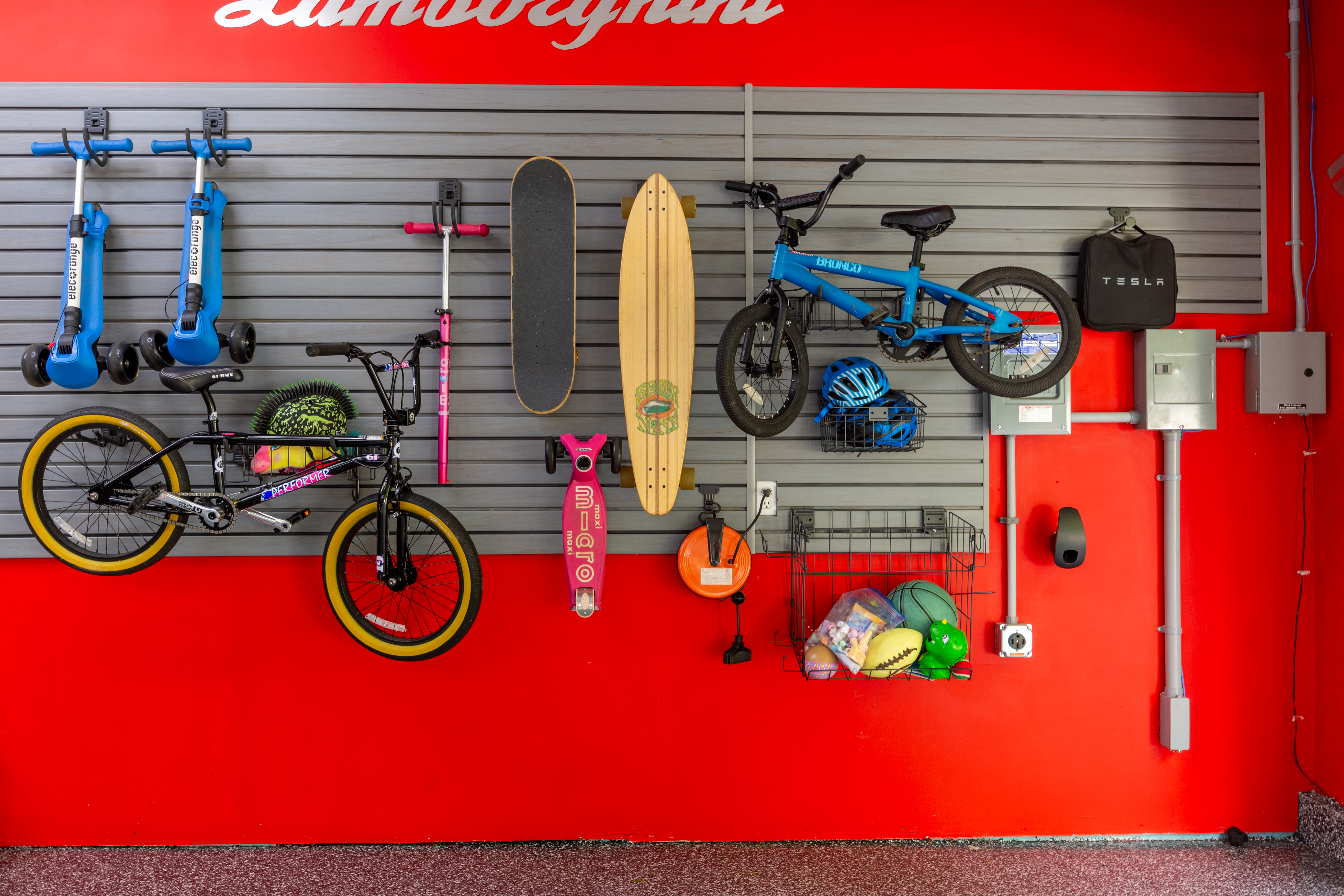 Wall racks are a popular choice for garage organization because they utilize vertical space while keeping items within easy reach. Several types of wall racks are available on the market, including pegboard racks, slatwall systems, and grid wall panels. Pegboard racks consist of a perforated board that items can be hung from using hooks, while slatwall systems are similar but use grooved panels instead of perforated boards.
Wall racks are popular for storing miscellaneous items, from cleaning supplies to tools. They come in diverse sizes and styles depending on your available space and what things you plan on storing there. In addition, wall racks are easy to keep organized, making it easier to stay organized over time and preventing future clutter from building up.
Baskets and Cabinets
Baskets and cabinets are other vertical storage solutions used in garages to maximize space. You can hang baskets on walls or from the ceiling, and they are useful for storing smaller items such as sports equipment, gardening tools, and cleaning supplies. They come in various sizes and materials, including wire, mesh, and plastic.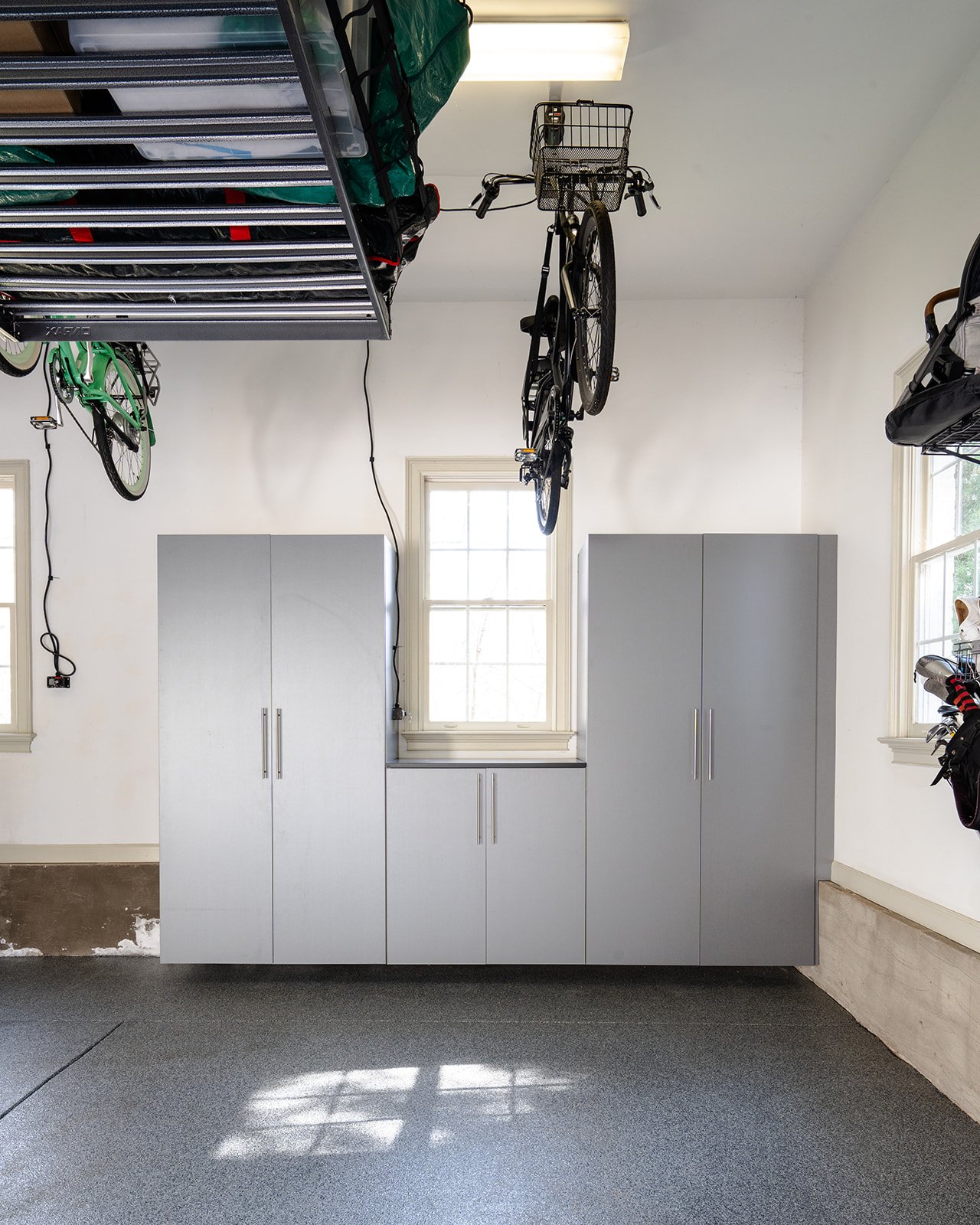 Cabinets are a more secure storage option and can be used to store larger items such as power tools, hardware, and automotive supplies. They come in different materials, such as wood, metal, and plastic, and can be mounted on walls or placed on the floor. In addition, some cabinets have locking mechanisms to keep items safe and secure. Both baskets and cabinets are helpful for keeping the garage organized and clutter-free while making it easier to find what you need quickly.
Since there are so many options for baskets and cabinets available, it can be difficult to know how to choose the right ones, so here are a few tips:
Consider the weight:

Make sure to choose baskets and cabinets that can handle the weight of the items you plan to store. Heavy-duty options are available for storing tools, equipment, and heavier items.

Choose durable materials:

Since the garage is often exposed to various weather conditions, choosing materials that can withstand moisture and humidity is essential. Consider materials like plastic, metal, or wire mesh.

Determine the size:

Measure the available wall space and choose baskets and cabinets that will fit properly. Also, consider the size of the items you plan to store in them.

Use labeling:

Labeling baskets and cabinets can help you find what you need quickly and easily. Use labels or color coding to keep things organized.

Install them securely:

Use appropriate hardware to install baskets and cabinets securely on the wall. If you're not comfortable doing it yourself, consider hiring a professional.
Fortunately, PremierGarage has a wide variety of vertical and overhead storage options available. So whether you want overhead storage racks, garage cabinets, or other types of garage wall systems, we've got you covered, and we'd be more than happy to help.