Winterizing Your Home And Garage For Comfort And Safety
Are you feeling the effects of cold weather yet? In some areas of the country fall to winter may not exhibit dramatic changes but, in other areas, cooler fall temperatures herald that winter storms are right around the corner with rain and snow. Being pro-active now to make your garage more serviceable and your home more secure will prevent future problems as temperatures drop and inclement weather takes its toll. PremierGarage has some preventive and commonsense tips to get your home and garage ready for winter, so you family stays safe and warm!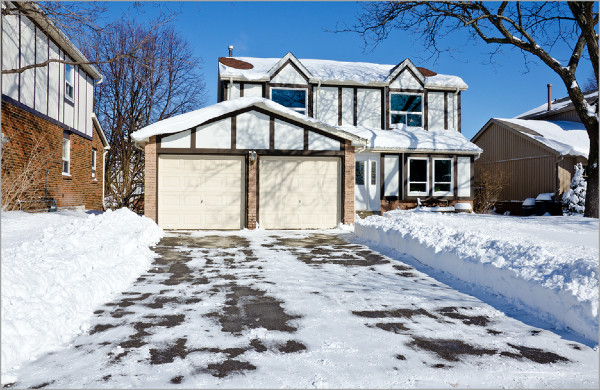 Prepare now so that when winter hits, you'll be ready for whatever Mother Nature dishes out
Transform the garage before winter sets in
If your garage generally isn't very useful, it's only going to get worse when winter hits. Implementing efficient storage will organize and safely store everything in your garage and you'll discover amazing living space as well as room to park the cars. Custom solutions from PremierGarage can make your garage more functional for wintertime and all year long. Garage storage cabinets, wall-hanging systems, and a durable PremierOne® garage floor can transform your garage into functional living space to enhance your home.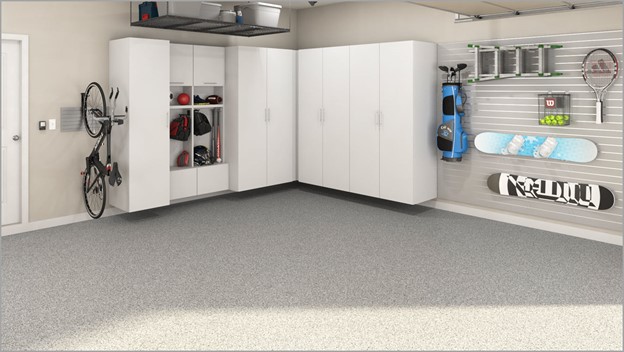 All the elements of an ultimate garage, custom epoxy flooring, garage storage cabinets, Slatwall systems, and overhead storage racks
Tips to winterize your garage
In addition to organizing the garage, there are some specific things you can do to make your garage more user-friendly during the cold winter months. These 10 tips can help get your garage ready so you and your family can safely enjoy the season.
Keep the garage warmer with an insulated garage door and insulation added to your garage walls. Replace any damaged weather stripping on windows and doors.
Safety-check the garage door: oil moving parts, check hinges, and supply fresh batteries in all remotes or keypads so nobody gets stuck out in the cold. Automatic garage doors don't work during a power outage, so be sure everyone knows how to release the catch to manually raise the door.
Install a mudroom or place rugs or mats in front of the connecting door to the house to eliminate tracking in dirt, snow, and mud.
Use garage floor mats where you park the car/s to absorb de-icing products that stick to your car's tires and to protect the floors from tire snow chains.
Wrap exposed water pipes to prevent freezing—washing machine, water heater, or utility sink—with polyethylene insulation tubes, PVC pipe wrap, automatic heat tape or a DIY wrap of one-quarter-inch thick newspaper secured with duct tape.
For "green" deicing and adding traction to slippery walks, spread fireplace ashes, sand, wood chips, sawdust, alfalfa meal, or Safe Paw Ice Melter. Harmless to people, pets, and the environment, but no claims are made against the mess they may make. Store in an air-tight container with a big scoop close to the garage door for easy access.
Purchase moisture grabbers or DIY your own with charcoal briquettes or sidewalk chalk that absorb moisture. Put several pieces in a breathable bag and store with tools to prevent rust, in cabinets and drawers, or any place dampness collects.
Add additional lighting to banish dark corners, especially around workbenches and the garage laundry room. Add a space heater for doing laundry or working in the garage.
Bring the family's winter sports equipment (skis, snowboards, sleds, ice skates) front and center and store the out-of-season equipment out of the way until spring returns.
Have a winter emergency kit in every vehicle with food, water, tools, and extra blankets in case of being stranded.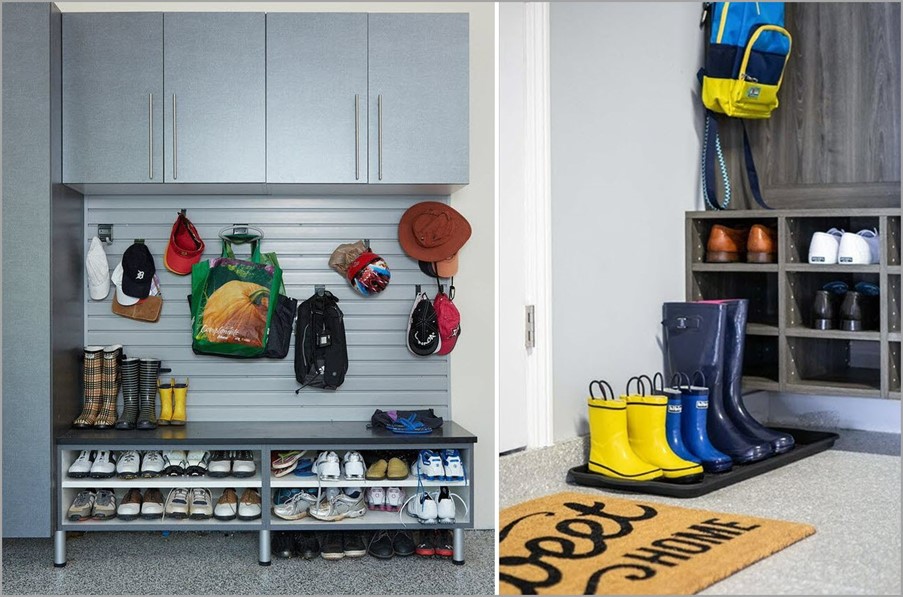 A garage mudroom keeps all the mess in the garage instead of tracking dirt and rain into the house
Emergency-proof your home for peace of mind
When things go wrong with the house, it's always far worse in winter. No power can mean extreme cold even indoors, lack of water from frozen pipes or burst pipes can take time to repair, the A/C gone bad, or the roof leaking are all more difficult to get fixed in the wintertime. Doing a home safety-check and taking preventive measures ahead of time can make for a warmer and stress-free winter. Here are 15 tips to get your home ready for winter so you can hopefully avoid emergencies, or at least come through one unscathed and smiling!
Tips to winterize your home:
Double check weather stripping on all doors and windows and replace any that is faulty. (This will help save on heating bills as well.)
Clean out chimneys to make sure they are clear of creosote buildup or old nests and that the chimney cap is intact.
Service your home's heating/air unit so it's in good working order with clean filters and no leaks.
Have an alternative heat source if your area is prone to outages: 10 Ways to Heat Your House in an Emergency.
Battery-check indoor smoke detectors, Co2 monitors, and fire alarms; replace any units that are at least 10 years old.
Stock up on firewood and move a few days' supply of logs to the garage so you don't have to traipse out to the big woodpile during a winter storm.
Open cabinet doors overnight so under-sink pipes, like kitchen and bathrooms, are exposed to the warmer indoor temps to prevent freezing.
Swap out light-weight curtains for heavier, lined drapery to keep the cold out and the warm in; install storm windows and doors.
Cover outdoor furniture and barbeques with weather-proof covers or store in the garage or a shed.
Gardens go dormant, so be sure plants are trimmed back and protected with layers of mulch.
Place rugs or mats at all exterior doors to eliminate tracking in dirt, snow, and mud. With steps, use a runner or texturize the surface to prevent falls.
Screen over any entry points and vents to stop nesting critters and birds from getting into your garage, chimney, attic, or house. (5 Ways Rats Get Into Your Home)
Inspect your roof for damage and clear and repair rain gutters to and make sure gutters are watertight.
Increase the lighting at your front entryway, backyard areas, and add extra lights to walkways.
Have food supplies that don't require cooking in case you end up with no power, and always have a supply of fresh drinking water.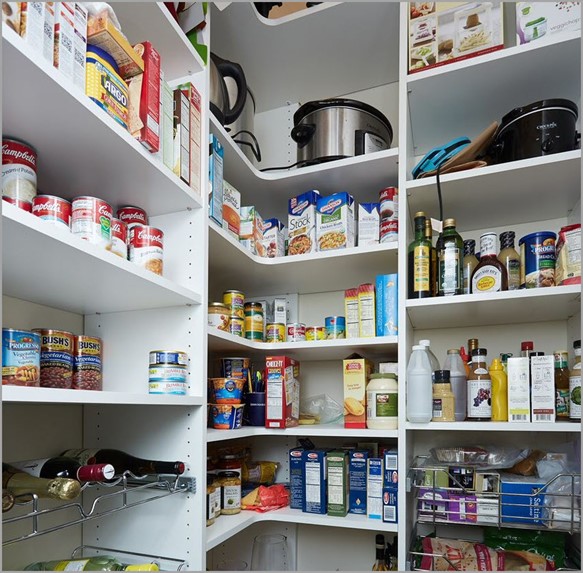 A well-stocked pantry with room for emergency supplies is an important safeguard if disaster strikes
PremierGarage is ready to help you with storage and organization solutions to ensure your home and garage will be supportive during the cold winter months. Garage storage and garage flooring, pantry organization, entryway and mudroom design, and custom closet organization systems so winter wardrobes are accessible when needed will all contribute to banishing winter blues. Go online to www.premiergarage.com to find a designer near you or call 866-712-3404 to schedule a free, in-home or virtual* consultation to discuss ways to make your home more stress-free and comfortable in every season.
*Virtual consultations may not be available at all locations.
Like us on Facebook and follow us on Instagram.
*Updated 10/24/2022